Has the Williams F1 team just staged the first-ever viral launch of an F1 car? And, perhaps more importantly, did it work?
The team, famous for concentrating its resources squarely in engineering and finding innovative solutions to fill in the areas around the edges, was one of several that opted to avoid a high-profile car launch this year, after plans for a joint event between the teams fell through.
Some teams opted to launch their cars online – including an unsuccessful event by Virgin F1 that was scuppered by technical problems – and some simply opted to turn up for the first or second scheduled test.
McLaren and Ferrari staged conventional press launches but added a new twist by making the proceedings available for fans to watch live via streaming video. Other teams, including Sauber and Renault, chose to unveil their machines during the first test session of the year at Valencia.
The top line from Williams was that it too would be taking that approach. But then a piece appeared in Autosport directly after the car's pre-test shakedown at Silverstone on Thursday January 28 entitled "Exclusive: First image of new Williams."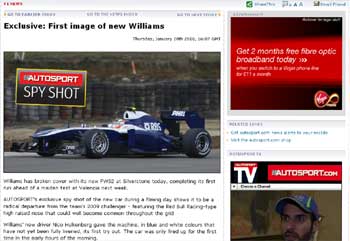 It read: "Williams has broken cover with its new FW32 at Silverstone today, completing its first run ahead of a maiden test at Valencia next week. Autosport's exclusive spy shot of the new car during a filming day shows it to be a radical departure from the team's 2009 challenger – featuring the Red Bull Racing-type high raised nose that could well become common throughout the grid.
"Williams' new driver Nico Hulkenberg gave the machine, in blue and white colours that have not yet been fully liveried, its first try out. The car was only fired up for the first time in the early hours of the morning."
Unusually for a piece featuring spy photography, it then went on to feature helpful quotes from team technical director Sam Michael detailing the different approach to last season's car and this one. The scene was set.
With a little help from Rubens
On January 29 at around 7.30pm a link was published on Rubens Barrichello's highly-successful and non-corporate Twitter account which currently boasts well in advance of 300,000 followers. It said: "Someone caught illegal footage of my car while at Silverstone" – here's the tweet.
The three-minute video to which it drew attention, entitled "FW32 Undercover at Silverstone," was posted by "MrTurboF1" who himself only joined YouTube on January 29 this year and has uploaded just the one item.
The description says: "Spy shots of Williams new race car for 2010 we got on camera at silvastone [sic]. There was a TV crew there and we joined in and no-one noticed until the end and we had to leggit. Have a look!"
Clearly, no-one at Williams has seen fit to follow up Barrichello's tip-off by submitting a takedown notice to have the content removed.
Since being posted on January 29, with a remarkably coherent and useful set of tags, it has been viewed by nearly 128,000 people – exposure the team must be very pleased about indeed. (Although it falls a little short of the 49.6 million views currently enjoyed by the truly viral OK Go's Here it goes again.)
And what did viewers think?
The video has attracted more than 140 comments. Some commenters were pretty scathing in their dismissal of the stunt, even bearing in mind that YouTube's comment section is a brutal place with a thriving population of trolls. Taking the negative ones first:
"Blatant viral marketing."
"Yawn. Viral."
"Come on! Obviously this is real. What is 'unreal' (fake) is everyone at Willians [sic] (including Rubinho via his own twitter) make this look like someone made some unauthorized footage! Give me a break! But I guess that got what they wanted: our attention."
"Seriously, what's the point? Are they trying to sell sponsorship? Better to post a high quality video, interviews with engineers and drivers, and better sounds. Everyone can see through this garbage."
"This is a viral. All these virals look the same, the shaky camera, the zooming in and out, the cutting, its so obvious its a f**king viral. A shit one at that the car looks like nothing special."
"The worst viral ever "
"It has to look like amateur video, but in fact its very professional."
"this viral sucks"
"one word: CRAP!? "
"Silly video, still, this is from the makers of 'Nico Rosberg's stolen crash helmet' twi-diocy."
On the other hand, many commenters enjoyed the video and appeared to value the insight it gave them, singling out the Cosworth engine sound and the appearance of Sir Frank Williams for special praise:
"i think its a good viral."
"Thank you your work and great passion!"
"Nice fake and hope this car goes as it sounds."
"In fact, nice and cheap way to annouce a new car. :-D"
"like how they thought of us die-hard F1 fans and put this up even tho there will be plenty of video and pictures in the coming days…"
"Fake, but cool, still."
"just a fun teaser. car looks good "
"After all these years Sir Frank Williams is still passionate about F1. It's also a treat to see him at test venues and races"
A company with form
Williams, and its sponsor Philips, certainly has form in the business of viral marketing. Do you remember the Twitter campaign to help 2009 driver Nico Rosberg find his helmet, mislaid in Brazil, that saw a lucky fan rewarded with paddock access to the Brazilian Grand Prix?
"Can I count on my fans here in Brazil?" he tweeted plaintively. "This helmet is really important to me. Going to bed!" That campaign was also supported with viral video of the helmet supposedly covertly filmed at a hotel reception – although Philips did come clean at the end. Remind yourself of the campaign here.
At this point we have to declare an interest, as one of a number of motorsport sites approached in 2009 to help promote the Philips Driving Academy competition to put a fan at the wheel of an F1 car for the day.
That saw us invited to tour the team's factory and museum, offering a Philips product in a reader competition and getting pitlane access and a chance to interview the winner on the day he flew to the UK to claim his prize.
And we felt pretty satisfied with the quality of the content that we ended up able to offer you on our site as a result, even though it was generated from a commercial source – follow the links above to see it.
Getting the balance right
Philips is represented by a top sponsorship agency called Synergy. In October last year Scott Garrett, agency director and F1 specialist, also a former Williams head of marketing, was asked to contribute to an article in Marketing magazine.
It asked four industry professionals to comment on whether using the fanbase represents a good way for brands to associate with sport – and he was the only one to give an emphatic yes, at least in cases where there was a good brand fit.
But he warned: "If there's even the slightest sense of a brand trying to shoehorn its way into fans' psyches or leverage legit­imate passions, the informal networks that sponsors seek to exploit will turn against them with alarming alacrity."
He gave the example of Williams F1 working with an unofficial supporters' network: "When Williams tried to employ the club network to push a sponsor promotion, it resisted. To have engaged in such activity would have compromised its independence." You can read the full article here.
So, did Williams take heed of that lesson when it came to the viral launch of the FW32 – of finding ways to engage with its fans that make them feel valued without also feeling manipulated? Well, that's the million-dollar question.
The YouTube commenters suggest that, while the viral method provoked some hostile reaction, and the feeling in some of having seen it all before, it also generated positive comments. And surely getting an audience for the film of nearly 128,000 people can only be counted as a plus.
Another cheering thing from Williams' point of view is presumably how those positive comments reflect its brand values – innovative, passionate about racing, spending a limited budget creatively, responsive to fans.
The use of the 'spy shot' in Autosport also provoked pages of online discussion about the characteristics of the new car and its chances of success – here's a sample from the magazine's online forums.
So, a cautious set of positives and Williams putting down a marker for its innovative use of new media in ways that have left more obvious candidates for this marketing method, like Virgin or Red Bull, standing.
But what about the numbers?
But, in the end, there's arguably only one metric that matters. Did they succeed in getting it talked about? Below is a graph from the blog trends tool Icerocket.com that allows comparison of various search terms to see how much online buzz they are generating.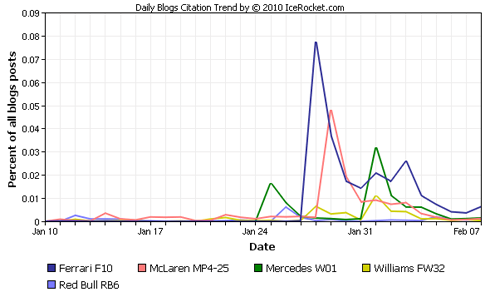 This would appear to show that the high-profile teams holding big launches had the car launch publicity sewn up, with Ferrari's car attracting more than 50 posts per day over the last month and McLaren's slightly more than half that number. Mercedes are a comfortable third with around 21 posts a day.
Icerocket allows comparison of a maximum of five terms – and we've tried to opt for a spread of team and launch types – but the figures of some that we didn't include on the graph are telling. Renault and Sauber both leave Williams standing with 24 and nearly 18 posts per day respectively.
Even Virgin with its failed launch pulled in more than 13 posts on average, with a big spike at the beginning of February, but of course much of that may have been negative reaction to the lack of pictures on expectant fans' screens.
So it looks like the campaign produced really limited bang for its limited bucks, especially given that Williams' extensive history and heritage in F1 should guarantee a certain basic level of interest.
Conclusions
This is quite a hard one to call. It looks to us like the team got a moderate set of returns from a small outlay in exchange for accepting a fair amount of risk. Here's where we reckon the balance sheet stands:
Positives:
No big spending commitment
Team engaged directly with fans
Fan comments positively reflected team brand values
Team demonstrated its grasp of new media can be much more sophisticated than its competitors
Campaign successful in generating some buzz around new car
Used assets such as Barrichello's Twitter follower numbers brilliantly
Succeeded in attracting notice quickly, during the short period between the 'leaked' photo and the first public appearance of the car in testing
Negatives:
Launch attracted hostile comments from some racing fans (allowing, of course, for the probability that some were from negatively-minded trolls)
Campaign risked alienating the team's fans by making them feel manipulated
This has the potential to negatively colour views of team communications in future
The campaign's effect appears to have been quite limited in the amount of buzz it generated
The campaign appears to have struggled to compete with more conventional marketing by big-spending competitors in a crowded marketplace
Overall, this feels like an experiment that went well, but not perhaps as well as it might have done.
In quality, it represents a big step forward from the credibility-stretching Rosberg helmet campaign, since photos and videos do get leaked on the internet while F1 drivers rarely use Twitter to appeal for the return of stolen property.
In ambition, it positions Williams firmly at the head of the pack when it comes to experimental and innovative uses of the web. No-one else in F1 is trying anything like this, and it's easy to imagine the team going on to try something as ambitious as the alternate reality game used by the band Nine Inch Nails to promote its Year Zero album.
And perhaps that is the best way to look at it. A team that constantly seeks new ways to operate – most recently, linking up with a manufacturer of golf equipment – is exploring how it can best use the internet, rejecting the baby-steps approach of its rivals' experiments in webcasting old-media press conferences and launches.
If that's the case, we can expect to see some false steps along the way. But we can also expect a fun and challenging ride.
So let's hope Williams ignores the most brutal of the YouTube comments and continues to experiment in this direction – because somewhere along the line they'll get the tone just right. And, when they do, it's going to be well worth watching.