A past winner of the McLaren Autosport BRDC Young Driver award, Alexander Sims finished fourth in each of the last two Formula Three Euro Series championships and is now looking forward to a 2011 spent in either GP3 or GP2. He talked to BritsOnPole about a year of highs and lows and about what the future holds.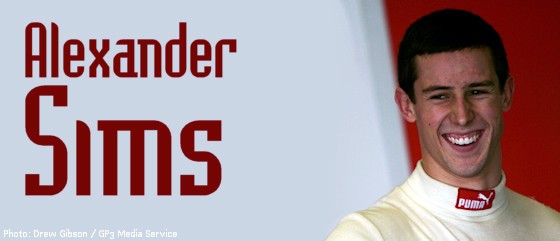 "You just keep picking yourself up – trying to do your best and to salvage what you can," says Alexander Sims, looking ahead to better things in 2011 after enduring a season that never quite seemed to deliver on its rich promise.
Despite impressive victories at Paul Ricard and Silverstone, pole position in the all-star Masters of F3 race, and the buzz of a test with the McLaren F1 team, 2010 will not go down in his personal history as a vintage year.
"It was an OK year, if I'm honest," he said. "There were some high points, but not as many as I'd hoped for coming into the year.
"Being in Euro Series with ART, we had hoped to be challenging for the title. Having come fourth in my first year I had expected it, but it never really materialised."
His team, ART Grand Prix, has an impressive pedigree in that championship, steering Nico Hulkenberg, Jules Bianchi, Romain Grosjean, Paul di Resta and Lewis Hamilton to titles.
But after an opening weekend at Circuit Paul Ricard where Sims took a podium and a victory, he and team-mate Valtteri Bottas found themselves a step behind their rivals at Signature for the rest of the year and finished third and fourth overall.
"The first weekend was really good, but after that we never really had one that replicated it. It was a bit disappointing, to be honest. We'd pick ourselves up, expecting a bit more from the next weekend, but it never really materialised into a solid championship result."
His only other victory came as a guest at the British F3 meeting at Silverstone – which scored him no championship points. Also not contributing to his season points haul was the Masters of F3 weekend, where he took pole but lost out to Bottas after being obstructed and came home second.
DepARTure
After the season ART announced it was leaving the championship, concentrating instead on its GP2 and GP3 teams and its new sponsorship deal with the Lotus Group. But Sims is certain the team's woes were not down to a loss of focus caused by its successful GP3 title campaign.
He said: "When I went to ART I was very impressed with the team and their professionalism. All the F3 guys are the same guys that have been there for the last five years or so and they seemed just as passionate to do well as they had been before."
Nevertheless, the results weren't coming – inevitably leading to some soul-searching on Sims' part. He said: "A lot of things run through your mind during the season. I kept telling myself, I'm not driving any differently from last year. It wasn't that I'd suddenly got slower and I was confident that ART hadn't got slower either.
"So you just keep picking yourself up – trying to do your best and to salvage what you can. We were still fighting for the podium, but we weren't necessarily fighting for race wins all the time.
"Half way through the season I realised we weren't going to win the championship – that was out of reach – and we had to fight for whatever we believed possible. In the end fourth was what we got, which wasn't brilliant."
It was, however, enough for him to stay on the books of Gravity, the management company that talent-spotted him at the end of the previous season. He said: "As long as I produce the results, the relationship should continue for the foreseeable future – the next five or 10 years. It's year-on-year but, so long as I do my job, it should continue."
With Gravity's backing, he's hopeful of securing a competitive GP2 or GP3 seat by Christmas, and has tested in both series. He said: "Next year I'm quite confident that whatever Gravity puts me in will be a competitive car in a competitive situation. Being associated with them isn't just about the financing – they're very good at doing things right."
Testing with McLaren
But for all Gravity's work in finding opportunities for Sims to display his talent, the biggest opportunity of them all came entirely through his own efforts – his 15-lap test with the Vodafone McLaren Mercedes Formula One team that formed part of his prize for winning the 2008 McLaren Autosport BRDC young driver award.
He said: "McLaren have been massively helpful to me since winning the award – the F1 drive wasn't the only thing they've have done for me. They have been a massive help and I would expect the relationship to continue, not only on professional terms but as friends.
"Their image from the outside is as a very professional, hard-working team but it's very easy to forget the people working there and how nice they are. They're very hard-working, but also lovely people."
While he admits the test itself went by as a bit of a blur, he still feels he gave a good account of himself.
"It felt very strange going out for the first few laps," he said. "Although you have expectations, and you know it has more horsepower and God knows how much more downforce, you can't put a feeling on it. Nothing I've done has given me that much power and downforce condensed into one machine. Nothing prepared me for that.
"But in a few laps I was getting to the limits and starting to drive it as a normal race car – thinking about where I could brake later and carry more speed.
"We only had the demonstration tyres – they were very, very soft and were losing performance with every lap. As I was improving, they were getting dramatically worse. It was about trying to understand the car's capabilities each lap and reacting to that.
"I knew I wasn't going to finish the test on the same page as Jenson and Lewis, but I felt I'd done as much as a new driver could be expected to do."
It was a view shared by the team: "It was a very cold and blustery day, so to do such a competent job as Alexander did on his first acquaintance with a Formula One car clearly demonstrates the level he is at already," said McLaren test team manager Indy Lall.
"His feedback was very precise, which allowed the team to make improvements to the balance of the car during his short runs today. Alexander left the team having done a good job – we wish him much success for his career, which will undoubtedly reach the top level."
A mix of machinery
Driving the McLaren meant that his season included a remarkably wide mix of single-seater machinery – during 2010 he either raced or tested cars in two F3 championships (plus the F3 Masters and Macau), Auto GP, GP3, GP2 and Formula One.
In addition he drove several historic cars, including F3 cars dating back to the 1950s for an Autosport feature, and also a classic F5000 machine. And it was this latter outing that provided one of the best experiences of the year.
"There are two very different answers to which was most memorable car to drive," he said. "The most impressive was the Formula One car, but the F5000 – there was a rawness about it pretty much unrivalled in anything I've driven. The F1 car was a glorified version of everything I've known up to now, but the F5000 was a completely different experience."
Of the rest, each – unsurprisingly – had its own characteristics: "F3 cars, so far from what I've driven, are very, very close to F1 in terms of how the car reacts and what it does. They're quite similar, albeit that the F1 car is three times faster.
"The GP2 car is a little bit heavier and not quite so responsive – a little less sharp to drive. The GP3 car is on its own a little bit, kind of between the two. The lap time is similar to F3, but it's not quite got the same braking and cornering capability. It feels less reactive and nimble compared to the F3 car but it's got more power so it makes up time on the straights."
His GP2 testing was in the series car that is just being retired, to be replaced next year with a new model. He found the experience a bit of a surprise, because of the amount of strength needed just to operate the brakes.
He said: "When I went to do the GP2 testing, everyone had said the car is massively physical and it will be difficult. While I was there, there was a guy who didn't drive in the afternoon because he was too tired and didn't think he'd get the best out of the new tyres. I know him to be quite physically strong, so I was a bit taken aback by that.
"When you drive a GP2 car and hit the brakes you genuinely hit the pedal as hard as you possibly can. I was a bit taken aback when I was doing my seat fit and they said to me the amount of pressure I needed to put on the pedal."
All of which means that, whatever the imminent announcement of his 2011 plans turns out to involve, his Christmas break and the off season are already mapped out: he has seen the future, and it involves a lot of gym work.
He said: "This is the time you step it up massively because you've got the recovery time. You can build up the weights and cardio reserve to fall back on during the season when you don't have the weeks and weeks to do the training."
Because if next year proves anything like the year just finishing, one thing that will be in short supply for Alexander Sims in 2011 is time off.
A year in pictures
Photos from Alexander Sims' year racing in the F3 Euro Series, British F3 and Auto GP, then testing in GP3, GP2 and with the Vodafone McLaren Mercedes Formula One team.