Recently we've had some wonderful opportunities to get behind the scenes of motor racing – whether at the British Grand Prix, with factory tours or on press days.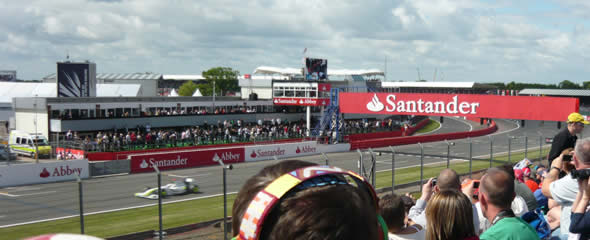 It's been a great privilege to be offered this degree of insight, and our aim has been to try to bring these experiences as directly to the site as we can, whether through photography, audio, written features or interviews with drivers, engineers and technicians.
Here's a selection of some of our recent 'behind the scenes' pieces. We hope you enjoy viewing and listening, and we'd be glad to receive suggestions on how we can improve our coverage in this area.
2010 features
When the Red Bull and McLaren F1 drivers banged heads at the Turkish Grand Prix Brits on Pole's reporter-at-large Scott McCarthy was in the stands at Istanbul Park to watch the fireworks in person. But the F1 race wasn't the only event on the programme. Scott also popped behind the scenes to the GP2 paddock to catch up with British racer Sam Bird, to hear about his season so far and his plans for building on the progress he's made.
Puretech is a British motorsport company with ambitious plans to create a new sport – networked simulator racing. We went along to the launch of its new centre to try out the system and interview some of the team that developed it and who are making it available to professional drivers and members of the public alike.
We were at Silverstone for this year's Formula Two season opener courtesy of MotorSportVision, watching the races, chatting to the drivers and reporting live on all the action. The highlight was perhaps Jolyon Palmer, son of series promoter Jonathan, becoming the first British driver to win a F2 race since his father did so at Mugello in his championship-winning year of 1983. Click on the headline for Saturday's coverage and find Sunday's coverage here.
This year we've ticked a big item off our Brits on Pole wish list – being able to sponsor a race team. Admittedly, it's only to the tune of about one tyre, but it's a big thrill for us nevertheless. That we can do this is thanks to Hannah James, the team manager at YourRacingCar.com and her small business partnership scheme. Read more about the team and its season here.
At Brits on Pole we don't just like to write about racing – we also aim to get involved to the greatest extent that we can. As a result the logos of Brits on Pole and its parent company Onlineability appear on the YourRacingCar.com car this year as well as on Sam Bird's ART Grand Prix GP2 car.
2009 features
Top Gear Live, the stunt-filled live-action version of the BBC TV show, launched its 2009-10 tour at Earl's Court on Bonfire Night. Title sponsors Shell V-Power invited Brits on Pole to the launch, so we scrambled roving reporter Scott McCarthy and sent him into action. Here's his review.
As competitions go, this has to be one of the big ones: enter an online game of reflexes and win a drive at Silverstone in a Formula One car, courtesy of Williams' sponsor Philips. We were at Silverstone to discover how winner Rob Tarlton got on.
Williams F1 – one of the most iconic racing teams ever to compete in motor racing's top-flight series. Formed in 1977 by Frank Williams and Patrick Head, it is one of only three teams in Formula One to have won 100 races. It has also taken nine constructor's titles between 1980 and 1997 and seven drivers' championships. Get a rare glimpse behind the scenes at the factory and team museum.
We made our first visit to the iconic British motorsport festival this year, not as members of Her Majesty's Press but as paying customers. We had a great time – and put together our first ever podcast, as a user guide for anyone who wants a taste of what to expect. Visit the associated photo gallery here.
Meet some Brits on pole that you might not have considered before – the project managers, scientists and technicians who work behind the scenes in F1 to make sure that everything comes together on the day, and who are playing at the very top of the game. They include Shell's fuel technicians and sponsorship specialists working with Ferrari, who we got to meet during this year's British Grand Prix.
Superleague Formula, a football-themed racing series now approaching the halfway point in its second season, is still experiencing something of a credibility gap with fans who wonder whether the two sports will ever fit well together. We were among the sceptics when it launched, but were already starting to come around even before we got a close look at the powerful cars and talked to some of the drivers about what it's like to race them.
Want to work with us?
• Team, sponsor, series or agency interested in discussing a future tie-in or promotion? We've created this page specially for you explaining more about us and what kinds of content we are looking for.