After 14 years as a Formula One driver and 13 victories, Scotland's David Coulthard retired as an active racer. But that didn't mean his many fans had seen the last of him – the former Williams and McLaren pilot remained as a consultant to Red Bull, as well as joining the BBC's broadcast team and announcing a comeback with Mercedes' DTM outfit. Here we look back on his career and the events that shaped it.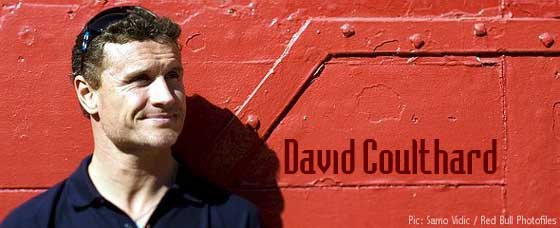 David Marshall Coulthard, usually known as DC, was born on March 27, 1971 in Dumfries, Scotland, to parents living in the tiny village of Twynholm, Kirkcudbrightshire. He attended local schools and his father ran the haulage company Haydon Coulthard, still going strong and now managed by his elder brother.
He has lived for some time in the principality of Monaco, and also owns homes in London, Belgium and Switzerland. He owns several luxury hotels in Britain and Monaco, including the Columbus, which is located in Monaco's Fontvieille.
On 2 May 2000, while leasing the Learjet of friend David Murray, he was involved in a serious accident. The aeroplane developed engine trouble while en route to Cote d'Azur International Airport in Nice and crashed while attempting an emergency landing at Lyon-Satolas airport, France.
Coulthard, his then girlfriend Heidi Wichlinski and personal trainer/bodyguard Andy Matthews survived; Murray's personal pilot David Saunders and co-pilot Dan Worley were killed.
On August 7 2007, Coulthard released his autobiography, entitled It Is What It Is.
On June 2 2006, he had become engaged to Karen Minier, a Belgian Formula One correspondent for French TV channel TF1. The couple planned to marry "in the near future" and, on July 14 2008 in his ITV F1 column, Coulthard confirmed that he and Karen were expecting their first child, a boy, in December. The infant has since made a safe appearance on November 20 2008 – and was then named Dayton Minier Coulthard.
In April 2010, after keeping his hand in with two Race of Champions appearances and nearly winning the 2009 event, Coulthard announced that he would return to racing with Mercedes in the Deutsche Tourenwagen Masters (DTM) series.
His second cousin, New Zealander Fabian Coulthard, is also a racing driver currently racing in the Australian V8 Supercar Championship Series for Glenfords Racing
Early life
Coulthard began karting at the age of 12, moving on to Formula Ford in 1989 when he was 18. In a recent autobiography he has spoken of struggling with the eating disorder bulimia during his teens. In that year he was also the inaugural winner of the McLaren Autosport Young Driver of the Year award.
In 1990 he broke his leg while racing at the Circuit de Spa-Francorchamps but came back the following year to win F3 races including the Macau Grand Prix. In 1992, he raced in Formula 3000 series, finishing ninth overall, and in 1993 he improved his performance to come third overall.
Formula One: Williams
DC's break in Formula One came in 1993, when he became a test-driver for the Williams F1 team, then winning championships. He was set to remain a tester during the 1994 season – but then came Ayrton Senna's death during the San Marino Grand Prix.
Coulthard was promoted to a race drive for the following race, the Spanish Grand Prix, with Damon Hill as a team-mate. He continued to drive the race car intermittently for the rest of the season, splitting the drive with big-name driver Nigel Mansell. During this period he took one podium, a second-place finish at Estoril.
In 1995 he earned a full-time race drive and took his first win, at the Portugese Grand Prix. He also scored five pole positions including four in a row. However, there were also problems and beginners' mistakes: at Monza he spun off on the formation lap, whilst in Adelaide he crashed coming into the pits.
Formula One: McLaren
In 1996 Coulthard signed with McLaren to drive alongside future champion Mika Hakkinen. His first season was unremarkable, as the Mercedes-powered team struggled to find speed, and he faced a number of retirements. However, highlights included leading at Imola and coming second behind Olivier Panis, then driving for Ligier, at the Monaco Grand Prix – a circuit that has been significant throughout Coulthard's career.
In 1997 he finished the drivers championship tied with Jean Alesi for third place after the disqualification of Michael Schumacher. He took two wins and narrowly missed others. At Montreal he was leading but was brought into the pits for a precautionary stop. He stalled twice whilst trying to exit the pit lane and lost the lead. The race was stopped a few minutes later due to a crash by Olivier Panis – and if Coulthard had not pitted, he would have won the race.
At Jerez, Coulthard was running in second place towards the end of the race and was catching leader Jacques Villeneuve after his earlier collision with Michael Schumacher. Due to team orders, Coulthard was forced by McLaren to allow his teammate, who was running close behind him, into second place. On the final lap of the race, Villeneuve let both McLarens past, meaning that DC saw a potential victory evaporate.
In 1998 the McLaren was consistently the fastest car on track, but it was Hakkinen who made the most of it, winning the title. Coulthard took just one win and spent most of the year in a supporting role.
In 1999, a combination of under-performance and bad luck saw him finish the season in fourth place, and McLaren lost the constructors' title to Ferrari. Hakkinen became champion, with Coulthard winning twice. In 2000, he was involved in a tight battle for the drivers' championship with Schumacher and Hakkinen, but eventually fell out of contention into a disappointing third place finish. In 2001 he finished the year in second place, but with barely half the points scored by runaway winner Schumacher.
Coulthard's subsequent years at McLaren were disappointing. He was regularly out-paced by younger teammate Kimi Raikkonen and had difficulties with the controversial single-lap qualifying format. He openly admitted that he did not like the format and was a vocal opponent. And then came the announcement that Juan Pablo Montoya was to join McLaren for 2005.
Montoya's McLaren tenure was not a success – he lasted less than two seasons and arguably cost Raikkonen and the team a world championship. In many ways, it foreshadowed the team's later experience with Fernando Alonso. But, by then, DC had moved on to newer and far more amenable pastures. In later years he has spoken of his time at McLaren and indicated that the role of second driver at that team is not necessarily an easy one to occupy.
Formula One: Red Bull
Soft drink magnate Dietrich Mateschitz decided to expand his company's motorsport portfolio by buying a Formula One team in time for the 2005 season, and he took over Jaguar from Ford. The new Red Bull Racing was attracted by Coulthard's experience and signed him for the 2005 Formula One season. This was viewed in some quarters as an unwise decision, and Coulthard was advised to 'go quietly' rather than risk ending his career as a backmarker with a rookie team. In the event, the situation was quite different.
DC was initially teamed with rookie drivers Christian Klien and Vitantonio Liuzzi and his Formula One contract was soon extended to the end of 2006. Coulthard's time at Red Bull has been widely viewed as a renewal for the driver, who scored points in many races and also came to occupy the role of drivers' spokesman and 'elder statesman' of the sport.
In 2006, Coulthard drove alongside Christian Klien in a car powered by Ferrari engines. Technical director Adrian Newey joined the team from McLaren to design the 2007 car. Coulthard has worked with Newey throughout his career and every winning car he drove was Newey-designed. He stated that he wished to remain with the team after the 2006 season and to add to his victory tally with them – something he unfortunately did not achieve, leaving him stranded on 13 wins.
On August 7 2006, the day after the Hungarian Grand Prix where Coulthard finished fifth, it was announced the he had extended his contract with Red Bull Racing for 2007 and would be teamed with the highly-regarded Australian driver Mark Webber.
In the 2006 Monaco Grand Prix Coulthard scored his first podium finish with Red Bull Racing, his best result with the team at that point, and also the team's first podium finish. During the trophy presentation he wore a red cape as the team was promoting the film Superman Returns during the weekend.
After a slow start to the 2007 season he delivered two strong drives at the Bahrain and Spanish Grands Prix where he picked up the team's first points of the season. On July 6 Red Bull Racing announced that Coulthard's contract had been extended to the end of 2008.
However he had a bad start to the season after a racing incident with Ferari's Felipe Massa. Interviewed on ITV1 shortly after crashing out of the race, he uttered this memorable sentence: "I know I screwed up the same way with Alex [Wurz] last year, and took full responsibility for it, and I would expect Felipe to do the same. If he doesn't, I'm going to kick the shit out of the little bastard."
At the second race in Malaysia he suffered a bad suspension failure which saw his Red Bull team investigated for car safety. Although cleared to drive, the lack of testing time had a negative impact on his race performance and he managed a only a ninth place Despite a series of poor performances over the course of the 2008 season he came back to secure a hard -fought third place at the 2008 Canadian Grand Prix, the 62nd podium finish of his Formula One career.
On the Thursday before the 2008 British Grand Prix, Coulthard announced that he would retire at the end of the season, but would remain at Red Bull as a consultant. Tragically, he retired on lap 1 after colliding with Sebastian Vettel.
Life after F1
Coulthard spent the 2009 season as a BBC summariser, where his performance was generally well-received. He continued to do demonstration work for Red Bull around the world, as well as acting as reserve driver for the first few races of the season while youngster Brendon Hartley waited for his superlicence to come through.
A controversial incident in Mumbai, India, saw the authorities try to impose a large speeding fine after he took the Red Bull car across the Rajiv Gandhi Sea Link bridge. Seemingly missing the point of the demonstration by a country mile, they tried to impose the bridge's standard speed limit of 62mph and reportedly confiscated the organisers' security deposit when the car went faster.
Coulthard appeared in the 2009 Race of Champions and said that he was contemplating a return to racing in the form of sportscars. In April 2010 he made good on that promise with the announcement that he would be racing for Mercedes in the Deutsche Tourenwagen Masters (DTM) series.
Facts and figures
Coulthard's 14-year F1 career means he has amassed a considerable points haul, and lies fifth on the all-time scorers list, being the top British scorer. He has won thirteen grands prix, including two at Monaco.
Among active F1 drivers at the end of his career, Coulthard had the third most wins (13), behind his former teammate Kimi Raikkonen and Fernando Alonso. Coulthard remains the highest-scoring British driver ever with 535 points, beating Nigel Mansell's previous record of 482 points.
At the 2006 Spanish Grand Prix he also became the eighth member of Formula One's '200 Club', joining Riccardo Patrese, Michael Schumacher, Rubens Barrichello, Gerhard Berger, Andrea de Cesaris, Nelson Piquet and Jean Alesi in the list of drivers to have competed in 200 Grands Prix.
Facts and figures from Red Bull celebrating David Coulthard's retirement
He has taken part in 246 Grands Prix
He has enjoyed 13 wins, 62 podiums, 18 fastest laps and 12 pole positions
His best championship finish was 2nd in 2001
He has scored 535 points
He has driven for three teams – Williams, McLaren and Red Bull
He has started from the front row 37 times
He has done 55,400 interviews (and how have they arrived at this figure, exactly?)
He has worn 160 race suits, 140 helmets, 85 pairs of gloves and 1 space suit. Plus a Superman cape on the Monaco podium, we might add
His middle name is Marshall. Surely everyone knew that?
He has put in some 31,332 hours of fitness training. That must make him pretty fit
He is the only man to wear a Superman costume on an F1 podium. Ah, we thought that should get a mention. Christian Horner's wearing it while nude in a swimming pool is obviously totally irrelevant here
He has taken 1,927 flights. Let's not mention the one that nearly killed him
He has had seven team-mates including world champions Mika Hakkinen, Kimi Raikkonen and Damon Hill
For many years he has had his own museum in Twynholm, Kirkcudbrightshire, originally run by his parents and then in the capable hands of fan Wendy McKenzie. It apparently sells DC 'baby-grows' which should come in handy now DC Junior has shown up.
He has eaten 432 chickens for lunch. Again, we ask, who was keeping score?
He has done 22 fashion shows
He once dressed up as a New York policeman. Well, who hasn't?
---
Information from Wikipedia has been used in compiling this article. The terms for modifying and redistributing this information can be found here.
For more information on David Coulthard and his career, visit his official site or visit The David Coulthard Museum.