British open wheel race-winners this season
October
Craig Dolby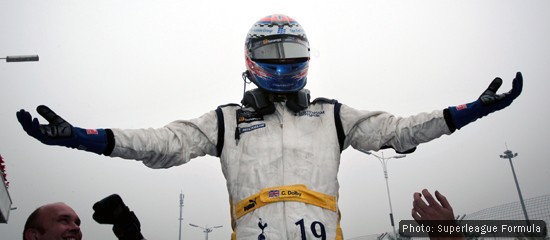 Superleague Formula, Beijing, China
October 10th, 2010
No points were awarded for Superleague's Beijing races as the track failed to gain the required FIA Grade 2 status, but that didn't stop Dolby from taking his first-ever street circuit win. Second in the opening stint after being obstructed at the start by pole-sitter Alvaro Parente's mechanical problems, he jumped AS Roma's Julien Jousse in the pitstops and beat Bordeaux's Franck Perera by more than three seconds.
He said: "Alvaro hit the rain light to let us past, which was sportsmanlike of him. That slowed me down a bit and Julien came through carrying more momentum before the start line, which you're not allowed to do. The boys did a great job to leapfrog Roma in the pits. After that, I took it easy and saved the tyres for race two, and cruised round enjoying it at the end."
Ben Hanley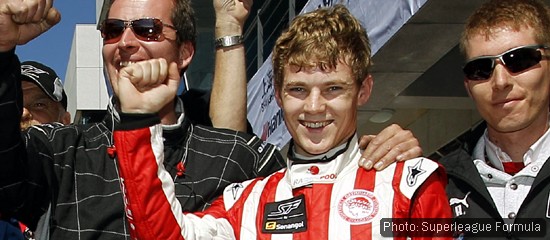 Superleague Formula, Ordos, China
October 3rd, 2010
Hanley led from start to finish in the first-ever international race at China's Ordos circuit in Inner Mongolia, his task made considerably easier by an accident during the rolling start that removed three of his rivals. Only Bordeaux's Franck Perera stayed close, but a slow pitstop and a penalty took him out of contention and Hanley took victory for Olympiacos by 2.6sec.
He said: "I don't know what happened at the start but it gave me a good advantage. From then on I concentrated on saving the tyres a bit. There was a bit of pressure from Perera in the first couple of laps but after the pit stop I had a nice five second gap. At the end the team asked for the fastest lap which we got. It shows that we've got a good car."
September
James Calado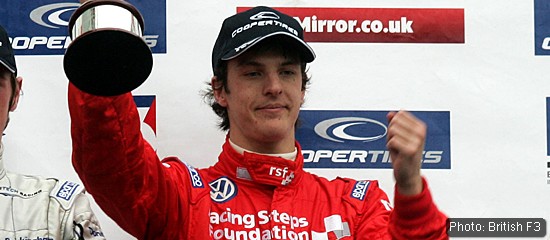 British F3, Brands Hatch
September 26th, 2010
Calado won the final race of the season despite a rain shower that began moments before the start and knocked out nine of the 21 cars. By the time he pitted for wet weather tyres he led by 14 seconds, but that advantage was eroded by an aggressive William Buller who challenged hard until running wide and conceding defeat.
He said: "I was very worried when I stopped. I wasn't sure if it was the right decision and it was quite a last-minute thing. The guys did a great job in getting the wet tyres on and that enabled me to get back in front and stay ahead of Will, who was pushing really hard. It's a very emotional win for me and it's great to win the last race of the season."
Daniel McKenzie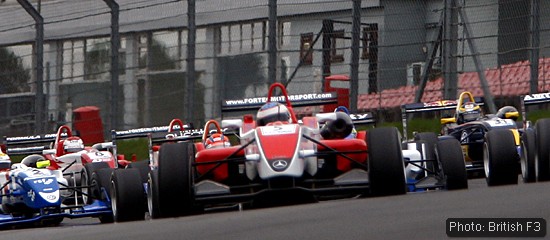 British F3, Brands Hatch
September 26th, 2010
Pole-sitter McKenzie won a shoving match with fellow front row starter William Buller on the first lap, escaping to build a winning lead while his rival span to the back of the field. Once that drama was over, McKenzie was able to manage the race and earn a 3.4sec victory.
He said: "The first lap was interesting. Buller tried to go around the outside – and he might have made it, but he turned in on me. He squeezed me and I had nowhere to go, and he hit my left front. The car wasn't too bad, I had a wheel vibration but it wasn't severe enough to make much difference. I pushed on and got some good lap times even though my tyres were pretty well rooted from the first race."
Oli Webb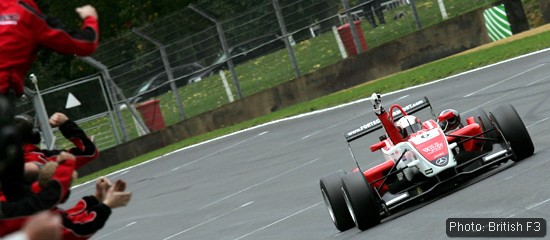 British F3, Brands Hatch
September 25th, 2010
Webb qualified on pole and was able to quickly drop all his rivals bar a stubborn James Calado, whose challenge faded when he was delayed lapping a backmarker leaving the Fortec driver to take an unchallenged victory.
He said: "It was a great race. I had an OK start – I had to defend a bit – because I wanted to be first into the first corner. I did that and got a really good gap on lap one, and increased the gap for five or six laps until James started to match my times. Then I repeated that towards the end and pulled some useful chunks of time to get a really good lead at the end."
Sam Bird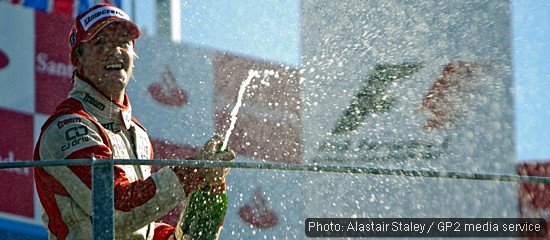 GP2, Monza
September 11th, 2010
Bird secured his victory in a race strewn with crashes and retirements by jumping team-mate and pole-sitter Jules Bianchi at the start, then running away from the field into the distance. His eventual margin of victory, boosted by a series of fastest laps, was 8.5 seconds.
He said: "To be able to start second, get in the lead on the first lap and get in and control it like we did is incredible: I'm really, really happy. There must have been a lot of carnage to have two restarts in quick succession, but they were good, I was able to maintain a lead, and then to pull away."
Pippa Mann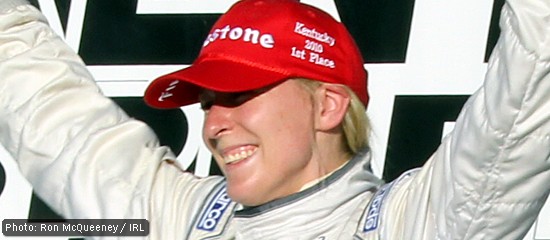 Indy Lights, Kentucky
September 4th, 2010
After a narrow loss in the previous race, Mann took her début win in dominant style – qualifying on pole, leading from the off, surviving a lap five restart after a crash at the back of the field, then running away with the race by almost seven seconds.
She said: "I said my game plan was to run away and hide, but realistically I didn't think it would happen. I was praying that a caution didn't come out because if it didn't we had a really good chance of winning. I can't thank my team and my engineer enough. We've had some tough times this year, and being able to finally reward everyone for their hard work with this win has been fantastic."
Dean Stoneman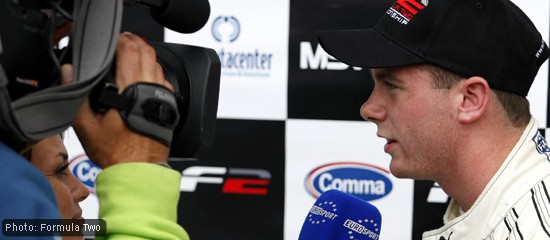 Formula Two, Oschersleben
September 4th, 2010
Dean Stoneman took a major step towards securing the Formula Two title by winning both races in Oschersleben. In the wet first race he went from fifth to first at the start, triumphing with the largest margin of victory so far seen in the series, 15 seconds. He started from pole in race two and controlled the contest from start to finish.
He said: "Obviously I've moved a lot closer to the title. I've got a 31 point lead, so that's good for us because I've got a race in hand. All I've got to do now is keep it consistent, finish the next two races in Valencia and hopefully I can win the championship."
August
Lewis Hamilton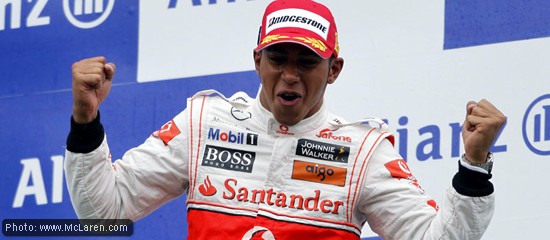 Formula One, Belgian Grand Prix
August 29th, 2010
Lewis Hamilton regained the lead of the F1 championship with a win after team-mate Jenson Button was knocked out of the race by rival Sebastian Vettel. Rain arrived late on, and Hamilton survived a scare where he almost crashed while struggling for grip. With that behind him, he was able to bring the car home 1.5sec clear of Mark Webber.
He said: "It was a great weekend, a very tough race for me, the same for everyone. I was praying it would be a race that would go smoothly, but then the rain came late on and I locked my wheels at turn eight, but thankfully I got away with it. Fortunately it didn't rain any more, and in the end it was about nursing the car home, making sure it stayed in one piece and bagging the points."
Dario Franchitti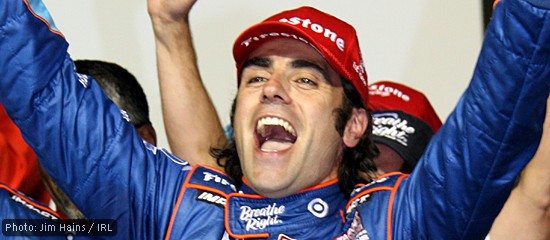 IndyCar Series, Chicagoland
August 28th, 2010
Dario Franchitti and his pit crew rolled the dice with 23 laps to go at Chicagoland, saving time on his final stop by just taking fuel while all his rivals also changed their tyres. It was enough to help him jump from also-ran to leader, and he held off Dan Wheldon to win by 0.0423sec in a race where the top 10 finishers were covered by less than a second.
He said: "We were struggling tonight in traffic as we got a little further back. That last stop was the key to this race. [Engineer] Chris Simmons, he was the one that made the call. We had a lot of faith in the Firestone tyres. He said leave the tyres on and got us out front."
James Calado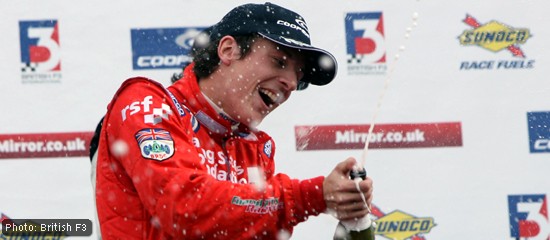 British F3 International, Silverstone
August 14th, 2010
James Calado started fourth at a treacherous Silverstone circuit but had made his way to the tail of leader Jean-Eric Vergne by the time the rain came. Pitting for wet-weather tyres proved the wrong call, losing too much time for those cars that tried it, and the Carlin team-mates stayed out on slicks to battle for the lead – until a mistake by Vergne allowed Calado through.
He said: "I'm sure it was as exciting for the spectators as it was for me. My heart was racing at about 300mph while I was side by side with Jean-Eric. It was incredible and scary, but we never touched and it was fair racing. I took advantage of JEV making a mistake; the conditions were treacherous and slippy and it's great to win in such tricky conditions."
Dario Franchitti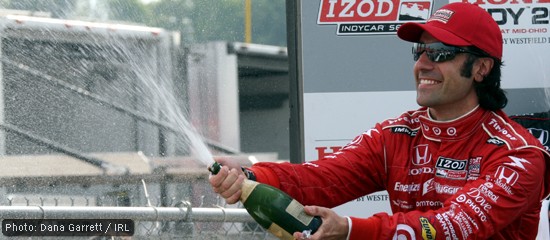 IndyCar Series, Mid-Ohio
August 8th, 2010
Target Chip Ganassi Racing's Dario Franchitti continued his dogged campaign to catch championship leader Will Power by squeezing out one of the IndyCar Series' closest-ever road course victories over him. He beat the Australian by half a second after resisting extreme pressure from him over the final 15 laps.
He said: "I drove every lap like it was a qualifying lap today, whether I was behind Will or ahead of Will. But the key was that first pit stop by the Target boys to get me out ahead – especially a 35-foot pit box, it's the tightest we run. In practice, we couldn't get the thing out of the box with Will parked in his but, when the race win was on the line, it didn't seem quite as difficult. I think that was the key today, because we were incredibly evenly matched on the track."
Martin Plowman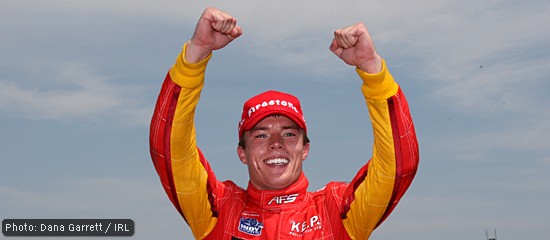 Indy Lights, Mid-Ohio
August 8th, 2010
Martin Plowman set a new track record and led every lap on his way to dominant victory from pole at Mid-Ohio. Only James Hinchcliffe was able to stay with him and when the Canadian span on lap 36 Plowman was able to ease off and coast to victory.
He said: "I put in 40 consistent laps – I knew the only way I could beat Hinch was not make a mistake and that's what I did. I'm with a great team this year and the results are starting to pay off."
James Calado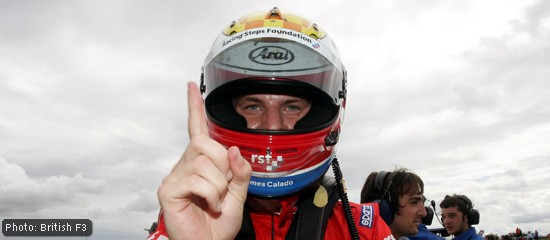 British F3 International, Thruxton
August 7th, 2010
James Calado recovered from a poor start to track down champion-in-waiting Jean-Eric Vergne, passing him for the lead on lap 15 of 27 and going on to win by six tenths of a second.
He said: "[The start] was a disaster – the lights were on for a ridiculous amount of time and I got clutch slip and no drive until the first corner, which allowed several people past. My pace in the mid-race was phenomenal, the car was great and I was able to catch and pass Jean-Eric."
Jolyon Palmer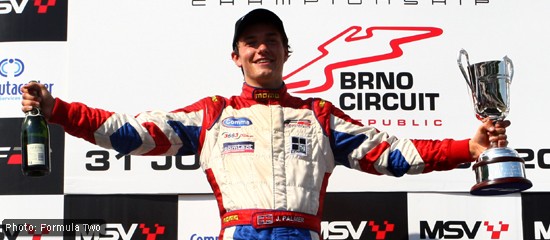 Formula Two, Brno
August 1st, 2010
Palmer had Dean Stoneman close in his mirrors for the whole of the race after out-dragging him to the first corner, but an error-free race as the pair swapped fastest laps ensured he took the victory and regained the lead of the championship.
He said: "It was a perfect get away, but I couldn't pull away from Dean. We were both on the same pace but we were pulling away from third place so I made sure I didn't risk much and didn't make any mistakes. I felt a bit of pressure because he was there the whole race but I was confident that if I didn't make a mistake he wouldn't be able to get past me. I was pretty relieved when the chequered flag came."
July
Daniel McKenzie
British F3 International, Rockingham
July 18th, 2010
A combination of overtaking and canny pit strategy helped Daniel McKenzie take his opening British F3 victory. It was the first-ever race with pitstops for the series and McKenzie delayed his as long as possible, snatching the lead from Daisuke Nakajima on lap 13 of 16.
He said: "It was all planned out and worked like a charm. It was a fantastic pit stop. The first win is always the hardest to achieve, so hopefully there will be many more to come for me."
Dean Stoneman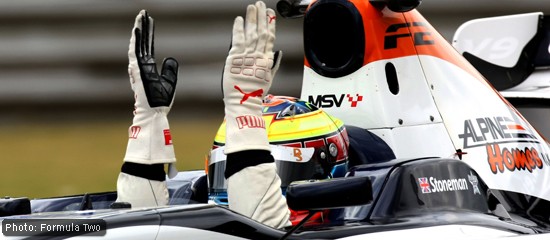 Formula Two, Brands Hatch
July 17th, 2010
A slow get-away by fellow front-row starter Sergey Afanasiev allowed Stoneman to open up a clear gap to the rest of the field early on, and he won the race in style without using any of his power boosts as his rivals squabbled behind him.
He said: "It's a tricky start off pole here, I've done it a few times in Formula Renault and it's quite tough going into the first corner, it's fast and blind, but I knew after the first few corners if I had a gap I could pull away."
Dean Stoneman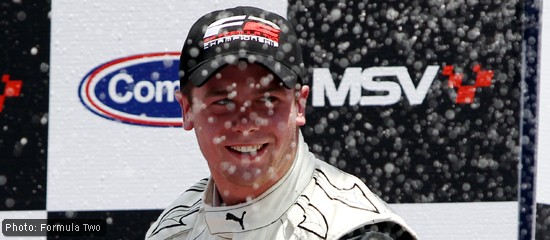 Formula Two, Portimao
July 4th, 2010
Stoneman jumped polesitter Jolyon Palmer at the start of the race and never looked back, eventually winning over his fellow Brit by a fraction over four seconds.
He said: "Off the start I got a good bite to the tyres to the Tarmac and managed to get down the inside of Jolyon going into turn one. I saw Jolyon used a boost to try and keep the lead but then I was one step ahead. On the first few laps I know it was only two or three tenths I was edging away, but towards the end it was more like four tenths due to how I managed the tyres."
Jolyon Palmer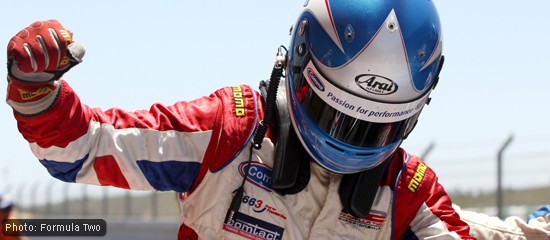 Formula Two, Portimao
July 3rd, 2010
The season's fourth win for Palmer saw him control the race from pole, stretching out a 2.6 second victory ahead of Benjamin Bailly and Jack Clarke in a contest that saw little overtaking.
He said: "It was a good win for me, that one. The most pressure I had was just into turn one – I got a decent enough start and held the lead. Other than that, I used a couple of boosts on the first lap and then just saved them. I was into quite a good rhythm and then the safety car came out, but when the field all closed up behind me I just boosted away again and had the pace to control the race from the front."
June
Dean Stoneman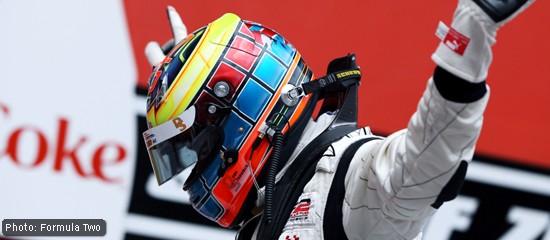 Formula Two, Zolder
June 20, 2010
Stoneman survived a mid-race safety car period to convert his second pole position of the season into a second win, triumphing by seven seconds over title rival Jolyon Palmer and setting the fastest lap of the race.
He said: "The car felt really good. I knew I was consistent in the race and I was able to keep my last six boosts for the final two laps, and I was able to set my fastest time on the very last lap."
Lewis Hamilton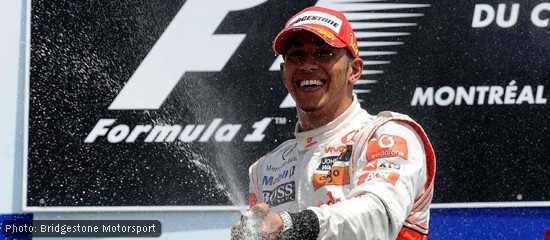 Formula One, Canadian Grand Prix
June 13, 2010
In a race of extreme tyre attrition, Hamilton successfully saw off the challenges of both Red Bull drivers, Ferrari's Fernando Alonso and team-mate Jenson Button to lead home a second consecutive 1-2 for McLaren.
He said: "It was an incredibly challenging afternoon, especially in the last 20 laps when I was trying to look after my tyres while also keeping Jenson and Fernando behind me. It wasn't easy, I can tell you that. It was such a sensational feeling to cross the line – this has been a truly fantastic day."
May
Dario Franchitti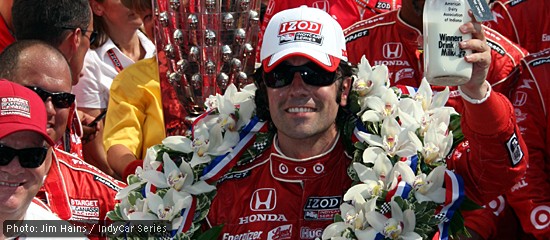 Indianapolis 500
May 30, 2010 – IndyCar Series round six
Franchitti controlled a race full of crashes and caution periods, successfully managing both the high-speed racing and the more careful ending as drivers slowed as little as they dared to save the fuel needed to get home. At the end of the 200 laps he had led 155 on his way to his second win.
He said: "This tastes just as good second time. Up until 10 laps to go I was pretty relaxed. Then all hell broke loose with fuel saving and all. I just needed to know what the other guys were doing – if they were saving more than me, they were doing something special. This means so much. To come back after going away for a year, win a championship and win the Indy 500."
Lewis Hamilton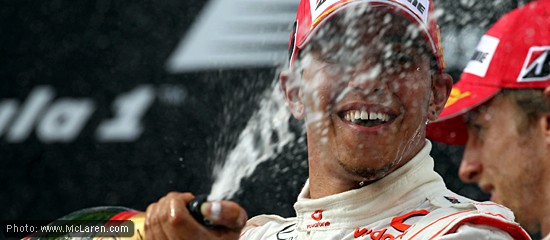 Formula One, Turkish Grand Prix
May 30, 2010
In a close four-way battle at Istanbul Park, Hamilton's victory owed much to his Red Bull Racing rivals colliding as they squabbled for the lead. Even without that, however, he was a constant threat all day with a car that was faster for most – but not all – of each lap.
He said: "Winning today doesn't feel quite as good as it sometimes does. That's because it's a little bit different from some of my previous race victories – ideally, the racer in me wants to win by overtaking the guys in front, not by seeing them crash out in front of me. Rather than inheriting a win, it's much nicer to fight your way past your rivals and earn the win the hard way."
Oli Webb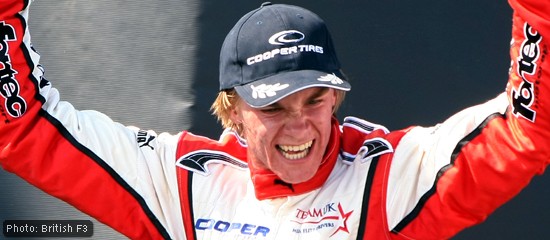 British F3 international class, Magny-Cours
May 23-24, 2010 – round three, races one and three
Webb beat off the challenge of Jean-Eric Vergne, the fastest man in qualifying, to win two of the weekend's races as British F3 visited France. He led from the start of the first and third races, and took the runner-up spot in the second race thanks to disqualifications and penalties ahead of him.
He said: "To get a win in my first season in F3 was always the aim, but to get two at a circuit I have never seen is absolutely brilliant. It could hardly have gone any better – I am now leading the championship, I got two fastest laps, a second place and all at my closest rival's home circuit."
Jolyon Palmer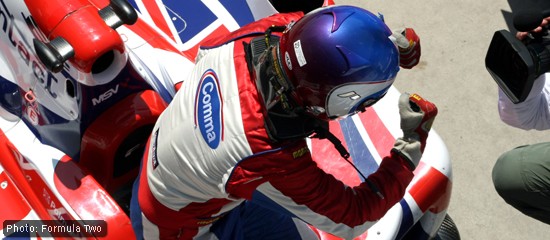 Formula Two, Monza
May 23-24 2010 – round three, races one and two
After an average weekend in Morocco, Palmer made his first-ever visit to Monza one to remember by winning both races from pole and re-taking the F2 championship lead. In the first race Johan Jokinen got past him at the start, but a penalty gave the lead back to Palmer, while in the second he was clear from the start of the race to its finish.
He said: "It's a fantastic circuit. It's my first time here but I had a good feeling about this weekend – I don't really know what it is, I've just been quick the whole time, they have some great corners here, the Lesmos I've been really quick and Parabolica as well. I've really enjoyed the circuit, it's one of my favourites now."
James Calado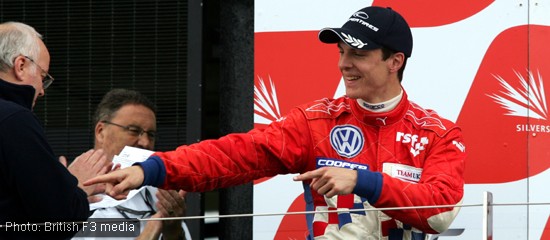 British F3 international class, Silverstone
May 2-3, 2010
Calado became the first open-wheeler to win on the new Silverstone Arena circuit by taking the first race of the weekend, then completed his outing with another victory in the third – both times withstanding a strong challenge from Oli Webb.
He said: "It was a fantastic race, but it was really, really hard. We were wheel to wheel, but it was a really clean fight. I'm so pleased to take another victory. Two pole positions and two race victories; it's been a great weekend."
Alexander Sims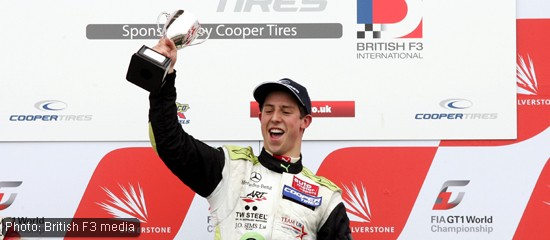 British F3 invitational class, Silverstone
May 2, 2010
Sims and his ART Grand Prix team-mates joined the British F3 field as invitational drivers, but struggled to find pace in practice and qualifying. In the wet second race, however, Sims climbed from 11th to fifth on the first lap, then up to second on the next before grabbing the lead for good on lap five.
He said: "I'm obviously absolutely delighted to have won on my debut in British F3. It was a bizarre feeling to be so much quicker than anyone else in race two, to win by eight seconds in a 20 minute race – and doing so from 11th on the grid – was really something."
Dean Stoneman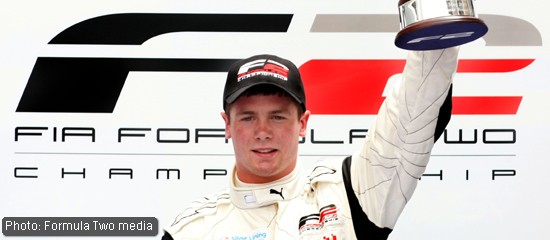 Formula Two, Marrakech
May 1, 2010
The visit to Morocco and the street course in Marrakech proved too much for many F2 drivers as the weekend was strewn with crashes – but Stoneman asserted himself with a win in race one, fending off Jolyon Palmer until his rival's car failed during a safety car period, and took the runner-up spot in the second.
He said: "I started off well, and I had a nice gap of about three seconds until the first safety car came out, but that's the way motorsport goes – you can't always judge it. It's not the best to win a race under a safety car but that's the way it is."
April
Jolyon Palmer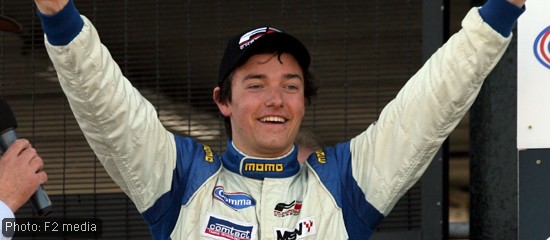 Formula Two, Silverstone
April 18, 2010
All eyes were on Palmer, son of series boss Jonathan, to see if his impressive pace in testing, practice and qualifying would hold up under race conditions – and it did. Controlling the race from the start line, he withstood early pressure from Dean Stoneman to gradually squeeze out a winning margin.
He said: "It's fantastic, all I could have hoped for really. It was a good race, Dean was pressuring me at the start but I managed to hold it off and get a small gap. Then I was just concentrating on saving my tyres for the last laps, not making any mistakes and making sure I didn't lose focus, because that was the only thing that could have stopped me."
Jenson Button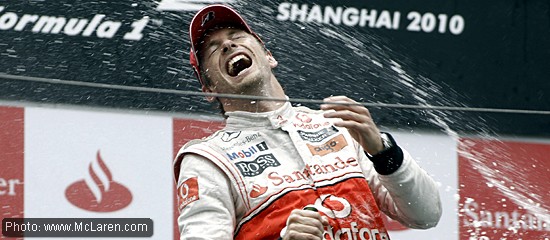 Formula One, Shanghai, China
April 18, 2010
Another wet race, another gutsy call on tyre strategy, another victory for the defending F1 champion. While most of the field made an early stop to change tyres, Button and five others stuck with what was working and were rewarded. A lary moment towards the end brought the pursuing Lewis Hamilton into range, but in the end it was Button who claimed the McLaren bragging rights.
He said: "This was my best victory in Formula One. Every race you win becomes your best, but this was an extremely special win in very tough conditions. From the strategy calls to the pitstops, you need to get everything just right if you're going to win in conditions like these. And today we did indeed get everything just right."
Alexander Sims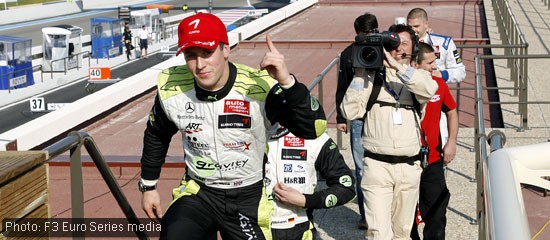 F3 Euro Series, Paul Ricard, France
April 11, 2010 – Round one, race two
The reverse grid set by the previous race, in which Sims had finished on the podium, saw him starting from sixth, but the long straights of Le Castellet allowed for plenty of overtaking. The ART driver was able to work his way through the field in the early laps, taking the lead on the seventh and eventually winning by 7.5 seconds.
He said: "I am really happy with my second victory ever in the Formula 3 Euro Series. Starting off the season with a victory and a podium finish is very nice. In today's race, it was crucial to make decent progress in the first few laps. I closed down [Roberto] Merhi reasonably easily and after passing him for the lead I managed to pull a good gap."
Rupert Svendsen-Cook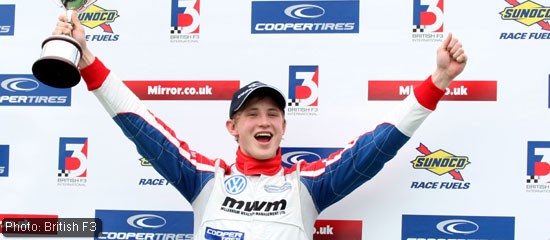 British F3 International, Oulton Park, UK
April 5, 2010 – Round one, race two
Starting from third in British F3's first-ever reverse grid race, Svendsen-Cook moved up to second thanks to an early mistake by Gabriel Dias. He took the lead by forcing Daisuke Nakajima into an error and kept it afterwards to win by 0.658 seconds.
He said: "I'm very pleased. Pre-season testing went well, but that's just testing. You never know what your pace is really like until you get into the racing. I knew that if I pressured Daisuke into Old Hall and forced him on to the wetter part of the track that I could get past, and so it proved."
Craig Dolby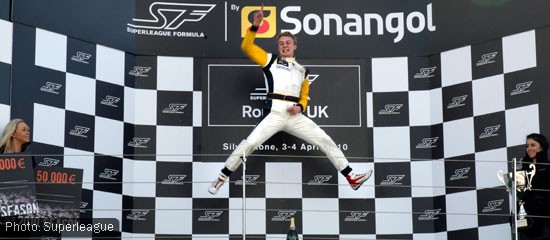 Superleague Formula, Silverstone, UK
April 4, 2010 – Round one, races one and three
Dolby was the class of the Superleague field as it launched it 2010 season, winning the first race, cruising through from the back to take fourth in the reverse grid second race, and then also taking victory in the €100,000 six-car 'dash for the cash' race to close out the weekend.
He said: "It was my birthday on Wednesday so this a fantastic late present. We've had a great weekend and although I was confident coming into the races, I have to admit that I was surprised by quite how fast we were. It's a very long season, though, and the other guys will push us hard so we won't be getting carried away just yet."
March
Jenson Button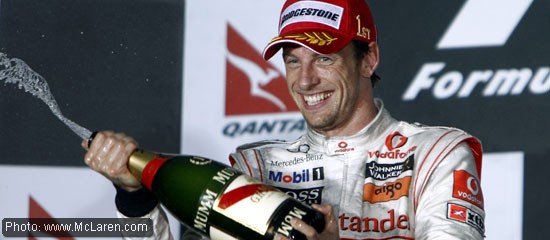 Formula One, Melbourne, Australia
March 28, 2010
An early pit-stop and a brave gamble to switch to slick tyres on a drying track saved Jenson Button from a scrappy battle for minor points – instead allowing him to repeat his Melbourne victory of the previous year, but this time for McLaren.
He said: "It is a very special feeling and we will take a lot from this. We could not have done a better strategy – my decision at the beginning was my call but with a lot of feedback from the circuit. It has taken me a little while to get to grips inside the car, but the team has been fantastic and welcomed me in."