Rangers and Spurs took advantage of an unlucky break for the weekend's best driver, Max Wissel of FC Basel, to take first and second in Superleague Formula's €100,000 superfinal at Donington Park.
Wissel won the weekend's first race, then advanced from the back of the reverse grid in the second race to take third place. He was leading the five-lap 'dash for cash' race when he suffered a gearbox problem that dropped him to third.
That left Rangers' Australian driver John Martin to take victory, and with it revenge for losing out in a close tussle to Wissel in the first race.
Tottenham's Craig Dolby fell behind Wissel in the championship standings, but both made up ground on leader Adrian Valles. He had a subdued weekend in the Liverpool car despite the presence of a fair number of his club's fans, lured by free tickets on the Reds' website.
Qualifying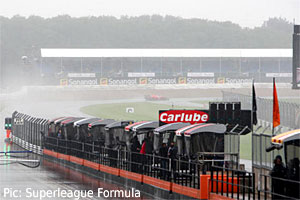 Last year, Superleague's launch race was held on a rainy weekend at Donington – this year the heavens opened so badly that qualifying had to be cancelled. Although race day was dry, the Saturday was so wet that the flooded circuit suffered damage.
In a further blow to Donington Park's credibility as a Formula One venue, volunteer race marshals reported the weather had opened up a large hole in a run-off area between Coppice and McCleans. It was fixed overnight, but qualifying ended abruptly before the knock-out stages had got properly under way.
Instead, the grid for the opening race was decided based on performance in the two group stages of qualifying. This put Antonio Pizzonia of Corinthians on pole, with defending series champion and race winner at Donington last year Davide Rigon of Olympiacos next to him.
Race one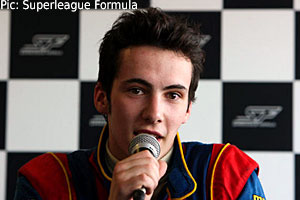 The early stages of the first race saw Pizzonia make the most of his pole position, but the lead he built didn't survive the pitstops and he dropped to third behind Wissel and Martin.
Rangers had lost two possible wins already this season because of poor pitstops, but this time their stop was quick and efficient and Martin emerged challenging Wissel for the effective lead of the race, behind unpitted traffic.
However his hopes were dashed by a backmarker, PSV's Dominick Muermans, who spent the whole race refusing to allow anyone to lap him without a fight. Wissel had better luck getting past than Martin, and in the end that made the difference.
Interviewed as he received the runner-up trophy, Martin said: "We left the pits first and then got screwed by a backmarker. He was a lap down and still trying to race."
Further back, AC Milan's Giorgio Pantano took fourth from Dolby in the pitstops, having earlier been forced to defend from team-mate Jonanthan Kennard.
Dolby later fell back into the clutches of championship leaders Liverpool, Valles cutting through the field from his poor qualifying position and overtaking Kennard on the way.
The Spurs and Liverpool cars ran side-by-side around the hairpin in the dying laps as Valles attempted a pass, but Dolby successfully defended to finish fifth.
Scott Mansell, making his Galatasaray debut, started last but was able to make his way past PSV and Olympique Lyonnais, finishing the race tracking Sporting Club Portugal in an unsuccessful bid for 12th.
Race two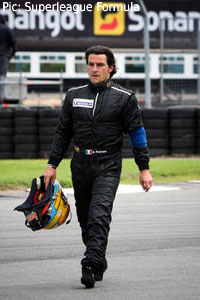 In the second race many of the cars that should have benefited from the reverse grid failed to capitalise, chief among them polesitter Enrique Bernoldi who led until his pitstop – from which he did not emerge.
His fellow front-row starter Olympiacos could not repair their first race problem in time and were forced to start in the pitlane, retiring early on with a second breakdown, while Anderlecht failed to run at all. FC Seville retired from the lead with a holed gearbox, and Mansell faded down the field to run last after his pitstop.
At the back, Martin attempted a pass on Pantano but mistimed it, knocking both cars out of the race and leaving the GP2 champion complaining about drivers who try to win races on the first lap. Martin later accepted responsibility and apologised, while his pit crew raced to repair the car in time for the superfinal immediately after race two.
"They did about two hours' work in 40 minutes," he was to say delightedly later, after his victory.
Meanwhile, Wissel had worked his way forward from his last-place starting position to hassle the new leaders, FC Porto and Sporting Club Portugal, with Dolby behind him.
After a shaky start, Valles brought Liverpool up to sixth while Kennard had a spirited battle for ninth with Olympique Lyonnais, but could not stay on track after finally taking the place, recovering from an excursion across the grass to accept 10th.
Wissel's eventual third moved him ahead of Dolby to second in the standings. But the Tottenham driver benefited from the race too, his fourth place bagging him the last slot in the six-car, €100,000 superfinal as Wissel had already qualified for it by winning earlier in the day.
Superfinal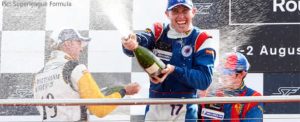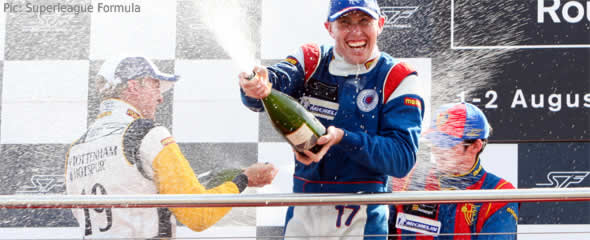 Unusually for Superleague, the six cars in the 'dash for cash' superfinal were lined up in a standing start – something that Dolby said he had not done since he was racing in 250cc junior classes. Despite this, he beat ex-F1 pilot Pizzonia into the first corner for fifth place.
Martin also made an excellent start to leave the Portuguese clubs behind him and close on Wissel. The race quickly divided into three pairs, Wissel leading Martin, Sporting Club Portugal leading FC Porto, and Dolby leading Pizzonia.
But then Porto's Tristan Gommendy made a rash passing attempt on Pedro Petiz, sending both cars into the gravel and consigning them to the back of the race. Pizzonia ran wide soon after, taking the pressure off Dolby, and then Wissel became the latest competitor to suffer gearbox problems and faded to third.
This left the two Alan Docking-run British cars of Rangers and Spurs to come home first and second.
Quotes
Glasgow Rangers: John Martin (AUS)

"I came out of the pits effectively leading race one but was screwed a win due to a car, yet to pit, not getting out of the way. Nevertheless it was my second runners-up place in consecutive race weekends. Race two was over before it started after a opening lap collision with AC Milan. But victory in the Super Final was very sweet. The team did an awesome job – taking just half the time to repair it would normally. The car wasn't perfect but it was still good enough to win!"

Liverpool FC: Adrian Valles (ESP)

"This weekend has been a little strange. Although it has been my worst weekend in terms of qualifying and race results of the season, I still lead the championship which is the most important thing. It's all about bringing the car home safely to the finish."

Tottenham Hotspur: Craig Dolby

"I had braking issues and the rear roll bar broke in race one but managed fifth place then fourth in race two. But the biggest bonus was finishing ahead of series leader Adrian [Valles] in both. I'd only previously ever done a race standing start in a much less powerful car so that in itself was an interesting feature of the Super Final for me. It's been a great weekend for me."

AS Roma (ITA): Jonathan Kennard

"In race one I pitted early but unfortunately there was a problem with the left rear wheel which cost me some places and then my new tyres went off quickly leaving me with traction problems. I again had a slow stop in the second race but it's been a pretty satisfying weekend nevertheless."

Galatasaray (TKY): Scott Mansell

"I was quite happy with 13th on my SLF debut in race one especially considering I'd only done two 'dry' laps in the car before the race started. In race two I pitted early and came through to 12th. It's a steep learning process with the car but I must be happy considering my lack of race action in recent years."