Pippa Mann threw off the woes of a poor start to the season to recapture her testing form and qualify fifth for the Indy Lights Kansas Lottery 100.
The Panther Racing driver had dominated a pre-season rookies' session on the oval at Homestead-Miami, but her opening performances on the road circuits of St Petersburg and Long Beach did not live up to that promise.
But, back on an oval this weekend, she again ran with the leaders.
"Overall it was a pretty decent qualifying run for us. We've been just a tick off the fastest lap since this morning and, because the gap is so small on the ovals and the Indy Lights field is so competitive, anything can move you up front or to the middle of the pack. But I'm pretty happy with the fifth place on qualifying and I'm looking forward for the race tomorrow."
Team-mate and fellow Brit Martin Plowman was not far behind, setting the ninth-best speed. He said: "I'm pretty happy with the ninth position on the grid after being 15th on the last practice session.
"The team managed to get the car better after our second practice and I know that we have a good car for tomorrow, so ninth place is not exactly where I wanted to start but I'm confident that we have a good car for the race.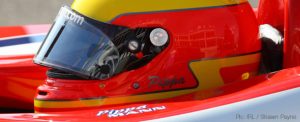 Pole was taken by the 2005 series champion Wade Cunningham, who will have rookie Sebastian Saavedra next to him. The second row is made up of Ana Beatriz and J.R. Hildebrand.
The #63 Genoa Racing car, which was driven by Duncan Tappy in St Petersburg and Jonathan Bomarito in Long Beach, will be piloted by Dillon Battistini. The Surrey driver was a contender for last season's championship until his performance dropped off in the final few races.
Before qualifying in 14th place, he said: "I'm very confident in our ability to come away from Kansas with a top result, even though everything has come together so quickly.
"Our primary focus has been IndyCar and the Indianapolis 500. It seems as if I've done nothing but workout and go to meetings for months now. I think it'll be a nice mental break to get in a car this weekend – then hopefully the 500 and maybe more."
Northern Ireland's Ali Jackson was unable to run in qualifying after a practice accident that wrecked his car and left him with an injured thumb and foot. Battistini's team-mate Richard Philippe spun and Jackson was unable to avoid hitting him.
The team has prepared a spare car and, if he is medically cleared to race, he will start from the back. He said: "My foot hurts and my tailbone and my thumb. I'm just going to do everything the doctor says, and hopefully, he'll let me race."
Former series champion Jay Howard will start 22nd.