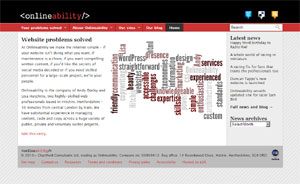 Onlineability: Web design and copywriting services
The team behind Brits on Pole is a long-established web development and copywriting partnership with a good deal of professional experience in these areas and a very sound grip of using social media. We also have direct experience of designing and maintaining sites for drivers and motorsport companies.
We're passionate about using the internet to communicate our clients' messages without fuss, bother or huge expense. The same goes for our editorial services. We're experts at making each word hit its target. Our strengths are our knowledge, experience and enthusiasm. This stuff doesn't faze us, we understand it inside-out, and we can make sense of it for you – without giving you a quote the size of your yearly racing budget.
In fact, we've got a straightforward line on costs: we'll be transparent about your needs and we'll price the work honestly rather than trying to sell you a lot of fancy stuff you'll never use. We're not the cheapest on the market, but our clients agree our value is hard to beat. Why not find out a bit more about us, then get in touch?