Superleague Formula, a football-themed racing series now approaching the halfway point in its second season, is still experiencing something of a credibility gap with fans who wonder whether the two sports will ever fit well together.
We were among the sceptics when it launched, but were already starting to come around even before we got a close look at the powerful cars and talked to some of the drivers about what it's like to race them.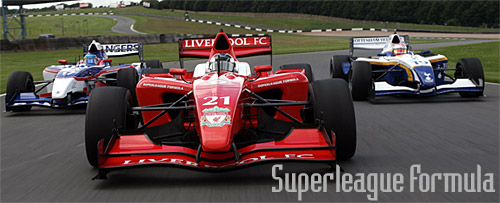 In the run-in to its forthcoming British round the series organised a media event at Donington Park featuring the cars of the three British teams Liverpool, Rangers and Tottenham Hotspur. Also present were three British drivers, Craig Dolby, Jonathan Kennard and Duncan Tappy.
The aim was to promote the upcoming race but also to show fans why Superleague Formula is worth their time and attention. And the hefty two-metre wide V12-powered racecar, which the drivers love putting through their paces, is the star attraction. We have also enjoyed Superleague's success in getting talented British drivers into racing seats, which was how we got interested in the first place.
This page collects together all our coverage from the day including pictures, driver interviews, some words from series director Robin Webb – and a taste of the noise made by those fantastic-sounding engines. Just because we can.
Engine noise
V12s as heard from the Donington pitlane

This is the sound of three of the Superleague Formula cars speeding past the Donington Park pitlane as they did laps of the circuit for filming, and also to practice raceday procedure for drivers and crews. At Donington you can hear the cars coming all the way through the hairpin section which is behind the pitlane. So you get plenty of warning as they are about to appear. Listen here (42 secs)
Driver soundbites
Craig Dolby – Tottenham Hotspur

Adrian Valles – Liverpool

John Martin – Rangers

Jonathan Kennard – AS Roma

Duncan Tappy – Galatasaray
Coverage in-depth
"We like to consider ourselves the naughty boys of motor sport," says Superleague Formula's competition director Robin Webb, proudly staking his championship's claim to be the most politically incorrect series in racing.
Superleague Formula, the football-themed racing series currently in its second season, has put on a demonstration at Donington Park featuring the Liverpool, Rangers and Spurs cars to promote its upcoming British race weekend.
Craig Dolby's dad had a philosophy that the driver has used since his karting days to help him become a Superleague Formula race-winner with the prospect of an exciting future ahead of him. However, to find out what it is, you'll have to read our exclusive Q&A with him.
Jonathan Kennard's first SLF race was a baptism of fire as he came to terms with a new car, a new track, a new team, his first rolling start and unaccustomed pitstops. Read our exclusive Q&A to find out how the experience benefited his driving career.
Duncan Tappy talked about some of the challenges faced by drivers at a recent event to promote Superleague Formula in the UK. To find out more, read our exclusive Q&A.
A trackside view of Craig Dolby's maiden victory in Zolder: "After an early pit stop Craig was able to put in some quick laps on fresh tyres. They must have been bloody quick, because when the rest of the field had pitted he was comfortably in the lead."