Former McLaren Autosport BRDC Young Driver award-winner Alexander Sims has put himself onto the fast-track to the pinnacle of motor racing by signing with the management programme run by the new owners of the Renault Formula One team.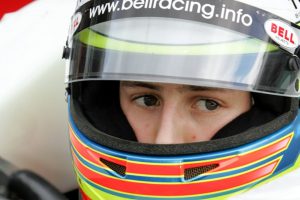 The 21-year-old from Cambridgeshire, who will start this year's F3 Euro Series among the title favourites following a strong rookie season, has been announced as one of the members of Gravity Sport Management's racing academy for 2010.
Gravity is part of Genii Capital, the private investment firm that recently bought into Renault following the car manufacturer's decision to scale back its F1 involvement.
At the time Genii said it would be looking for ways in which its various holdings could work together, highlighting the potential for the drivers managed by Gravity to benefit from the experience built up by the Renault Driver Development Programme.
Gravity operates by using funds from private investors to support and promote young drivers in the hope that some will go on to earn the lucrative pay cheques and commercial opportunities that success in Formula One can bring. Its race academy designs an individually-tailored programme for each participant covering driving technique, physical fitness, media relations and the economics of motor sport.
According to Sims: "Generally, they want to support young drivers who can't get any further on their own funding and have a realistic chance of making F1. To put it in basic terms, their aim – and my aim – is solely to get to Formula One, because if I don't reach F1 they're not going to make too much money out of me."
Immediate beneficiaries of the deal with Renault were Ho-Pin Tung and Jerome D'Ambrosio, named as the team's reserve drivers and also placed with the DAMS GP2 squad. DAMS enjoys close links to F1 team boss and ex-Gravity CEO Eric Boullier and has now been rebranded the Renault F1 Junior Team.
Now Sims has placed himself near the front of the queue to follow in their footsteps by using Gravity's support to make possible a move to F3 Euro Series constructors champions ART Grand Prix.
He takes over there from Jules Bianchi, who has been promoted to GP2 by ART after winning the drivers' title and has also signed an F1 development deal with Ferrari.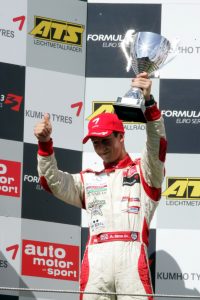 But, according to Sims, his golden opportunity might have slipped away had he not attracted attention from Gravity and other investors towards the end of his rookie year in F3 Euro Series, which saw him win a race and finish fourth in the title chase.
He told Brits on Pole the personal finances which had supported him to that point in his career had been on the verge of running out: "A second year in F3 was possibly a bit too much to ask. Thankfully, we had a fantastic year last year – people were interested in investing in my career and Gravity seemed the best option.
"I'm very, very happy to be with Gravity for a long term deal. Basically, they'll be paying the bills from now which is a massive relief."
He said he had begun discussions with them in October, long before the deal to buy into Renault came along: "The situation was that there were a few offers on the table towards the end of last year.
"I feel very privileged to have been in that situation, to try to work out where is best for the money to come from. It's a very difficult situation at the moment for a driver – if we didn't have management companies working with us at the end of last year I think we would have struggled."
Sims said he was already being invited to take part in training seminars run by the academy, and had been promised concrete support in areas such as the cost of personal training, developing his media skills, and handling logistics such as organising flights to races.