We're now well into the second season since Jenson Button set himself a new challenge: prove his drivers' championship was no fluke by making a success of his move to one of the most successful teams of all time, Vodafone McLaren Mercedes.
And with a series of wins under his belt, it looks like the gamble is paying off.
In 2009 Button had gone from the 'nearly man' of Formula One to Britain's tenth world champion, thanks to the remarkable transformation of his team from Honda to Brawn GP – and his ability to seize the chance for glory.
In 2010 he chose to measure himself against his predecessor as champion, Lewis Hamilton, and immediately confounded the critics by winning two of the first four races.
This year, he's kept the momentum going with more victories – including at the Hungaroring in his 200th Grand Prix.
It's just the latest twist in a career that has taken Button through the highs and lows of motorsport – and, for his fans, provided an ever-changing array of memorabilia and team clothing to choose between.
From Jenson Button tshirts and caps, to flags, prints, calendars and diecast models, there's something for everyone – adult, child, armchair fan and active racegoer.
Plus, if you fancy a bit of retro-chic, there are still a few bits and pieces around from Button's Brawn GP, Honda, BAR, Williams and even Benetton days – so you can show the world you were a fan even when he wasn't driving a winning car.
Here's our guide to what's on offer, where you can find it, and how much it will cost you.
Vodafone McLaren Mercedes eShop
This is the official online store of Button's team and, as you'd expect, it has the widest selection of clothing and memorabilia.
Products include the silver or Rocket Red team gear familiar from raceday TV broadcasts, but there is more besides. A wide range of teamwear such as t-shirts and polo shirts is available for both men and women, a lifestyle range contains classier (and more expensive) clothing, footwear and jewellery, and there is a wonderful set of lavish full-colour posters from every race this season.
Other retailers
Some retailers have whole sections dedicated to Jenson Button or McLaren merchandise, so if you're looking for a good general browse that includes products above and beyond the official team merchandise try the following:
Clothing
Tshirts, caps, tops and other items – choose from a wide selection for men, women and kids in the iconic Vodafone McLaren Mercedes colours, or visit the team store here.
Models, memorabilia and collectibles
Rare and a bit pricey, but highly collectible and impressive enough when displayed on the shelf or wall, these replicas and prints fill the space between toy shop models and posters on the one hand, and bank-breaking one-off items on the other.
Race day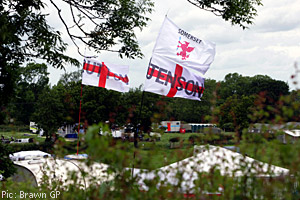 The British Grand Prix is safe and sound at Silverstone, and awash with McLaren Rocket Red Button gear – plus a loyalist sprinkling of black, yellow and white Brawn GP stuff.
Mind you, last time we went we saw someone in a BAR cap, so whichever you pick someone's going to be cooler.
Here are a few ideas of what you might choose to take with you on the day.
Brawn GP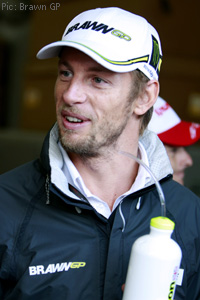 Brawn GP – created from the ashes of the defunct Honda team – proved to be the ultimate one-hit wonder, transforming into Mercedes GP after the German car giant bought a controlling stake. And JB himself, of course, departed to McLaren.
So when it comes to Brawn GP gifts, presents and merchandise – and the cool points that score for wearing that short-lived slash of acid yellow-green at race weekends – it's now or never. Once these are gone, there won't be any more.
Fortunately, there are a couple of retailers out there still supplying a limited amount of original merchandise, while the memorabilia-makers occasionally produce new reminders of that remarkable year.
For example, OnPole still has a tiny amount of stuff, including this print of the championship-winning car at £29.99.
Other past teams
Jenson Button hasn't been short of teams in his career, sometimes because he moved and sometimes because the team changed under him. From his start with Williams, he went on to Benetton, Renault, BAR, Honda, Brawn and – of course – McLaren.
Bits and pieces of memorabilia and merchandise still exists from those days, and here is some of it.