Many people thought McLaren boss Ron Dennis was taking a risky gamble when he brought an untried rookie into his team at the start of the 2007 season – but the young Lewis Hamilton was a revelation in his début season and carried on where he left off in 2008. Even overnight sensations have to start somewhere, though – and this is how Hamilton got where he is today.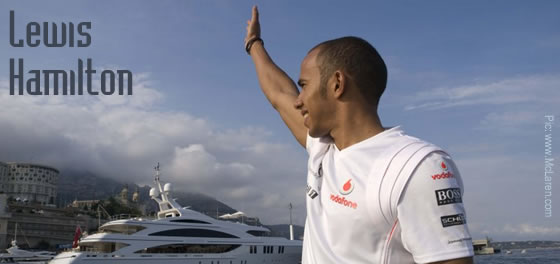 Lewis Carl Davidson Hamilton was born in Stevenage, Hertfordshire, UK on January 7 1985 and was named after the iconic American sprinter Carl Lewis. His mother, Carmen Lerbalestier, is white British while his paternal grandparents emigrated to the United Kingdom from Grenada in the 1950s. His grandfather Oliver Hamilton worked on the London Underground. Coming from this mixed-race background, Hamilton is often labelled "the first black driver in Formula One".
Hamilton's parents separated when he was two. He lived with his mother and half-sisters Nicola and Samantha until the age of 12, when he started living with his father Anthony, stepmother Linda and half-brother Nicholas, who has cerebral palsy. Both his parents still live in Hertfordshire although Hamilton himself is presently resident in Geneva. He attended The John Henry Newman School in Stevenage, where he was a talented footballer, playing in his school team alongside England international midfielder Ashley Young. He has said that if Formula One had not worked out for him he would have been a footballer or a cricketer.
In what has become one of the most famous episodes of his life, he approached McLaren team principal, Ron Dennis when he was ten years old at an awards ceremony, asked for an autograph and told him: "Hi. I'm Lewis Hamilton. I won the British [Karting] Championship and one day I want to be racing your cars." This was a winning strategy: less than three years later, he was signed by McLaren and Mercedes-Benz to their Young Driver Support Programme.
After winning the British Formula Renault, European Formula Three and GP2 championships, he became a McLaren F1 driver for 2007, making his Formula One debut 12 years after his initial encounter with Dennis.
Starting out
Hamilton's first racing success was in the unusual arena of radio-controlled cars. His dad bought him one in 1991, and Hamilton finished second in the national BRCA championship the following year. Hamilton said of the time: "I was racing these remote-controlled cars and winning club championships against adults". That led to Hamilton moving on to karting.
His father bought his first go-kart as a present at the age of six – on condition that he worked hard at school in return for support in his racing career. And he certainly kept to his side of the bargain. Anthony Hamilton eventually took redundancy from his job as an IT manager and became a contractor, sometimes doing up to three jobs at a time to support his son's career. He found the time to attend all his races, set up his own computer company and worked as his son's manager.
Karting
Hamilton began karting in 1993, aged eight, at the Rye House Kart Circuit in Hertfordshire. He was soon winning races and championships. At age ten, he had his famous encounter with Ron Dennis, and the McLaren boss wrote in his autograph book: "Phone me in nine years, we'll sort something out then." Ron was better than his word – and got in touch within three years.
Hamilton spent 1993-97 in the Cadet ranks then progressed in 1998 through the Junior Yamaha division. At this point the phone rang and Ron Dennis was on the other end, offering a place on the McLaren driver development programme. This contract included an option of a future F1 seat, making Hamilton the youngest ever driver to secure a contract which later resulted in an F1 drive.
Hamilton spent 1999 in the Junior Intercontinental A divisions before moving on to Formula A and then Formula Super A in subsequent years. Here he raced for TeamMBM.com alongside Nico Rosberg. He caught the attention of the British Racing Drivers' Club (BRDC) and he was made a member of the Rising Star programme in 2000.
In 2001 Michael Schumacher made a one-off return to karts and competed against Hamilton and the other future F1 drivers Vitantonio Liuzzi and Nico Rosberg. Hamilton ended the final seventh, four places behind Schumacher, and Schumacher said afterwards: "He's a quality driver, very strong and only 16. If he keeps this up I'm sure he will reach F1. It's something special to see a kid of his age out on the circuit. He's clearly got the right racing mentality."
Formula Renault and Formula Three
Hamilton's first experience of open-wheel racing was in the British Formula Renault Winter Series in 2001. An inauspicious start saw him crash on his third lap during testing, however he finished fifth overall. This led to a full season in Formula Renault UK with Manor Motorsport during 2002. Hamilton finished third overall with three wins and three pole positions, remained with Manor for another year and won the championship with ten wins and 419 points. His closest rival, Alex Lloyd, took two wins and 377 points.
With the championship in the bag, Hamilton missed the last two races of the season in order to debut in the season finale of the British Formula Three series. In his first race he was forced out with a puncture and in the second he crashed out and was taken to hospital after a collision with his team-mate Tor Graves. He did better at the Macau and Korean Grands Prix, qualifying on pole on his first visit to the track and in only his fourth F3 race.
Conflict with McLaren
At the beginning of 2004, Hamilton and McLaren had a disagreement which resulted in McLaren temporarily dropping him. In March 2007 the Williams F1 team announced that they had come close to signing him but were refused the opportunity because BMW, their engine supplier at the time, had refused to fund his career. Hamilton eventually re-signed with McLaren, and made his debut with Manor Motorsport in the 2004 Formula Three Euroseries. They won one race and Hamilton ended the year fifth in the championship. He also won the Bahrain F3 Superprix and raced in one of the Macau F3 Grand Prix events. Hamilton first tested for McLaren at Silverstone in late 2004.
He moved to reigning Euroseries champions ASM for the 2005 season and dominated the championship, winning 15 of the 20 rounds after being disqualified from one win at Spa-Francorchamps on a technical infringement that caught out several other drivers. He also won the Marlboro Masters of Formula 3 at Zandvoort.
Moving into GP2
At the end of the 2005 season, Hamilton was featured by Autosport at 24th place in its list of the 50 top drivers of the year. He moved to ASM's sister team, the front running ART Grand Prix, for the 2006 GP2 season. ART were reigning champions, having taken the 2005 GP2 crown with Nico Rosberg. Hamilton won the GP2 championship at his first attempt, beating future Renault F1 driver Nelson A Piquet to the title.
Notable performances included a dominant win at the Nurburgring despite serving a penalty for speeding in the pit lane. At his home race at Silverstone Hamilton overtook two rivals at Becketts, a series of high-speed bends where overtaking is rare. He demonstrated his overtaking prowess again in Istanbul, when he recovered from a spin that left him 18th to take second place in the final corners. He won the title in unusual circumstances, inheriting the final point he needed after Giorgio Pantano was stripped of his fastest lap in the Monza feature race. In the sprint race, however, he finished second with Piquet sixth, finishing twelve points clear of his rival.
Hamilton's GP2 championship victory in 2006 coincided with a vacancy at McLaren following the departures of Juan Pablo Montoya to NASCAR and of Kimi Raikkonen to Ferrari. After months of speculation on who would drive alongside defending World Champion Fernando Alonso, Hamilton was eventually confirmed as the team's second driver. He was told of McLaren's decision on September 30 2006, but the news was not made public until November 24, for fear that it would be overshadowed by Michael Schumacher's retirement announcement.
Formula One: 2007
In his first season in Formula One, Hamilton set numerous rookie records and finished second in the 2007 Formula One Championship, behind Kimi Raikkonen by just one point after the Finn staged what looked like an impossible comeback to seize the title.
On his debut at the Australian Grand Prix, Hamilton qualified fourth and finished third in the race, becoming the 13th driver to finish on the podium in his first F1 race. In Bahrain he his first front-row start, qualifying and finishing second behind Felipe Massa. Hamilton again finished second behind Massa in the Spanish Grand Prix, to take the lead in the drivers championship and breaking Bruce McLaren's record as the youngest driver ever to do so.
Hamilton finished second behind Alonso at Monaco and, in a move that was to blight the rest of the season, suggested afterwards that he was prevented from racing his team mate. The FIA cleared McLaren of issuing team orders following an investigation.
Hamilton took his first pole position and his first victory at the Canadian Grand Prix, winning again in the United States from pole position a week later. In the process he became the first Briton since John Watson in 1983 to win an F1 race in the US. By finishing third at Magny-Cours behind Ferrari drivers Kimi Räikkönen and Felipe Massa, Hamilton extended his lead in the Driver's Championship to 14 points.
He took his next pole at his home Grand Prix at Silverstone and led for the first 16 laps, but slipped to third behind Räikkönen and Alonso. During qualifying for the European Grand Prix at the Nurburgring he crashed heavily after a problem with a wheel nut and was unable to complete qualifying. He had, however, reached Q3 and so was 10th on the grid after being cleared to race on Sunday morning. The race was subsequently red-flagged due to heavy rain and Hamilton slid off into a gravel trap, but was able to rejoin the race after the restart. His ninth-place finish in this race was his first non-podium and non-points finish, enabling title contenders Alonso and Massa to reduce Hamilton's championship lead.
Hamilton won the Hungarian Grand Prix from pole position following a controversial qualifying session. Alonso had set the fastest time, but was relegated five places down the grid to sixth for preventing Hamilton leaving the pit lane in time to complete his final qualifying lap.McLaren were docked any constructor's points earned during the race due to the incident in qualifying.
After measures were taken by the team to quell the simmering row between their drivers, Hamilton qualified second in Turkey. After dropping to third at the first corner, he looked set for a podium finish with 15 laps remaining, but a right-front tyre puncture knocked him down to fifth and another loss of points to his rivals. He took fourth place in the 2007 Belgian Grand Prix.
Alonso beat Hamilton in the Italian and Belgian Grands Prix, leaving the Briton with a two-point lead in the title race. However he extended his lead to 12 points after winning the Japanese Grand Prix in heavy rain after Alonso crashed. Following the race Hamilton was investigated by the race stewards over his involvement in an incident behind the safety car, which saw both Sebastian Vettel and Mark Webber crash out of the race while following the McLaren. The trio were cleared on the Friday of the Chinese Grand Prix weekend.
After securing pole position in China Hamilton retired from the race. He experienced considerable tyre wear and ran wide into the gravel trap in the pitlane where his car beached for the first retirement of his Formula One career. It was later revealed that Bridgestone became unnerved at the worn tyres and advised McLaren to order him to make a pit stop which McLaren refused to do, believing it would be counterproductive. Hamilton himself couldn't tell the full extent of the tyre problem due to poor weather obscuring his view of the mirrors. Hamilton thus went into the final race of the season four and seven points ahead of Alonso and Räikkönen respectively.
In the Brazilian Grand Prix he failed to secure the championship, finishing the race in seventh overall after a turbulent race involving tussles with Ferrari and a gearbox problem. After the second round of pit stops, Räikkönen stayed out a couple of laps longer than Massa and took the lead, winning the race to become the Formula One world champion.
A subsequent appeal by McLaren over fuel irregularities alleged against BMW Sauber and Williams did not alter the outcome of the championship. The rivalry between Hamilton and teammate Alonso had led all year to speculation that one of the pair would leave McLaren at the end of the 2007 season. Alonso and McLaren subsequently terminated their contract by mutual consent on November 2, 2007.
In December 2007 it was confirmed that Heikki Kovalainen would drive the second car for McLaren-Mercedes for the 2008 Formula One season alongside Hamilton. In January 2008 Hamilton signed a new five-year multi-million pound contract to stay with McLaren-Mercedes until the end of the 2012 season.
Formula One: 2008
Hamilton won the Australian Grand Prix, having qualified on pole. In the second race of the season, the Malaysian Grand Prix, he finished fifth after long duels with both Mark Webber and Jarno Trulli. At the Bahrain Grand Prix, things did not start well for Hamilton with a big crash in practice. He continued with a spare chassis and took third place in qualifying. In the race, after a bad start, he crashed into the back of Alonso's Renault, finishing 13th.
He was back on the podium at the Spanish Grand Prix finishing third from fifth on the grid. Hamilton finished second in the Turkish Grand Prix, saying this was his best ever race. Two weeks later, he won the Monaco Grand Prix and took the lead in the drivers' championship.
He took pole position at the Canadian Grand Prix but crashed into the back of Räikkönen during the race after failing to see that the Finn was waiting at a red light at the end of the pit lane. Both cars were forced to retire and Hamilton was given a 10-place grid penalty for the next race, the French Grand Prix. At that race, Hamilton was given a drive-through penalty for cutting a chicane, eventually finishing the race in 13th. He went on to win the British Grand Prix in poor weather conditions which led him to say he believed the race had been one of his best drives to date, his most difficult and most meaningful win.
At the German Grand Prix Hamilton won after starting from pole position. In Belgium he was penalised in controversial circumstances after passing Kimi Räikkönen and cutting the previous corner. Hamilton and McLaren believed he had taken sufficient action to allow Raikkonen to re-pass but the stewards judged that he gained an illegal advantage and the penalty dropped him from first to third. Hamilton's lead in the drivers' championship was cut to two points, and a subsequent appeal by McLaren to the FIA World Council was rejected on the grounds that the case was inadmissible.
The Italian Grand Prix saw an unexpected win for Sebastian Vettel in a Toro Rosso with both Massa and Hamilton failing to capitalise on poor weather and poor qualifying by the other. This result cut Hamilton's lead in the Championship to one point. Hamilton finished third at the next race the Singapore Grand Prix whereMassa failed to score any points thanks to a fuel hose problem, allowing Hamilton to increase his championship lead to seven points.
At the Japanese Grand Prix Hamilton took pole in qualifying with Massa, his closest title rival, in fifth. Räikkönen made a good start from second position, getting ahead of Hamilton who responded by out-braking himself on the first corner and running wide, thus forcing Räikkönen and Kovalainen off the track. Hamilton was given a drive-through penalty as a result. On the second lap Hamilton pulled alongside Massa to pass him. The Ferrari driver ran wide to avoid a car ahead, left the track and crossed the grass, pushing Hamilton's McLaren into a spin as he rejoined. Massa was later given a drive-through penalty for this move.
Hamilton dropped to last position but managed to regain places to finish 12th. Massa finished seventh with an extra point after a penalty for Toro Rosso's Sébastien Bourdais. With two races to go Hamilton led the World Championship by five points from Massa.
In China Hamilton was fastest in practice and qualified on pole. He went on to win the race from Felipe Massa and Kimi Räikkönen, taking a seven-point lead in the World Championship into the last race of the season. He needed to finish at least fifth in the final race to secure the World Championship.
After a hard-fought race hewas in fifth but, after rain, and in the closing laps of the race, Sebastian Vettel passed him. On the final lap Vettel and Hamilton managed to pass Toyota's Timo Glock who had risked staying out on dry tyres. This moved Hamilton back up to fifth, ensuring that he finished one point ahead of Massa overall and won the 2008 title. He became the youngest driver to win the title, as well as the first champion with black heritage, and the first British driver to win since Damon Hill triumphed in 1996.
Formula One: 2009
Hamilton opened his 2009 season towards the back of the grid thanks to a gearbox problem in qualifying. After starting the race in 18th place, He moved steadily up through the field then benefited from a late crash between Vettel and Kubica to take fourth, being promoted to third after Toyota's Jarno Trulli was penalised for overtaking under safety-car conditions. During a post-race stewards' hearing, Hamilton and McLaren officials told stewards they had not purposely let Trulli pass, but it was revealed by release of the McLaren race radio communication that this was not true. Hamilton was then disqualified for providing "misleading evidence" during the stewards' hearing.
At the Malaysian Grand Prix Hamilton finished seventh when heavy rain ended the race after 33 laps. He received half of the standard two points awarded to the seventh-place finisher because the race ran for less than 75 per cent of its scheduled distance. He qualified ninth for the wet Chinese Grand Prix, eventually finishing sixth after an eventful race.
At the Bahrain Grand Prix he started fifth and finished fourth while in Spain he came ninth and in Monaco, after setting the fastest first sector in Q1, he crashed into a wall and ruined his weekend, eventually finishing 12th. In Turkey he was again out in Q1 when his team mate went into Q2. In the race Hamilton finished 13th, ahead of Kovalainen but the slower of the two McLarens all weekend.
He qualified fifth at the German Grand Prix but a puncture on the first lap caused by a collision with Mark Webber's race-winning Red Bull RB5 car sent him down to 19th. With the car damaged he finished 18th, last and lapped. However his fortunes were reversed in Hungary when, after a boost from KERS at the start that helped kick him up to second, he took his first and unexpected season win. It was the first for a KERS-equipped car.
His return to form continued at the European Grand Prix in Valencia where he qualified on pole for the first time this year, heading a McLaren one-two with Kovalainen. A poor pit stop cost him a race win but he took second behind Brawn GP's Rubens Barrichello. In Belgium his race ended prematurely when he crashed out in a multi-car incident on the opening lap. At the Italian Grand Prix Hamilton started from pole but crashed out of third place on the last lap when chasing Jenson Button for second, giving Räikkönen a podium and eliminating his chances of defending the title.
Hamilton the Singapore Grand Prix and started third in Japan behind Sebastian Vettel and Jarno Trulli. After passing Trulli at the start he maintained second place until the final pit-stops where Trulli re-passed him. Hamilton finished third. In Brazil he started from 17th on the grid, and managed to finish on the podium in third place as countryman Jenson Button took the title.
The finale to the 2009 F1 calendar was at the newly-built Yas Marina Circuit in Abu Dhabi. Hamilton was quick throughout the practice sessions and qualified on pole ahead of Vettel. Hamilton was looking strong to win the race, but retired on lap 20 due to a suspected brake problem.
Formula One: 2010
Hamilton has said that he is looking to win back the World Championship from Jenson Button in 2010 and says he plans to be as heavily involved as possible in the development of McLaren's MP4-25 car.
Check out Hamilton's complete F1 results here >>
Read about Lewis' world championship-winning 2008 campaign here >>
Keep abreast of Lewis' 2009 season here >>
---
Information from Wikipedia has been used in compiling this article. The terms for modifying and redistributing this information can be found here.
For more information on Lewis Hamilton and his career, visit his official site at LewisHamilton.com or the McLaren.com driver pages.