The roar of the Superleague Formula 4.2-litre V12 engine may have a great appeal for fans attending a race weekend – but they're not the only ones to appreciate its advantages.
The series' power unit is being prepared for use as part of the Bloodhound supersonic car's 1,000-mph attempt on the world land speed record planned for 2011.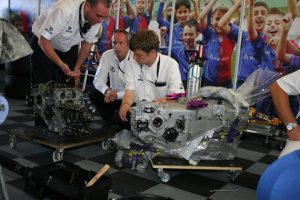 Over the next few months a Superleague powerplant, developed by engine supplier MCT, is due to be tested by former land speed record holder Richard Noble and his team.
The engine will be used to power Bloodhound's auxiliary systems such as the fuel pump and electrical equipment. The smallest of three engines, it is dwarfed by the rocket and jet motor that will together provide 42,500lbs of forward thrust, the equivalent of 180 Formula One cars.
According to the series, development will begin with rocket simulation work before the engine is run in conjunction with its counterparts for the first time next month.
The project is one of several successes for the engine this year. It was nominated as a finalist at the British Engineering Excellence Awards in September.
The 2009 Superleague Formula title fight also saw the championship's 18 teams clock up a combined distance of nearly 50,000kms across the season without a single major engine failure.
Kevin Lee, MCT's managing director, said: "At the end of our second year working with the Superleague team, the partnership continues to go from strength to strength.
"With drivers of the calibre of Sebastien Bourdais moving to the series, the growing stature of the championship is there for all to see. It's an exciting time for Superleague and we feel privileged to be involved."
Robin Webb, Competition Director of Superleague Formula, added: "The engine is one of Superleague Formula's hallmarks, which has provoked many a positive comment from the established motorsport media.
"In particular, that evocative exhaust note is very distinctive and one that has helped turn the series into a crowd favourite."