Jonathan Kennard is hoping for a second season in football-themed racing series Superleague Formula in 2010, after representing Italian and Brazilian clubs this year – and says he would like to drive for an English team.
The 24-year-old from Tunbridge Wells, who races with the Cross of St George on his helmet, drove four of the six rounds in the 2009 season, starting in the AS Roma car and competing in three meetings, scoring a season-best fifth place at Zolder.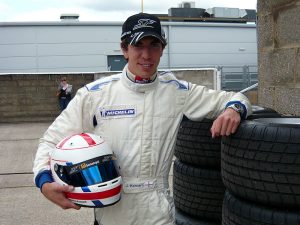 He was dropped when management of the car switched from Azerti Motorsport to Alan Docking Racing. However Azerti took over the Flamengo car and Kennard was able to return for the Monza event, a favourite track of his, after regular Flamengo driver Enrique Bernoldi faced a calendar clash that saw him driving that weekend in a sportscar event at Paul Ricard.
Speaking about the Monza weekend, he said: "It was great – a really fast car, great to be back in the series. I was driving for Flamengo but it was my old car, the AS Roma car. I knew all the guys in the team and it was great to be back out, especially at Monza of all places.
"I have won there in the past and I love it. It started off not that great for me, as we had a gearbox problem in both practices and then the alternator failed after half a lap in qualifying. So we were at the back of the grid, and then we had a few problems with the car in the pitstop.
"But then I was on the front row of the grid for race two with two sets of new tyres and I thought, 'yeah, I could actually win it.' It could have been a good result, I was quicker than Pedro [race-winner and pole-sitter Petiz, the Sporting Lisbon driver], then Giorgio [Pantano, of AC Milan] decided to punt me off at the chicane.
"There's not much you can do about that. I was a long way ahead of him. He did apologise, but the damage was done."
Would he like to be back next year? "I would love to be. I have really enjoyed it. It would be nice for me to represent an English football club if I could. It has been good representing AS Roma and Flamengo but I would like to do that.
"From the calendar point of view, I live very close to Brands Hatch so it would be fantastic, I would get a fair amount of support there.
"I don't think the calendar is finalised yet, they are still working away at it, but I would love to be back in action. The series does deserve to succeed and I think it is starting to do that.
"From my point of view, you are driving a car that's at 150mph, getting on towards Formula One speeds, and my [Azerti Motorsport] team-mate is Giorgio Pantano, who has done Formula One. You've got three other F1 drivers in it and you know that, if you are quick in it, you are doing a good job.
"It is very, very competitive and for a driver that's a good thing. So a big thank-you to [SLF Director of Competition] Robin Webb for helping me out."
In contrast to what is perhaps its nearest competitor, the troubled A1GP series, Superleague Formula appears to be going from strength to strength with the possibility of an expanded calendar next year featuring 12 meetings including two in the UK.
Superleague Formula CEO Alex Andreu said recently that he was delighted to be able to realise his expansion plans after having to rein in his ambitions for season two thanks to the global economic climate.
One thing is certain. With A1GP having no scheduled British date, if its season survives the cancellation or postponement of its first three meetings, and with no secure contract in place for the 2010 British Formula One Grand Prix, Superleague could just offer the best open-wheel racing available in the UK next year.