This year a relatively unregarded piece of British motoring history celebrates its 40th anniversary – but if you have ever owned a European car the chances are it has had an impact on your motoring life.
The place in question is Millbrook Proving Ground, near Ampthill in Bedfordshire, a vehicle test centre which has contributed to many aspects of car development including emissions controls, safety testing and even providing realistic simulations for military vehicles.
Located just off the M1 motorway, it is one of the largest vehicle test centres in Europe, and was originally modelled on the Milford Proving Ground in Michigan, USA, when it was constructed during the late 1960s by GM subsidiary Vauxhall.
With a big factory at nearby Luton the company was keen to find a Bedfordshire location that included the necessary flat land and gradients to put its vehicles through their paces. After Millbrook was chosen a two-mile, five-lane high-speed track was built which came into use by the end of the decade.
Construction continued into the 1970s and the site was soon in use as the testing centre for many of GM's European models including Vauxhall cars and Bedford vans. It stayed under the wing of the company until 1988 when it became part of the Lotus group.
Its remit then widened to cover non-GM companies and, with another change of ownership in 1993, it began to diversify into all aspects of vehicle development including emission controls and safety testing.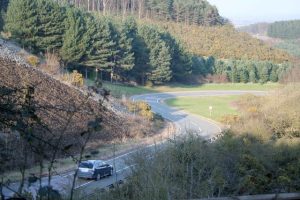 These days its facilities also include vehicle and system assessment and powertrain development provided by engineers who work with manufacturers on their test and development programmes. Data gathered on the track can be analysed in the facility's laboratories and it is increasingly developing techniques from the automotive industry for application outside that industry.
It has spent five years working with the military to help tackle the particular vehicle engineering problems it faces and in providing testing environments that can improve performance in this crucial area.
Test tracks at Millbrook include off-road facilities, a hill route composed of three sections with progressively steeper gradients and tighter corners, city course circuits designed to provide an extreme workout for vehicle handling, and the High Speed Bowl – a two-mile circular banked circuit used for high-speed testing.
Of course, all this has proved irresistible to film and television companies with sections of the James Bond film Casino Royale being shot there and Top Gear making regular visits to film challenges.
But, thanks to its customers' need to keep their products under wraps, the most that the public will generally see of its operations are when it appears on screen.
These days Millbrook employs more than 400 people and it recently celebrated its 40th birthday with a visit from Paul Clarke, the shadow secretary of state for transport, who was given a guided tour of the site by Millbrook's managing director Miguel Fragoso. Read more about it here.
You might just tip your hat to it and its employees next time you start your engine.
Information from the Wikipedia article on Millbrook Proving Ground has been used in compiling this article. To find out more about re-using this material, view its terms of use here.