Indy Lights hopeful Stefan Wilson has cashed in his prize for winning the Autosport BRDC Young Driver award – a Formula One test drive at Silverstone in Lewis Hamilton's championship-winning McLaren.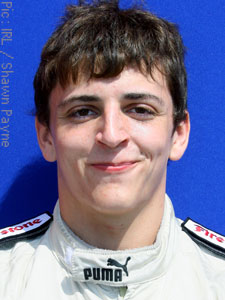 He managed 20 laps of the National circuit in the wet, setting faster times as he progressed despite ever-worsening conditions that left team engineers having to assess whether it had become unsafe to send the car out.
Race engineer Andy Latham said: "Stefan drove very sensibly. He got quicker and quicker in conditions that were getting worse and worse.
"In those sorts of conditions we'd seriously consider whether to send [out] our most experienced test drivers, so Stefan did a good job on a track that was right on the edge of acceptability."
Wilson, the younger brother of ex-F1 and current IndyCar driver Justin, said: "I was a bit nervous beforehand because of the weather: the back straight of the National circuit is bumpier than the Grand Prix track, and all those bumps filled with water and became puddles, so the car was aquaplaning quite a bit along the back straight.
"Still, I was absolutely blown away by the day – it's a huge thing to get the chance to drive a Formula One car, I was hugely impressed by the professionalism of the team and I felt I got more consistent with every run.
"There was more time to come from myself, and the car, but I didn't want to take too many risks because I didn't want to spoil the day."
Writing on his website he added: "I hardly slept the night before. It was the date of my test, Friday 13th November. What a day to drive a Formula One car, eh?
"The McLaren team had 30 personnel attending the test, supported by four transporters. But it was only when I walked into the garage and saw the car there, with my name on the side, that it suddenly hit me: I was about to fulfil one of my lifelong ambitions."
At almost 6ft 4in, Wilson shares with his brother a greater-than-average height that makes race cars difficult to squeeze into. He had already written on his site about the difficulties that went with his seat-fitting at the McLaren HQ at Woking.
Writing about the test itself, he said: "I climbed into the car, and it was a very snug fit. Every corner of my body was tight up against the car, my knees were touching the top of the tub, my elbows were rubbing the back of the cockpit, and my hands were brushing my knees as I turned the wheel. However, this wasn't an armchair I was sitting in, so it didn't need to be comfortable.
"My first lap was an adventure, as I used the paddle shift to go through the gears and experienced the immense power. It started to rain harder and at one point the car was more like a powerboat as it aquaplaned over the puddles down the straight. I finished the day by setting my best time on my last lap, when the wind and rain were at their worst."
The 20-year-old won the Young Driver award in 2007 from a shortlist that also included Superleague and Indy Lights competitor Duncan Tappy and F3 drivers Henry Arundel and Nick Tandy.
He ran a partial schedule in last year's Indy Lights championship in North America and is aggressively pursuing a full-season seat for next year in tests with Sam Schmidt Motorsports: "The next month is going to be really exciting, and I hope sometime soon we have something big to announce for next year," he wrote on his website.