The Norfolk-based motorsport team behind driver James Walker has seen its headquarters destroyed by a fire that burned for around five hours yesterday evening – but it remains determined to stay on track.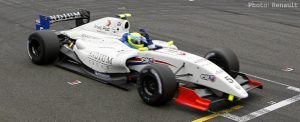 P1 Motorsports, based on an industrial estate in Shropham, near Attleborough, has lost everything from race cars, tools and equipment to trophies, mementoes and photographs in a blaze which saw firefighters working through the evening to try to bring it under control.
The team, which counts GP2's Giedo van der Garde among its veterans, is currently racing in the World Series by Renault where it runs cars for Walker and Russian Daniil Move. Walker is currently second in the championship behind Belgium's Bertrand Baguette.
Pippa Mann, another former P1 driver now competing for Panther Racing in the USA's Indy Lights series, commented on her Twitter feed: "I just heard my old team back in UK had a big fire last night and it destroyed everything. Why do bad things happen to good people?
"If you're in UK and you can offer practical help – tools, pitstop equipment, transport for the cars, please get in touch with P1 Motorsport.
"They're good people, and a great team. If anyone can rise up from this, those boys can."
Team founder Roly Vincini has pledged to continue to race this season despite the huge difficulties his outfit now faces. The next WSR date is at the Nurburgring in mid-September.
He told the Eastern Daily Press: "The whole factory has gone. It's all been melted to the ground. The whole race team is gone.
"We're struggling. I'm meeting with the guys today to tell them. I don't know what to say, every single thing is gone – 10 years of photos and trophies and all the things you can't buy back, all completely melted.
"We've been up all night and now we're just trying to get ready for the next race. We're fortunate that the next race isn't until the 18th, and we will be ready."
Vincini was also contacted by Autosport and explained that he had already spoken to Renault, which had cars available. He said that the team urgently needed to find tools and equipment but had already received offers of help from many competitors including Comtec and Fortec.
He said: "We have loads of people offering to help this morning, everyone has been brilliant. But I want us to do it ourselves, you know, we have to get ourselves back together and get on with it.
"So long as no one closes us down, we are going to try our best to carry on and we intend to be on the grid for the next race. We have got a couple of weeks to do it.
"Half the truck has melted too. But at the moment, we can't get in it to see what is salvageable because it was locked and the keys are somewhere in the ruins of the factory.
"It's almost funny how ridiculous the situation is, but then when you start working through the police reports, fire investigations and begin the recovery, you realise what a nightmare it all is."
If you can help, the three general contact methods given on the P1 website are to call 01953 601259 or 01603 744886, or email racedesk at p1motorsport dot com – but obviously we don't know to what extent these can be used at the moment.