Ryan Briscoe grabbed pole position for the PEAK Antifreeze and Motor Oil Indy 300 at Chicagoland Speedway – and with it a bonus championship point that might prove crucial in this tightest of tight IndyCar title battles.
Last year the Australian sat on the rear wings of his Team Penske colleague Helio Castroneves and Target Chip Ganassi Racing rival Scott Dixon as the pair duelled side-by-side for lap after endless high-speed lap to settle the 2008 title.
This year, leading the title hunt by a short nose from Ganassi's Dario Franchitti with Dixon in striking range behind them, Briscoe hopes to score a decisive win on a circuit that is no longer hosting the season finale – but always provides good racing.
Next to him on the front row is Castroneves, who has the slimmest of mathematical chances of the title himself. Last year the Brazilian was sent to the back row as a punishment for rule-breaking during qualification but battled through the field to lead the most laps and win the race – a clear indication of the open nature of the racing on the 1.5 mile oval circuit.
Briscoe said he welcomed the boost to his championship lead, now five points, from earning pole: "It's important for the point. As far as what's going to happen in the race, it doesn't matter where you start. Helio won the race from the last position last year. It's exciting.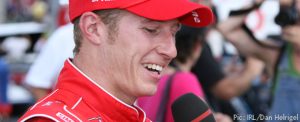 "It's going to be a tough race. There are probably 10 or 12 cars that can win, so it should be a pretty exciting race for the fans. I think we're going to see a lot of pack racing, running two- or three-wide all night long. Hopefully we can stay out of trouble, stay in the front and bring it home in front."
And would Castroneves help his team-mate to the title if the opportunity arose – or would he be racing all-out to beat him and deprive him of the winner's points? "Good question," he told the Indianapolis Star. "I don't know. Hopefully we'll figure it out. You've got to race for the win, no question about it, but certainly I'm going to try to support my team-mate because he's leading the championship and every point counts."
Briscoe's nearest championship rival, Franchitti, qualified third and lines up on the second row next to Tony Kanaan, who is benefiting from a small revival by Andretti Green Racing. Graham Rahal is fifth, with Dixon sixth.
Franchitti, who won the 2007 title at Chicagoland by overtaking Dixon on the final corner as the New Zealander ran out of fuel, said: "Qualifying was pretty uneventful, for the driver anyway. This qualifying format has more to do with what the engineers do and the way the cars are going.
"The balance of the car was very good. I was very happy with that but the car as a whole wasn't fast enough. We've got to keep working on that and keep pushing since we've got another two 1.5 mile tracks after this weekend. The car felt pretty good this morning and whether it's good enough, we'll find out tomorrow."
Justin Wilson and Mike Conway will line up side-by-side on the eighth row in 15th and 16th, while Dan Wheldon – a two-time winner at this circuit – will start from 11th in pursuit of another victory.
He said: "Chicago is obviously an exciting track where you can pass, so it should be a really good show for fans of the IndyCar Series. It's also a track where I've gone quite well in the past, and the team has won here multiple times as well. We continue to make strides as a group and we hope to roll off the truck well here this weekend and put the No. 4 National Guard Panther Racing car in victory lane."
Wilson, who gained 10 positions during last year's race, said he was looking forward to the weekend: "It's a great track for the drivers and the fans because the banking's very progressive through the turns and that gives you a lot of confidence to race side-by-side. We've worked really hard to improve our oval set-up this year, so I'm hoping we can bring everything together this weekend and move the Z-Line Designs car closer to the front."
Conway, whose podium at Sonoma last weekend brought him onto the tail of the rookie of the year battle, qualified ahead of both his rivals, Robert Doornbos and Raphael Matos. Prior to qualifying he said: "We had a good weekend last weekend, so I'm looking forward to the next race and hopefully get some good results again and try to keep moving up in the championship. I think the rookie spots are still available to us to win this year. Anything can happen with three races left, we've just got to keep pushing and keep getting results. Fingers crossed it will be another good weekend for us."