Adam Christodoulou upset the odds to win the final Star Mazda race of the season at Laguna Seca, and with it the series title, after championship leader and polesitter Peter Dempsey was punted out of the race.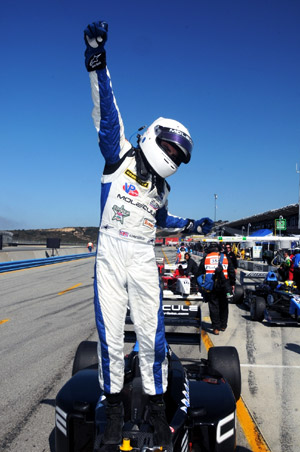 Dempsey had won five races during the season, four of them from pole, and needed only to finish seventh to secure the championship at the expense of Lichfield's Christodoulou.
But at the start he was passed by the JDC Motorsports pair of Christodoulou and Alex Ardoin, and then hit from behind by Joel Miller and dumped down to last place in the 23-car field.
With Ardoin leading and Christodoulou a careful half second behind, Dempsey began his fight-back.
Despite damage to his car, the Irishman cut through the field as far as 11th place and looked likely to go further, but tangled with Rusty Mitchell as he tried to pass him and the damage from the multiple contacts put him out of the race.
Christodoulou went on to overtake Ardoin for his third win of the season, wrapping up a 473-461 championship points victory and with it a fully-funded drive in next year's Atlantic Championship.
"This is the first year that I actually know what I'm going to be doing next year – normally we've had to wait and look at funding and sponsorship but this year, winning the Mazda championship, Mazda are going to help out and it's just great." said Christodoulou, the 2008 UK Formula Renault champion.
"It's been an up and down year for me and luckily it ended on an awesome high note. It's just unbelievable. My team JDC Motorsports and my engineer Rick Cameron have done an awesome job helping me learn all the tracks during my first year racing in America.
"I'd already secured second in the championship, so I knew that I could take a few risks throughout the race and just push as hard as I could. We did some testing here at this track earlier in the week, and we seemed to struggle at the start of the weekend, but it all seemed to pay off in the race."
Richard Kent, who won two races this season and won this race from the pole last year, finished 6th in the race and 7th in the championship with 377 points, four poles, and two podiums.