Formula One veered from near tragedy to total farce during qualifying for the Hungarian Grand Prix as Felipe Massa's narrow escape from death by flying debris was followed by a timing failure that left puzzled drivers comparing their performances to see who had won pole.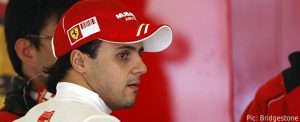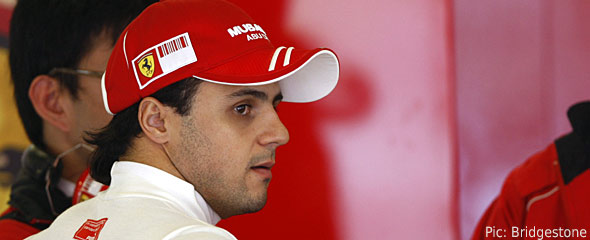 Fernando Alonso emerged from the mess as polesitter, with Red Bull's Sebastian Vettel beside him on the front row. Mark Webber and Lewis Hamilton will fill the second row, with Nico Rosberg and Heikki Kovalainen behind them.
Championship leader Jenson Button will start eighth, while his team-mate Rubens Barrichello took 13th after failing to make the final session of qualifying. In the closing moments of the second session the Brazilian's car shed a suspension spring, which hit Massa's helmet just above the visor with the force of a bullet.
In scenes frighteningly reminiscent of Henry Surtees' fatal accident last weekend at Brands Hatch, Massa's car went straight on at the next corner and ploughed nose first into a tyre wall.
However, unlike the Formula Two crash in which Surtees was obviously unresponsive from the moment his head was struck, twin tyre marks on the Hungaroring Tarmac showed that Massa had retained sufficient awareness to brake.
And Barrichello, who went to visit his countryman before he was airlifted to hospital, confirmed he was conscious: "He was very agitated. He had a cut in his head, which could have been from the part of my car that was on the track. He was talking, was conscious, but they have to analyse the cut. He was moving his arms and legs, they had to make him sleep because he was agitated."
Ferrari have since said he is under observation in intensive care at the AEK hospital in Budapest suffering from concussion and has undergone successful surgery for skull damage.
The trackside medical attention and the recovery of Massa's car delayed the final session of qualifying, but when it finally began it swiftly became clear that the battle for pole position would be wide open.
Jenson Button sat out most of the session as his mechanics checked his suspension to prevent a repeat of Barrichello's problem, while neither Kimi Raikkonen nor Kazuki Nakajima were particularly on the pace and Massa was, of course, unable to take part. All six of the remaining drivers looked capable of taking pole – and a late failure of the timing system meant none of them knew who had succeeded.
A farcical period after the session was over saw the leading drivers wandering up and down between their parked cars, comparing their own times with each of their rivals until it became clear that Alonso had gone fastest. An early indication which way the wind was blowing was Button's distinctly Anglo-Saxon response, captured on live TV, when he heard the Spaniard's lap time.
Earlier, Alonso's countryman Jaime Alguersauri had ended his debut qualifying session by retiring part-way round the circuit near the end of the first session and bringing out yellow flags that disrupted the late laps of some of his rivals.
His team, Toro Rosso, were quick to absolve him of all responsibility by admitting to hydraulic problems that led to a throttle control system failure. Technical director Giorgio Ascanelli added: "I have to congratulate Jaime on a good job without doing anything silly."
Both BMWs and both Force Indias joined Alguersuari in failing to advance from the first session of qualifying, while Barrichello's fellow non-qualifers from the second session were the two Toyotas, Nelson Piquet Jr of Renault, and Alguersauri's team-mate Sebastien Buemi – who was only one tenth of a second short of making the top-10 shoot-out.
Hamilton, in fourth, is the highest placed qualifier to be equipped with KERS and hopes to use it to gain places at the start on a circuit that is notoriously difficult to overtake on once the race is properly under way.
He said: "It was so hard out there this afternoon. Maybe we could have been closer to the front because my final lap wasn't a great one, but fourth is a good position from which to start tomorrow's race.
"We're still not quick enough and need to keep pushing but, nonetheless, it feels great to be back up there competing for the first few rows on the grid. I have a few cars to try and boost past so I hope there's some good grip on my side of the grid – it would be fantastic to get the lead into the first corner."
Published fuel weights revealed that Button was considerably heavier than his nearest rivals, with a probable first stint twice the length of the light-fuelled Alonso.
He said: "The car felt reasonably good through the first two sessions today although none of my laps were perfect due to traffic and yellow flags. I thought we would be competitive in Q3 but unfortunately the work required on the car meant that I was only able to get one run and that was on a heavy fuel load with four more laps of fuel than we had planned.
"We were on the edge of the working range for the tyres today with the cooler temperatures so the car wasn't handling quite as well as in practice. Starting from eighth on the grid isn't ideal and I'm on the dirty side but we're remaining positive and will see what we can do from there."
Hungarian Grand Prix grid positions
Times show the fastest lap in the last session completed. With Massa unable to compete all cars from Buemi downwards will move up a place on the grid.
Fernando Alonso, Renault: 1:21.569 (Q3) 637.5kg
Sebastian Vettel, Red Bull: 1:21.607 (Q3) 655kg
Mark Webber, Red Bull: 1:21.741 (Q3) 652kg
Lewis Hamilton, McLaren: 1:21.839 (Q3) 650.5kg
Nico Rosberg, Williams: 1:21.890 (Q3) 654kg
Heikki Kovalainen, McLaren: 1:22.095 (Q3) 655.5kg
Kimi Räikkönen, Ferrari: 1:22.468 (Q3) 651.5kg
Jenson Button, Brawn GP: 1:22.511 (Q3) 664.5kg
Kazuki Nakajima, Williams: 1:22.835 (Q3) 658kg
Felipe Massa, Ferrari: 1:20.823 (Proceeded to Q3 but unable to take part) no weight
Sebastien Buemi, Toro Rosso: 1:21.002 (Q2) 671.5kg
Jarno Trulli, Toyota: 1:21.082 (Q2) 671.3kg
Rubens Barrichello, Brawn GP: 1:21.222 (Q2) 689kg
Timo Glock, Toyota: 1:21.242 (Q2) 679.2kg
Nelson A Piquet, Renault: 1:21.278 (Q2) 667.7kg
Nick Heidfeld, BMW Sauber: 1:21.738 (Q1) 658kg
Giancarlo Fisichella, Force India: 1:21.807 (Q1) 680.5kg
Adrian Sutil, Force India: 1:21.868 (Q1) 683.5kg
Robert Kubica, BMW Sauber: 1:21.901 (Q1) 666kg
Jaime Alguersuari, Toro Rosso: 1:22.359 (Q1) 675.5kg