Lewis Hamilton has topped the timesheets in a dry second practice session at Spa after calling off the morning session thanks to heavy rain.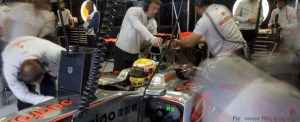 Hamilton was one of several drivers to abandon or severely curtail running in soaking conditions first thing. But, on a dry track in the afternoon, he put in an unofficial fastest lap of 1:47.201.
Close behind him with a time of 1:47.217 was Toyota's Timo Glock, while third place on the timesheet was taken by 'King of Spa' Kimi Raikkonen on 1:47.285. Only a few hundredths of a second separated the top three and Red Bull's Mark Webber was fourth.
Renault rookie Romain Grosjean was a surprise fifth, followed by Force India's Giancarlo Fisichella and Toyota's Jarno Trulli. Sebastian Vettel was 10th, Heikki Kovalainen 12th and Renault's Fernando Alonso 14th.
In perhaps a worrying sign for the two Brawn cars, drivers Jenson Button and Rubens Barrichello were 17th and 18th at the end of the session, a much worse performance than they managed in the wet. Although it is hard to draw any firm conclusions about performance without knowing what kind of set-up the team was running.
Toro Rosso's Jaime Alguersuari had an engine failure in the last minutes of the session. Ferrari stand-in Luca Badoer was 20th, some two seconds behind team-mate Raikkonen, which is arguably an improvement on his poor performance at Valencia, and also a testament to the closeness of the field.
The first session was marred by rain, leading Vettel to save his engine by abandoning running altogether and Hamilton and Webber also barely venturing out on track.
Red Bull team boss Christian Horner told the BBC: "He'll be having an extended coffee break this morning. We're trying to avoid the ninth engine."
Nevertheless, Trulli topped the timesheet for Toyota with a fastest lap of 1:49.675, the only sub-1:50 lap of the session. However, Button was less than half a second behind him, with Alonso and the two Toro Rossos chasing the leaders.
For Alguersuari it was his first opportunity to fit wet tyres and take to the track in heavy rain.
Off-track the session was notable for a contretemps at Ferrari between Luca Colajanni and Nicolas Todt, son of former team principal Jean, and manager of several young F1 hopefuls.
He had brought 20-year-old F3 driver Jules Bianchi along to meet team officials, something Colajanni did not appreciate.
Practice times for session two:
Lewis Hamilton, McLaren: 1:47.201 (29 laps)
Timo Glock, Toyota: 1:47.217 (29 laps)
Kimi Räikkönen, Ferrari: 1:47.285 (26 laps)
Mark Webber, Red Bull: 1:47.329 (31 laps)
Romain Grosjean, Renault: 1:47.333 (34 laps)
Giancarlo Fisichella, Force India: 1:47.506 (27 laps)
Jarno Trulli, Toyota: 1:47.559 (33 laps)
Robert Kubica, BMW Sauber: 1:47.578 (33 laps)
Jaime Alguersuari, Toro Rosso: 1:47.579 (36 laps)
Sebastian Vettel, Red Bull: 1:47.602 (25 laps)
Sebastien Buemi, Toro Rosso: 1:47.702 (38 laps)
Heikki Kovalainen, McLaren: 1:47.743 (33 laps)
Adrian Sutil, Force India: 1:47.790 (29 laps)
Fernando Alonso, Renault: 1:47.862 (30 laps)
Kazuki Nakajima, Williams: 1:47.961 (32 laps)
Nick Heidfeld, BMW Sauber: 1:48.017 (30 laps)
Jenson Button, Brawn GP: 1:48.125 (34 laps)
Rubens Barrichello, Brawn GP: 1:48.130 (37 laps)
Nico Rosberg, Williams: 1:48.360 (29 laps)
Luca Badoer, Ferrari: 1:49.211 (30 laps)
Practice times for session one:
Jarno Trulli, Toyota: 1:49.675 (13 laps)
Jenson Button, Brawn GP: 1:50.283 (18 laps)
Fernando Alonso, Renault: 1:50.368 (13 laps)
Sebastien Buemi, Toro Rosso: 1:51.045 (20 laps)
Jaime Alguersuari, Toro Rosso: 1:51.529 (24 laps)
Rubens Barrichello, Brawn GP: 1:52.321 (18 laps)
Kimi Räikkönen, Ferrari: 1:52.930 (16 laps)
Heikki Kovalainen, McLaren: 1:53.383 (16 laps)
Robert Kubica, BMW Sauber: 1:53.650 (12 laps)
Luca Badoer, Ferrari: 1:55.068 (20 laps)
Giancarlo Fisichella, Force India: 2:03.972 (11 laps)
Nico Rosberg, Williams: 2:04.505 (13 laps)
Romain Grosjean, Renault: 2:05.513 (13 laps)
Nick Heidfeld, BMW Sauber: 2:05.614 (14 laps)
Kazuki Nakajima, Williams: 2:05.705 (15 laps)
Adrian Sutil, Force India: 2:05.839 (10 laps)
Mark Webber, Red Bull: 2:06.181 (6 laps)
Timo Glock, Toyota: 2:06.331 (15 laps)
Sebastian Vettel, Red Bull: no time (1 lap)
Lewis Hamilton, McLaren: no time (4 laps)