Craig Dolby took a dominating victory in Superleague Formula's €100,000 Silverstone super final to cap an impressive day during which he won the first race and charged through from the back to take fourth in the reverse-grid second race.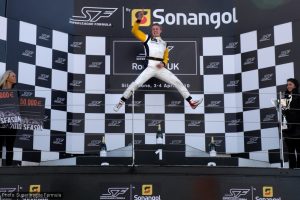 The Tottenham Hotspur driver, who celebrated his 22nd birthday during the week, showed once again that he is not intimidated by opposition with GP2, IndyCar and Formula One experience by establishing a 22-point lead in the championship standings.
"This is nothing yet," he said afterwards. "I'm going to push even harder."
But James Walker, taking up the reigns at defending champions Liverpool, had a nightmare weekend in which he failed to finish either race and scored no points.
Duncan Tappy, who was named as driver for Brazilian club Flamengo at the last moment, made light of his hasty preparations by finishing third in the opening race – just as he had done when driving for Spurs in the championship's debut year, 2008. But he could make little progress in the second race and just missed a place in the super final.
Saturday's qualifying saw Walker, Dolby and Tappy take third, fourth and fifth on the grid, behind FC Basel's Max Wissel and Alvaro Parente for FC Porto.
But when the rolling start of the opening race reached the first corner, Dolby had found a dry line on a damp track and was already launching himself up the field. By Maggotts he was in the lead and by the end of the third lap his advantage was 10 seconds.
Behind him, Tappy took Parente and Walker for third, then inherited second when Wissel had a lurid encounter with the mud left in the run-off areas by building work and dropped down the field. Shortly after, Walker span into retirement.
Sebastian Bourdais' race was ruined by a botched pitstop that cost him a lap, but Dolby and Tappy emerged from the stops still holding the top two places.
Dolby was in no danger of defeat and took and commanding victory, but Tappy found himself under pressure from the faster cars of Yelmer Buurman for AC Milan and Parente for FC Porto. He had no answer to the Dutchman, but defended well as the Portuguese swarmed all over the back of him and held on for the podium.
Dolby said: "Boy, oh boy, what a first corner – passing four cars like that was something special. After I got all three guys in the first couple of corners I thought it would be difficult, being the first person, to see where the grip was.
"I just kept pushing and pushing, had a few little moments but the gap got bigger. The team stopped putting the pit board out so I didn't know how big the gap was. At the end they just said 'bring it home' and what a feeling it was. Unbelievable."
For Tappy, who has struggled to fund his career since winning the 2007 Formula Renault title, just having a drive was something to celebrate: "I keep using the phrase 'over the moon' this weekend. I said if I got into the qualifying quarter finals I would be over the moon, said if I'd make the podium I'd be over the moon, so now if I make the super final, I will be over the moon.
"That last race was exactly what we needed so I can't complain too much. We'll see what happens in the second race. It depends if people are a bit silly and fire it off all over the place."
Sadly for his ambitions, very few of his rivals did that. A reverse grid front row of Walker and Bourdais left little scope for ambition, and they were joined at the front by two drivers who had underperformed in race one because of picking the wrong tyres on a drying track, Chris van der Drift of Olympiacos and Tristan Gommendy of Galatasaray.
The race one podium drivers were joined at the back of the grid by Franck Montagny of Bordeaux, who had failed to start the previous race, and of the four it was Dolby who found the pace to work his way up the field.
At the front, a busy Bourdais made short work of Walker and set about building a lead that could survive anything his team might throw at him during the pitstops. In the event, a sticking wheel nut dropped him to third, but he re-took van der Drift and Gommendy without great difficult to win comfortably.
By then Walker was out, having been forced to let the entire field past when he spun, then retiring in the pits.
His team boss, David Hayle of Atech, said: "It was a disappointing end to the weekend after such a positive start. Both James and Yelmer are very quick and able drivers and they showed their pace through practice and qualifying and into the races. Unfortunately apart from Yelmer's second place the results were not there today and we must look to the next rounds to get our championship bid back on track."
Van der Drift held on to second, but Gommendy was given a drive-through penalty for taking his pitstop before the allowable window. This opened the third slot on the podium to the winner of a battle between John Martin for Atletico de Madrid and Dolby, the Australian hanging on as the Brit suffered from an equipment failure that prevented him from turning his head to the right.
Dolby's performance guaranteed pole for the five-lap, six-car super final, which began from a standing start, and he was joined there by Parente, Wissel, van der Drift, Bourdais and Martin.
Parente got the best start, but soon ran wide and dropped to last. Dolby took over the lead and never looked back, while Wissel kept him in site for second without ever closing. Van der Drift held off Bourdais for third, while Parente recovered to fifth.
Dolby said: "It was my birthday on Wednesday so this a fantastic late present. We've had a great weekend and although I was confident coming into the races, I have to admit that I was surprised by quite how fast we were.
"It's a very long season, though, and the other guys will push us hard so we won't be getting carried away just yet."
Standings after round one, Silverstone
Tottenham Hotspur (Craig Dolby), 92
FC Porto (Alvaro Parente), 70
FC Basel (Max Wissel), 66
Olympique Lyonnais (Sebastien Bourdais), 61
Olympiacos (Chris van der Drift), 61
Atlético de Madrid (John Martin), 59
Flamengo (Duncan Tappy), 54
Sevilla FC (Marcos Martinez), 49
AC Milan (Yelmer Buurman), 45
Corinthians (Robert Doornbos), 42
Sporting Clube de Portugal (Borja Garcia), 42
RSC Anderlecht (Davide Rigon), 38
AS Roma (Julien Jousse), 35
Girondins de Bordeaux (Franck Montagny), 23
Galatasaray (Tristan Gommendy), 20
PSV Eindhoven (Narain Karthikeyan), 14
Liverpool (James Walker), 0