Nick Tandy has claimed an emotional maiden win in the fifth round of the British Formula Three series two weeks after his elder brother and team boss Joe was killed in a road accident.
Tandy, 24, qualified third for the Rockingham race behind Daniel Ricciardo and Renger van der Zander, and his victory brought to an end a 16-race winning run for the Dallara chassis.
It was a particularly poignant win for the Bedford racer, whose brother Joe's funeral is tomorrow (June 1st).
Nick said: "What a tribute to Joe. That's for you brother, that's for you. He made this car the fastest car out there today and my God was it fast. I've never driven a formula car and had it come that easy."
Respected racer and team boss
Joe Tandy, who ran the JTR Formula Three and Formula Ford team, died in a road accident on Wednesday May 13. He was travelling in a BMW that was involved in a collision with a lorry in Bromham, near Bedford, and was declared dead at the scene. A family friend was airlifted to hospital with serious injuries but later died.
Bernadette Fitzsimons, general manager of F3 organisers SRO Motorsports Group, said following the accident: "Joe's death has left everyone involved with F3 in Britain in a deep state of shock. He was an extremely popular guy and the paddock will be a poorer place without him and his great sense of humour.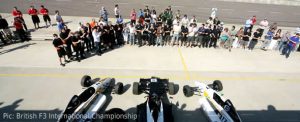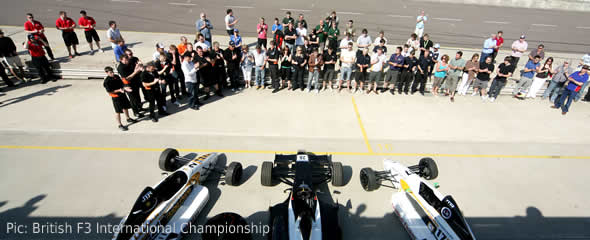 "He was a credit to his family, his team and to motorsport in general and they have all lost a very fine young man."
Further tributes were paid in the pit lane before the race as more than 100 racers and team members from all the featured series observed a one-minute silent tribute at the JTR pit garage.
Tandy snatches round five win
But then it was time for racing to resume – and for Carlin's Daniel Ricciardo to face the biggest challenge to his dominance of the season so far. After starting from the pole, the Carlin Motorsport pilot collided with Hitech's van der Zande at the Deene hairpin on the opening lap while trying to regain the lead.
Ricciardo's Dallara was too badly damaged to continue while van der Zande was forced to the pits for repairs to his rear wing. Tandy overtook Raikkonen Robertson's Marcus Eriksson to grab the lead.
He said: "I couldn't believe my luck when I saw van der Zande and Ricciardo. I didn't make a particularly good start, so to see Daniel riding over the back of Renger… my God, did I smile.
"So far as the championship is concerned it just doesn't get any better than this. To score 20 championship points when our main title rival scores zero, it's fantastic."
Tandy was soon more than a second and a half clear of Eriksson and he proceeded to build his advantage with every lap until he crossed the finish line with a lead of nearly nine seconds.
But a brake-and-swerve in front of his pit crew broke his suspension and a front wheel fell off, preventing him from completing a victory lap.
Eriksson seizes another maiden win in round six
In the second race of the day Ericsson finally managed to reach the podium's top step after four second-place finishes last season and another in the previous round.
He started the race on pole but was beaten to the front in the first hairpin by Riki Christodoulou, who went on to lead for 12 of the 22 laps until he was penalised for being out of position on the startline.
Several incidents on the first lap led to four retirements and the end of Tandy's hopes of making it a double after his car was shunted by van der Zande. He made it back on track and finished 14th, grabbing the point for fastest lap.
Henry Arundel emerged in third place behind Christodoulou and Ericsson, with Adriano Buzaid close behind and Daisuke Nakajima just ahead of Ricciardo. However Arundel was promoted to second after Christodoulou's exit from the race via a black flag for failing to complete a drive-through.
He said of his maiden podium: "It's been a long time coming. I've always known that I had the potential. It's been a tough start to the year, so this is exactly what I need and we can move forward from here."
Ricciardo, his first-race mishaps forgotten, enjoyed an uneventful run to fifth ahead of Walter Grubmuller and Victor Garcia, the Spanish racer seventh for his best finish of the season.
Get the full results and standings for both International and National classes on the series website here >>