Sebastian Vettel won the Malaysian Grand Prix by jumping from third to first at the start, relegating team-mate Mark Webber to an afternoon of staring at his gearbox as the Red Bulls conquered their reliability problems to take a dominant 1-2.
Further back, the out-of-position Ferraris and McLarens fought their way through from the back of the field, choosing a wide variety of strategies in their attempt to overcome their disastrous qualifying.
But the best any of them could manage was Lewis Hamilton's sixth place, with Felipe Massa and Jenson Button behind him. Fernando Alonso, suffering with down-shifting problems all race, blew his engine in a last-lap attempt to pass Button.
Instead, the final step on the podium was taken by Nico Rosberg, who drove solidly after being passed by Vettel at the start, with Robert Kubica continuing to impress in fourth for Renault and Adrian Sutil soaking up sustained pressure from Hamilton to defend fifth.
Vettel said: "A very good result for us and for myself, after two races where I didn't finish where I wanted to be. It was crucial for the team not to panic and to stay relaxed.
"It is a long season but this is the best result we could get and on top of that Mark getting second place is a big plus for the team and a lot of points."
The two Ferrari drivers still lead the championship, but by a greatly reduced margin. Massa has overtaken Alonso, who is tied on points in second with Vettel but ranked higher because he was classified 13th today whereas Vettel was unclassified in Australia.
Button and Rosberg are equal on points behind them, Button's Australian victory breaking the tie, and Lewis Hamilton and Robert Kubica are not far behind.
The infamous Malaysian weather held off, producing an unexpectedly dry race and, in consequence, something of a procession once the McLarens and Ferraris had risen as far as they could.
As in Australia, Jenson Button made a very early stop to change tyres while Lewis Hamilton was among the last to pit and rose as high as second until he did. The latter strategy seemed marginally the better one as Button's tyres went off late in the race, allowing Massa to overtake him.
Hamilton said: "I had a great start, went down the inside and got past a lot of cars on the first lap. I was able to keep going for much of the race on my first set of tyres, and even nearly got past Sebastian after his pitstop.
"After my pitstop, I tried my best to get past Adrian, but he was very smart at getting clean exits and was simply too fast down the straights.
"From 20th on the grid, I think sixth was a brilliant result. Overall, I'm well happy with my race – I couldn't ask for any more to be honest.
"I reckon we showed today that we were fast enough to compete with the guys at the very front and, that being the case, if we'd started farther up we could've had an even better result this afternoon. We'll take forward a lot of positives with us into the next race."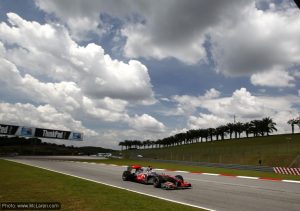 Button added: "My first stint was very tough. I went for the outside at the first corner – and as things turned out it wasn't the right place to be. So I fell back, and was then stuck behind Fernando, who I just couldn't overtake.
"I found the Option tyres quite difficult in the early laps – I had no rear grip in the high-speed stuff. I couldn't overtake, and lost lots of time, so I took the gamble to pit early and drop back into a clear track. I made up a lot of ground, but I was on the Primes for so long that it became difficult to hold back cars that were two seconds a lap quicker than me.
"Felipe eventually got past, Fernando tried a couple of times – the last time he went really deep into turn one, but I managed to repass him on the exit and then suddenly his engine was gone. I don't know what happened to him, but we had a good fight.
"I didn't realise that fighting for eighth was going to be so difficult! However, it's good to get some points again."
Behind the Hamilton-Massa-Button train, the final points went to Jaime Alguersuari and Nico Hulkenberg, both scoring for the first time in F1 thanks to the new system that awards ninth and 10th-place finishes.
Hulkenberg's team-mate Rubens Barrichello never fully recovered from a stall on the grid, but Williams still fared better than Sauber, who lost Pedro de la Rosa before the race even started and then Kamui Kobayashi on lap nine – both the victims of failures in their Ferrari engines.
Lucas di Grassi scored Virgin Racing's first finish despite having to dial back his engine and save fuel so that his car's undersized fuel tank would get him home.
He beat the Hispanias, who both got past a crippled Jarno Trulli in a Lotus with severe hydraulics problems – by the end, he and team-mate Heikki Kovalainen were doing little more than demonstration laps for the Malaysian crowd.
2010 Malaysia Grand Prix result
Sebastian Vettel, Red Bull
Mark Webber, Red Bull
Nico Rosberg, Mercedes
Robert Kubica, Renault
Adrian Sutil, Force India
Lewis Hamilton, McLaren
Felipe Massa, Ferrari
Jenson Button, McLaren
Jaime Alguersuari, Toro Rosso
Nico Hülkenberg, Williams
Sebastien Buemi, Toro Rosso
Rubens Barrichello, Williams
Fernando Alonso, Ferrari
Lucas di Grassi, Virgin
Karun Chandhok, Hispania
Bruno Senna, Hispania
Jarno Trulli, Lotus
Not classified
Heikki Kovalainen, Lotus
Vitaly Petrov, Renault
Vitantonio Liuzzi, Force India
Michael Schumacher, Mercedes
Kamui Kobayashi, Sauber
Timo Glock, Virgin
Pedro de la Rosa, Sauber