Giancarlo Fisichella had speed, momentum, a career to kick-start and every neutral fan at Spa cheering him on – but Kimi Raikkonen had the KERS button and that was enough to win him his fourth Belgian Grand Prix.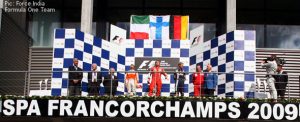 The Italian earned Force India its first-ever championship points in fine style, holding the lead at the start of the race as carnage erupted behind him and matching – or frequently besting – the times of his rival's Ferrari for the entire 44 laps.
Only Raikkonen's KERS button, deployed to devastating effect on the restart after the four-car incident that knocked out Jenson Button and Lewis Hamilton, prevented Fisichella from scoring the unlikliest victory of the season.
"Obviously it is a great result for us," said Fisichella. "The important target was to score even some points, and to finish second with eight points is a great day – but actually you know I was quicker than Kimi. He could overtake just because of KERS at the beginning of the race and it is a little bit sad for that.
"I was keeping his pace, even behind his car, we did exactly the same strategy race because I finished second. Just one second from the leader, which is a great result for us but actually we could have won the race."
Raikkonen conceded his was marginally the slower car: "I needed a bit of effort today to get the win. We were not the fastest in the lap times but we were fastest [overall] and kept everyone behind.
"I knew that we needed to get past him because more or less we were coming in on the same lap and if I didn't do it after the safety car they had too much speed to get it after that. Once I used KERS I managed to get in front of him. I knew as long as we didn't make silly mistakes we would be okay."
The result re-doubled the speculation, already at a fever pitch following Fisichella's pole position, that the Italian would be somehow extracted from his Force India contract to replace the hapless Luca Badoer in a Ferrari at the next race in Monza.
He shrugged the suggestion off after the race, telling reporters "that is just rumours, tomorrow I will concentrate on Monza with a Force India overall, that is all I can say".
But Force India's Andy Stevenson seemed resigned to an approach being made for his driver, joking that Ferrari's Stefano Domenicali, seen talking on his cellphone while on the podium to collect the constructors' trophy, was probably calling Fisichella's manager.
If a party was getting under way post-race at Force India, few of the other teams had much to smile about.
Red Bull's Sebastian Vettel made his fuel strategy work to perfection, gaining places throughout the race until he emerged in third place late in the race and began hauling in the leaders. But he said afterwards that he had reacted too cautiously to the disrupted start and lost ground needlessly.
Despite this he overtook team-mate Mark Webber in the standings, the Australian having a second subdued race in a row to finish ninth after a drive-through penalty for being released into the path of Nick Heidfeld in the pits.
Behind Vettel came the BMWs of Robert Kubica and Heidfeld, the Pole diving past his team-mate at the start when the German ran wide trying to fight off Raikkonen.
Rubens Barrichello, who qualified fourth, suffered a repeat of a problem that struck him earlier in the season, his anti-stall kicking in at the start and leaving him stranded as the rest of the field streamed past. He battled back to seventh and was hassling Heikki Kovalainen late in the race when smoke began streaming from the rear of his car.
His Brawn GP team diagnosed the problem as an oil leak rather than an engine failure and he was able to hang onto his place ahead of Nico Rosberg. He said: "I dumped the clutch and the anti-stall came on and the car was not moving. I should have had a lot more points today, but with all the problems that we had – the engine at the end – we're still very lucky to finish seventh."
The result moves him closer to Jenson Button as the Englishman was one of five drivers to fall directly or indirectly victim of a shambolic incident at Les Combes on the first lap. Renault's Romain Grosjean made contact with Button, sending him spinning off, and when Lewis Hamilton backed off to avoid the accident he was hit by Jaime Alguersuari.
Button blamed his qualifying form rather than his Renault opponent – although both Grosjean and Alguersuari were investigated by the stewards after the race, with no action being taken.
"I got a very good start, I got past Lewis and obviously Rubens had his problem," he said. "I got pushed a bit wide at turn one but I think I made up about four places. As we were going up the straight to turn five I went to the outside of Heikki, braked, turned in and I was still on the outside, and Grosjean out-braked himself and hit my back wheel. I don't think he was even trying to overtake me.
"So it was frustrating to be taken out like that, especially when I had made up quite a few places at the start and Rubens had had his problem, which was obviously good for me. It's the first time I haven't finished a race this year and basically it was because I was back in 14th on the grid."
Hamilton said: "It was a pretty bad start from the get-go but I tried to recover from it. I got sandwiched at the first corner and lost a bit of my front wing. Then Jenson spun at turn five and everyone looked like they were piling into him, so I backed off a little bit, and then I got hit from people behind me. I tried to avoid it all but it was just one of those things."
All four cars retired on the spot and they were later joined by Fernando Alonso, who turned out to have suffered wheel damage that prevented a proper tyre change. Jarno Trulli's high hopes from second on the grid were also dashed early on, the Toyota driver damaging his front wing at the start and never recovering.
Race results
Kimi Raikkonen, Ferrari
Giancarlo Fisichella, Force India
Sebastian Vettel, Red Bull
Robert Kubica, BMW
Nick Heidfeld, BMW
Heikki Kovalainen, McLaren
Rubens Barrichello, Brawn
Nico Rosberg, Williams
Mark Webber, Red Bull
Timo Glock, Toyota
Adrian Sutil, Force India
Sebastien Buemi, Toro Rosso
Kazuki Nakajima, Williams
Luca Badoer, Ferrari
Not classified
Fernando Alonso, Renault
Jarno Trulli, Toyota
Jenson Button, Brawn
Jaime Alguersuari, Toro Rosso
Lewis Hamilton, McLaren
Romain Grosjean, Renault
Drivers' championship
Jenson Button, 72
Rubens Barrichello, 56
Sebastian Vettel, 53
Mark Webber, 51.5
Kimi Raikkonen, 34
Nico Rosberg, 30.5
Lewis Hamilton, 27
Jarno Trulli, 22.5
Felipe Massa, 22
Heikki Kovalainen, 17
Timo Glock, 16
Fernando Alonso, 16
Nick Heidfeld, 10
Giancarlo Fisichella, 8
Robert Kubica, 8
Sebastien Buemi, 3
Sebastien Bourdais, 2
Adrian Sutil, 0
Kazuki Nakajima, 0
Nelson Piquet Jnr, 0
Luca Badoer, 0
Jaime Alguersuari, 0
Romain Grosjean, 0
Constructors' championship
Brawn, 128
Red Bull, 104.5
Ferrari, 56
McLaren, 44
Toyota, 38.5
Williams, 30.5
BMW, 18
Renault, 16
Force India, 8
Toro Rosso, 5