This Q&A was conducted at a media event to promote the forthcoming Superleague Formula event at Donington Park this weekend. It took place before the previous races at Zolder, when Duncan Tappy was still the driver for Galatasaray. His subsequent replacement for Donington by Scott Mansell makes his hopes for the season quite poignant to read but we felt it was important to show an accurate picture of what was said at the time – and of the challenges that drivers in Duncan's position face. You can read about the Zolder weekend here and view our pictures of the media day here.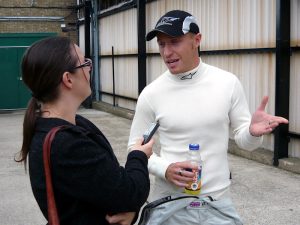 Audio
This interview was conducted in the Donington Park pitlane while the cars, complete with their V12 engines, were running out on the track. Therefore most of the audio from this interview is not of a usable quality but we've extracted some of the better bits and put them in the relevant places in the transcript.
Transcrlpt
BoP: Tottenham last year, Galatasaray this year, you've probably inherited some of the most passionate fans in world football. What are the differences for you between last year and this coming year?
DT: Well, I'm going to treat it pretty well exactly the same. The idea is to get the best result I possibly can, and hopefuly there'll be a few more fans than there were last year, even when I went to Magny-Cours two weeks ago there were a couple of fans from Galatasaray there, so fingers crossed there will be a little bit of a fan base there, a bit of support and hopefully I'll have a good result.
Listen here (22.46 secs)
BoP: Is there a part of you that sees the Tottenham car go past and think 'that's mine'?
DT: Yeah!
BoP: So it's a little bit of mental adjustment just to move from one car to another?
DT: The car's exactly the same, a different team running the car since last year so hopefully there'll be a few improvements in that area, there were a few times last year we were lacking a few bits last year. The Tottenham car's run by a new team now and that's obviously proving to be a good step for them, and hopefully with a bit more time than we had in Magny-Cours this weekend we should have a better car, so we'll see.
BoP: I know it's a series car, has there been any development on the car during the off-season?
DT: Yes, they have, mainly on the cooling, superficially I think it is the same, but engine-wise it's got a bigger boost, that is the push to pass.
BoP: Tell us about the car, everybody wants to know about the car, wonderful V12 engine, big powerful thing, bigger than a Formula One car. Tell us a bit about what that car's like to drive.
DT: It's really is not an easy car to drive because it is big, it's heavy, it's got a huge amount of power so you have to be fit. I train a lot of hours a week to keep in shape for it. There isn't a great deal of testing so it's hard to keep racing car fit, but the car itself is a joy to drive, really. It's got huge brakes, big power, so what more do you want really – it handles very well.
BoP: It's a super car to be driving?
DT: Yeah.
Listen here (33 secs)
BoP: Do you have a particular circuit to be driving?
DT: On the calendar for the Superleague they're all pretty good but my favourite's always been the Silverstone GP – I don't know why, it's quite flat but it's the high speed, it's got all sorts of corners and I always enjoy driving it.
BoP: What are your ambitions for the year, what would you like to see come out of this season for you?
DT: I think we can realistically have a really good finish in the championship, we've had a bit of a steady start. I'd really like to win a race – I've won races before, I think I can do it again. More podiums, more wins.
BoP: Is the British round special to you? Do you get a boost from being here.
DT: Yeah, you definitely get a buzz. I hope we have a good crowd here because I'll really rise to the occasion, I like that a lot, so I hope we'll have a few fans here, a bit of support.
BoP: We have to ask, are you banned from doing donuts or are you allowed to?
DT: I think they're going to promote that sort of stuff. That's what this championship's all about, it's not political, it's just about putting on a show so the more donuts the better I think.
BoP: Tell us about your own personal journey as a driver. You've driven in three different series this season, Formula Master, Indy Lights and this. How is your situation as a driver at the moment, and what are the factors that affect where a driver finds work at the moment?
DT: It is tough, with the way the world is at the moment, the economy, the first thing that goes at a company – any company – is sponsorship, that's a luxury. It's just hard, with these huge budgets for championships like World Series, GP2, it's very hard if you're not with a manufacturer or haven't got a rich family or haven't got a rich sponsor, but you've got to stay committed, you've got to keep plugging away and you never know what might happen, and Superleague is a blessing because it's a great championship to be in.
Listen here (44 secs)
BoP: So from your point of view, in terms of a shop window, this is a good place to be?
DT: Absolutely, because it's a high-profile championship with high profile names like Pantano, the reigning GP2 champion, that says something. To be mixing it with or beating them in races, that's good for your CV. If you're showing you can beat these guys it's good.
BoP: We were talking to Jonanthan [Kennard] a little while ago, about current climate, the importance of being the kind of driver who can parachute in, just get in a car and drive off. Is that a skill you have?
DT: I'll actually be honest and say it's not something I used to be good at – I used to be someone who was 'give me a couple of days in the car and I'll get there'. I've had to learn that I can't do that, I have to just get on with it, and last year the amount of different things that I drove really I had to just get on it, there's no messing around, I have got to prove myself straight away.
BoP: Talk us through what happened with Indy Lights?
DT: Indy Lights was an opportunity that came along where we had a little bit of money and the team wanted me in the car so we put two and two together. It was for the first two rounds, and we had a disasterous weekend at St Pete where we were quick in practice and when it came to the races we had an odd first race where oil was leaking from the car in front and I obviously couldn't see where I was going, in the second one we were looking good at the start and I then just got punted off at turn three on lap one, so you can't really say much about the weekend except that it was bad luck and we caused lots of damage and that's why we couldn't do the second round.
Listen here (1 min 17 secs)
BoP: What's the atmosphere like there, the racing culture? The impression we've got is that it's much more relaxed – open and friendly – in America.
DT: It is. The first thing one of the team managers said to me when I was there is that this isn't necessarily about how you do on the circuit. Yes, you need to be fast and get a few results but a lot of it is how you are off the circuit and selling you, marketing you. That's what I wanted to push forward really.
BoP: Of the native English speakers, you seemed the most polished and confident of the drivers in this morning's press conference – is that an aspect of your career you've worked on?
DT: I've definitely known that because I don't have the big budgets to not bother about that sort of stuff I've really concentrated on being the rounded racing driver character that you have to be, I know you've got to impress off the circuit as much as you have to on, so I've definitely listened to the F1 drivers who I've thought were good in front of the camera and everything like that and tried to take some of it on board.
Listen here (57 seconds)
BoP: What would you say to some fans of F1 in particular who are a bit sniffy about Superleague Formula, who say we don't need football in racing?
DT: I'd say that's a load of rubbish – I'd say they need to be more open-minded. Yes, Formula One is the pinnacle and it probably always will be the pinnacle but there's always room for something else that will bring in another whole different fan base. Why not, you know? If it gets some enthusiastic fans behind it and people enjoy the racing then why not?
BoP: Is there anything you want to add that we haven't covered?
DT: Just that I really, really enjoy being involved with Superleague and that I hope it carries on and becomes a really successful championship and that I've only just begun the long relationship.
Read more about Duncan Tappy here.