Williams' technical director Sam Michael has confirmed that the Formula One team is to be involved in the investigation into the death of F2 driver Henry Surtees, who lost his life after being hit by a wheel that had broken free from a rival's car.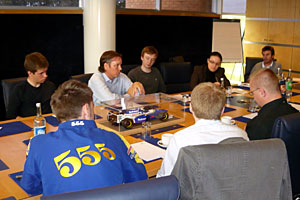 Michael was responding to a question from BritsOnPole.com as he gave a group interview to bloggers and web journalists during a promotional tour of the Williams factory in Grove, Oxfordshire.
Asked if the team will have technical input in the investigation into how the Williams-designed car driven by Jack Clarke came to lose a wheel in its crash, Michael said: "Yes, Williams will be involved in that."
Earlier in the week Jonathan Palmer, chief executive of Formula Two promoters MotorSport Vision, said the accident had shocked everyone concerned: "The awful tragedy has not just touched, but profoundly affected many people. Our whole Formula Two team and those involved at Williams F1 are enormously saddened, shocked and stunned by what has happened."
He confirmed that wheel tethers had been in use on the standard F2 series cars, and pledged a full inquiry: "There will of course be a detailed investigation into the accident that claimed Henry's life and we will do everything possible to understand exactly what happened and why, and see what can be learnt from this freak accident in the continual quest to make motor racing safer.
"The Williams F1 designed Formula Two cars comply with the FIA 2005 F1 safety standards including the fitment of wheel tethers to reduce the risk of wheels coming off in accidents. The F2 car also includes the latest F1 standards of driver head protection with high cockpit sides and lateral deformable structures.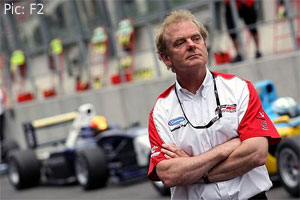 "As with F1 however, wheel tethers cannot provide an absolute guarantee that a wheel will not come off in an accident and in a single seater race car the front of the head is inevitably exposed to the risk, however small, of being hit by another car or component."
Surtees, the 18-year-old son of former F1 champion John, had been driving at about 120 mph between Westfield and Sheene corners of the Brands Hatch circuit when he was hit by a bouncing wheel torn free by Clarke's crash at Westfield corner seconds earlier.
He was airlifted to the regional trauma centre at the Royal London Hospital where, according to Palmer's statement, intensive care staff found he had "suffered a major head injury that was not survivable".
It was the second time in F2's debut season that he and Clarke had been involved in an accident during which a wheel had been torn loose from a car – the first of the two races at Brno in the Czech Republic saw a wheel fly into the air following a collision at the start.
Clarke said: "Henry's death is a huge shock. I am devastated, and I know that it will affect every driver in Formula Two. A tragic accident took Henry's life, and I will remember Sunday 19th July for the rest of my life not just for the sadness and hurt I felt, but for a driver who had it all and such a great future ahead of him.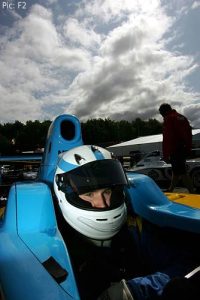 "It seems strange that on Sunday morning we were all laughing and signing autographs and looking forward to an exciting race. Henry was on good form, having scored a podium in race one, and from racing with Henry I know for a fact that he was rising to the top. He had proved himself to be a quality driver and a hard racer."
Palmer's son Jolyon was another driver from F2 who paid tribute: "On Sunday morning I happened to be sitting with Henry at the autograph session and we were chatting and joking. As well as being very talented and focussed he was also such a lovely guy and I feel so privileged to have known him. It seems unreal to me that an accident like this can happen to someone so close to me.
"This year Henry had really shone and it was only on the Saturday night before he died that I said I thought he was one of the most impressive drivers in the series so far, and certainly the best performing British driver."
Formula Two's debut season has been noted for the number of sons of racing fathers in the series – as well as Henry Surtees and Jolyon Palmer, Martin Brundle's son Alex is in the line-up while Clarke is the step-son of ex-F1 racer Julian Bailey.
This meant Jonathan Palmer's view of the tragedy at Brands Hatch was not just that of series boss and circuit owner: "This accident is particularly poignant for me as a father and brings into sharp and uncomfortable focus the inevitable danger of motorsport.
"On Sunday morning my 18 year old son Jolyon and Henry were sat together, amidst all the F2 drivers, joking and signing autographs for fans. In the afternoon F2 race Henry was just half a second or so behind Jolyon, trying to move forward after an earlier spin. "
"As they both dived down towards Sheene, the bouncing wheel just missed Jolyon, but hit Henry, who was simply in the wrong place at the wrong time."
Palmer's statement, which can be read here in full, also paid tribute to the role of John Surtees in his son's career.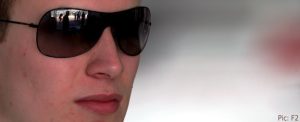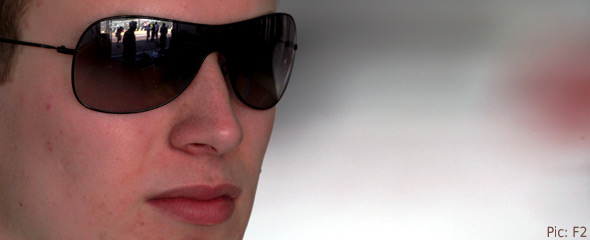 Surtees – the 1964 Formula One champion, two-time 500cc motorcycle world champion and 1959 BBC Sports Personality of the Year winner – paid his own tribute to his son. He said: "Henry had followed his heart from the time he first sat in a kart.
"He treated seriously the balance between motorsport and school having just finished his A-levels. The world beckoned and he was thriving on the freedom to concentrate on his motorsport.
"Despite bad luck in his motorsport, he had shown himself to be one with the possibilities of reaching the very top. Despite his young age, he had shown maturity, technical understanding and speed.
"Most importantly he was a nice person and a loving son and brother. He will be deeply missed."
Formula Two has announced that a tribute to Henry Surtees will take place on the Sunday of its next race meeting, at Donington Park on the weekend of August 15-16. More details will be released closer to the time.