Tottenham's Craig Dolby has tasted Superleague Formula victory for the first time by leading home a 1-2-3 for the British clubs in the football-themed championship's opening race at Zolder this weekend.
The Melton Mowbray driver raced through from sixth on the grid to win ahead of Glasgow Rangers' John Martin and Liverpool's Adrian Valles, with the trio perhaps benefiting from the extra practice time they received driving demonstration laps at the Superleague media day at Donington last week.
Valles followed his podium with another in the second race, earning him the 'weekend winner' award for best combined result and also extending his cushion at the top of the championship standings. He now leads race two winners Al-Ain FC by 24 points, with Spurs a further seven points behind.
Practice and qualifying
Galatasaray's Surrey driver Duncan Tappy was among the fastest as the weekend started, beaten only by Valles in the Friday practice sessions, but behind them was the dangerous-looking Kasper Andersen for Danish club FC Midtjylland – and it was he who took pole in the complicated knock-out qualifying system held the next day.
Tappy and AS Roma's Jonathan Kennard were both unable to advance from the group stages in qualifying, while Dolby departed in the first elimination round despite setting what would turn out to be the second-fastest time of the knock-out stages. "To qualify on the sixth row is very disappointing. It was cooler today and the grip wasn't the same. I was also held up by a slower car on a quick lap, so all in all it was just a very messy session," said Tappy.
Martin, who failed to finish either of the first two races, knocked Valles out in the semi-final to guarantee himself a front row start but narrowly fell short in the final against Andersen and missed pole. He said: "Magny Cours did not go well and so to earn a front row grid position in our own right is a good reward for the team who have worked very hard. It was almost 'pole' – it was very close at the end."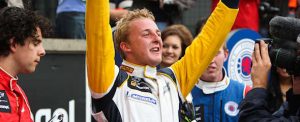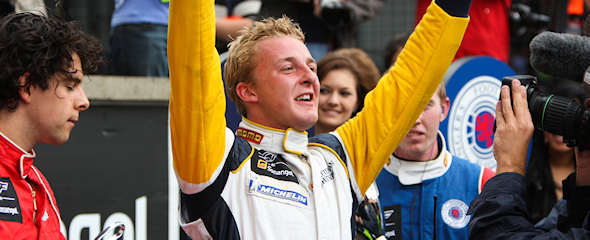 Race one
Andersen and Martin led race one until their pitstops, surviving a restart after the safety car was called out for a first lap crash that eliminated Sporting Clube de Portugal, Corinthians and Atlético de Madrid. But both drivers saw their hopes disappear in the pits, Andersen stalling and Martin dropping off his jack.
It was the second time this season the Australian had seen a possible win disappear in this way. "If it hadn't have been for that problem we'd have been very close to the Spurs car – but it's good to score well today," he said.
Dolby and Valles both had narrow escapes from the first lap accident, the Spurs driver suffering damage. Valles said: "The start was crazy but I was up to third at the first corner. I was catching FC Midtylland before he pitted but then his problem in the pits delayed my stop window – it was a race I could have won."
Dolby said: "It's a fantastic maiden SLF win for Tottenham Hotspur and for me. My car's rear diffuser was broken at the first corner melee but I just pushed as hard as I could and my team did a great pit-stop."
Tappy battled back from a mix-up that forced him to start at the back of the field, showing good pace to take ninth, while Kennard managed 11th place despite his back row start.
Race two
The second race started under the safety car on a drying track and was run with a reverse grid based on the results of race one, which put Corinthians and Atlético de Madrid on the front row and the British clubs at the back.
The wet conditions claimed some early casualties, with Tappy's Galatasaray car among them: "The second race was over almost before it had started when my car was hit by another, causing too much damage to continue," he said.
And Martin was forced into retirement shortly after: "It just lost system pressure – it started to play up on the second green flag lap before the start. It wouldn't shift and I couldn't go to manual mode from semi-automatic because there wasn't enough pressure. So I was stuck in fourth gear. I pitted and the team tried to fix it, but it was going to take 30 minutes."
Kennard, by contrast, secured a strong fifth place. He said: "Despite an unexpected trip down the emergency road and off the track early in race two due to the slippery conditions, things came together and I managed fifth which is encouraging as we head to my home race at Donington."
Valles used good strategy to climb the field, changing to slicks early in a safety car period caused by a Sporting Clube de Portugal crash, but was forced to defend his third place against a determind assault from Olympiacos' Davide Rignon. He said: "I'm very, very happy with this weekend. To go to Liverpool's home race leading the championship is a perfect scenario."
Dolby, by contrast, lost a potential second good result through an ill-timed pitstop from the lead, finishing ninth. He said: "I wanted to pit for dry weather, slick tyres when the safety car first came out but unfortunately the team instructed me to stay out. I ultimately pitted on the same lap the race re-started – it was one of those things."