Australia's Will Power, supposedly the understudy at Team Penske, took centre-stage in the Indycar Series by winning a gruelling Rexall Edmonton Indy that had plenty of drama – but very little overtaking.
A procession on the track was disrupted by horror in the pits as Tony Kanaan's car – and the driver himself – was sprayed with fuel and then engulfed by flames.
Crew from several teams rushed to put the blaze out and the Brazilian was rescued with burns to his thumbs and face.
Kanaan said: "In the next couple of days we will know the extent – I could be uglier than I am now. I am glad we are ok, it was a scary moment.
"I have to thank all the other teams, Penske, the Panther boys and everybody who came to rescue me. It's pretty remarkable and its shows the strength of the IndyCar family. We are competitors over the weekend but when somebody needed help I got it.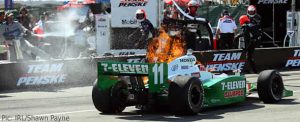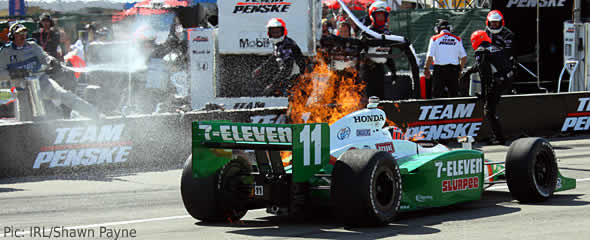 "The fuel probe stayed open, it was open all the way even when the fueler pulled out. When he pulled out there was nothing we could do. It seems like nothing can go right this year."
Kanaan, who drove his car away from his pit box to protect his crew from the flare-up he could see was about to occur, returned to the pitlane after treatment to personally thank the crew members from rival teams who had helped him.
The blaze was one of the few bits of drama on the day as Power, who had a reputation earlier in his career for crashing when in strong positions in races, drove faultlessly from the start after qualifying on pole and led for the entire contest apart from the pitstops.
Behind him finished team-mate Helio Castroneves, whose federal tax evasion case had led Roger Penske to recruit Power as cover during the off season. When the Brazilian was acquitted Power's season was supposed to end – but his performances had been so strong that the team added a third car for several races.
The outcome was the ex-Champ Car driver's first IndyCar victory, leading home Castroneves and the three championship contenders – Scott Dixon of Target Chip Ganassi Racing, Penske's Ryan Briscoe and Ganassi's Dario Franchitti. Canada's Paul Tracy took sixth.
Power said: "I'm very happy, today was a great day. I'm not stressed – I'm just taking it one race at a time and doing my best. The crew did an incredible job and I'm really enjoying being a part of Penske Racing. I've got to thank Roger for the opportunity."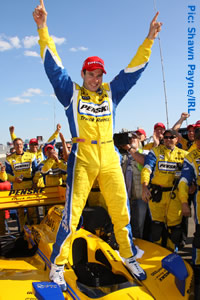 Castroneves added: "When Will came on board, we never had a doubt that he would be a top race contender. It's a shame that a one, two, three team finish slipped away, but our goal was to stop the Ganassi guys, and we were able to do that with Will's win."
With the top 10 running in the order they had qualified for the entire first 32-lap stint, the on-track action failed to excite as overtaking proved difficult despite the wide airport runways that made up the circuit.
Power was prevented from building a dominant lead by Marco Andretti's petulant attempts to avoid being lapped, which allowed the field to catch up. Once Power was past, the Andretti Green driver continued to resist letting other drivers through. Franchitti said: "I didn't get much help from Marco when I was coming up to lap him. I helped him when I was a lap down at Watkins Glen, and he totally screwed me for 10 laps. I'll remember that one."
Otherwise, Franchitti – running with a one-off blue livery for sponsors Vaseline – had little to get excited about: "It was a pretty average day for the Vaseline car. Will did a hell of a job. He was fabulous all weekend. Congratulations to those guys. We'll come back and get them next week."
His team-mate Dixon added: "It was one of the toughest races we've ever run. It's definitely a tough circuit, and it gets a lot tougher when you don't have the best car. We were definitely hanging on."
Dreyer & Reinbold's Mike Conway set the fastest lap of the race – but it did him little good as he did it while hopelessly adift after being hit on the opening lap and pitting for lengthy work to replace his steering rack.
Co-owner Dennis Reinbold said: "It's a real shame because we were the fastest car of the race by two tenths of a second. We set the fastest lap of the race and you just hate to waste opportunities like this, because today could have been our day."
And Conway said: "In the first corner I got squeezed. I was coming up on the inside and people were coming across which messed up my line and Matos came over. He touched my front wheel and it felt like it bent something. I thought it was okay and on the last corner I went to turn left and the car wouldn't turn it just went straight off.
"We were able to get back out, but at the point it was just a test for us. We weren't able to fight for position. We just stayed out of everyone's way and got some laps in. We were happy to get the fastest lap of the race, but it was also disappointing at the same time because we could have had a good finish."
Another victim of a first corner accident was Mario Moraes, whose race was ended when he was hit by team-mate Tracy. The pair conducted megaphone diplomacy after the race via Twitter, where Moraes – who is unpopular with other drivers at the moment for causing numerous accidents this season – wrote: "Have a team mate like this for what? Better dont have anyone."
Tracy used several messages to reply: "I feel very bad for him – he so badly wants a good result, which he deserves. He is very mad and told the team he does not want to talk to me, but I want him to know that it was not intentional. I was there and he did not see me. I will give him a day or two to cool off and try to call him. I have had many teamates and raced hard with them and it's just racing – at the end of the day it's better to have friends than be mad and hate everbody."
Justin Wilson, who had qualified unexpectedly badly, recovered somewhat during the race to finish eighth and was reeling in former team-mate Graham Rahal at two seconds a lap when Tomas Scheckter's late crash brought out the only caution flag of the day and meant the race finished under a yellow flag.
He said: "I thought we had a really good run and the car was great when the grip came up on the track. Edmonton is a unique place with both high and low speed corners on a rough surface causing the car to be much more sensitive with grip levels than any other track we race at. I think we can take what we learned here and apply that knowledge for the future."
Panther Racing and Dan Wheldon will be delighted to get a short break from road and street courses, where they have struggled all year, when the series heads to the oval at Kentucky for the next race. At Edmonton Wheldon struggled as much as his Indy Lights team-mates Pippa Mann and Martin Plowman had the day before, finishing 15th but gaining most of his places from other cars' misfortunes.
He said: "It was just a very tough weekend, but drawing on the positives; at the end of the race, as rubber went down on the track, the National Guard Panther Racing car definitely came alive. So for us, that indicates the direction that we need to go in.
"So while the result today in Edmonton isn't as positive as we would have liked, there's certainly some information that we can build upon and for me personally, the physical training that I've done this year has definitely paid off because that was pretty much a green [flag] race today."