Who would have thought, when Honda pulled out of Formula One in December last year, that within three months the team would have been rescued and unveiled a very sprightly-looking car?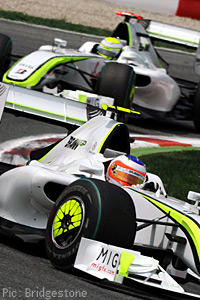 That within six months that car would have won six out of the first seven races of the new season? And within nine months, would still be leading both drivers' and constructors' championships and be in a position to say that they've secured their financial position for the next three years?
Brawn GP's success is the stuff of which movies are made – and like all good blockbusters, it's giving us a thrilling element of suspense, as they've had a significant drop-off in form over the last few races.
Will Jenson hang on to win the drivers' championship, or will his earlier success be squandered, with the honours going to one of the Red Bull drivers? Or will he suffer the agony of seeing the world champion's trophy in the other side of the Brawn garage if Rubens Barrichello's comparative good from continues?
While Jenson has been languishing in the lower points, Rubens has managed a podium at Silverstone, a further win for the team in Valencia and valiantly nursed a burning car home in Spa to finish in seventh place.
Last December, it looked like Rubens Barrichello's career was over, Jenson's was in jeopardy and Ross Brawn's first foray back into Formula One after his unprecedented success at Ferrari had come to a premature end. I have to be honest and say that while I'd long respected and admired Ross and Rubens, I'd not really had that much time for Jenson.
All that changed when I saw how committed he was to the team. He could have been off looking for something else, but instead, he promised the team that if there was a car on the grid in Australia, he'd be there to drive it, taking an eye-watering pay cut to do so. Certainly he knew that this was the first car that Ross Brawn had had his hands on, so it was bound to be good, but credit where it's due.
Sure enough, that car, when it was unveiled at the pre-season test in Barcelona, proved itself to be pretty nippy. There was definitely something about this beautiful white car with the black and yellow flashes, at that point completely unsullied by commercial sponsorship.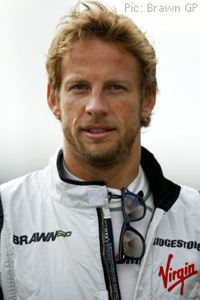 Jenson went on to drive it to win 51 out of the first possible 55 points (the wet, abandoned, Malaysia race resulted in half points). Who can forget his thrilling pole position lap in Monaco, set in the dying seconds of the session which set the scene for a competent victory.
Who can forget, also, Jenson forgetting to drive his car on to the grid and having to jog from the pit lane to collect his prize? We were told in Turkey that it was all going to be about the Red Bulls but, no, Jenson and Rubens came good again.
At that point, people stopped marvelling at Brawn's success and started whinging about F1 being boringly predictable, that Jenson could win the championship by Monza and wasn't it just like Schumacher again. You could hear the commentators yawning.
Then, at, Silverstone, it all started to go a wee bit wrong for the team. There was more than a trace of irony in the fact that a British team had built a car that couldn't cope with the British weather – they simply couldn't get enough heat into their tyres to make them stick to the road. That problem persisted at the colder Nurburgring.
In Hungary, it was a spring falling off Rubens Barrichello's car that caused Felipe Massa's freak accident from which he is fortunately now recovering. Safety checks on Jenson's car meant that he couldn't get out to do a decent flying lap in the final qualifying shoot-out so he ended up further back on the grid. What this season has shown is that he is fabulous at starting from pole, but that he has problems in making headway if he's stuck in the pack.
In the heat of Valencia, Jenson was just out-qualified by Rubens, but again had a terrible start while Rubens went on to take his first victory for Brawn. There certainly wasn't a dry eye in this house when that happened. Rubens is very much a team player and Ross Brawn showed characteristic wisdom in keeping him on this year.
He had the option to bring in Bruno Senna, but knew from Ferrari how good Rubens was at giving feedback and setting up the car – and, crucially, at sharing his information with the other side of the garage. That help has given Jenson the edge on more than one occasion this season.
While commentators are now muttering darkly about Jenson's abilities, and how he can't take the pressure of being championship leader and how it's all falling apart for the team, let's look back a bit to Michael Schumacher's first championship for Ferrari in 2000.
He had a fabulous start to the season, but the middle was pretty dire – he didn't even finish four races – and then he came back at the end to claim the championship in convincing style. And who was his technical director? Ross Brawn. He's been here before and he'll sort it. Enough said.
While fortune has not been smiling on Brawn, the good thing is that it's not been grinning in any other team's face either. If Red Bull had managed to capitalise on Brawn's fall-off in form, they'd be in the lead by now. Instead, we've had a surge forward by McLaren and Ferrari – and who on earth would have thought we'd see a Force India on the podium?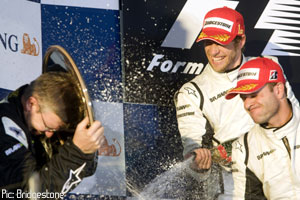 The sharing of these spoils has played into Brawn's hands. Make no mistake, though – Brawn deserves its lead as the most consistent performer this season. They've won seven out of 12 races so far. That's not a million miles from half the races for the whole year.
As a fan of the team, I have been particularly impressed by how good they are at interacting with us in a very genuine way. Both drivers regularly use their Twitter accounts, @the_real_JB and @rubarrichello. At one point, Rubens said it took him two hours a day to read tweets and respond to people, and that was when he had around 50,000 followers, not the 182,004 he has at the time of writing.
He does engage more with people and we all appreciated it when he took the time to tell us directly what was happening with Felipe Massa via Twitter when the media was spouting all sorts of sensationalist claptrap about his condition. Rubens more than anyone seems to get what Twitter is all about and has on occasion shared personal photos and stuff with us. The official Brawn twitter account, @OfficialBrawnGP, tweets both during F1 weekends, and between races – and chats back to we fans occasionally, too.
I also like their website – it seems much more-user friendly than the others with more promotions, more chance for interaction, better behind-the-scenes commentary and the chance to ask questions. The race blogs and the features on various team members at Brawn give a fascinating glimpse of how the team works.
You get the feeling that the team ethos is paramount. Ross Brawn's legendary team-building skills have made a huge difference to the Brackley-based outfit. In a recent feature on the Brawn website, race strategy engineer, James Vowles, when asked what the best thing was about working for Brawn said:
"For me, it's all about the people you work with, the team work, the development. The race engineering group has been together for a long time and is very close which makes for a great working environment. I think it's fair to say the engineers spend nearly as much time together as we do with our respective partners! The other reason is Ross Brawn who has changed the way we work together as a team. It's a privilege to work alongside him during a race weekend."
It's still not certain by any manner of means that Jenson will be drivers' champion. Rubens could still catch him. So could the Red Bulls, but my money's going to be on one of the Brawn drivers, probably Jenson, holding that trophy up. The team has given us a thrilling season so far and I'm convinced that we will see a return to their earlier form.