Dario Franchitti and Graham Rahal ran fastest in practice for the Honda Grand Prix of St Petersburg – but it was Justin Wilson in the underfunded Dale Coyne Racing entry who caused the biggest stir.
Wilson signed late for Coyne after losing his prime Newman/Haas/Lanigan ride because of sponsorship woes. His new team's reputation is that of popular triers for whom success comes but rarely.
The Sheffield driver was having none of this, however, running fastest for much of the rain-hit first session before being overhauled by the Ganassi pairing of Franchitti and Scott Dixon. In the second he was beaten only by last year's winner Rahal, his former team-mate.
Despite that success, he cautioned against drawing too many conclusions from the afternoon session: "I think it's not a true reflection of what we can do or of what everyone else can do because it was pretty messy out there at the end," he said.
"With 22 cars, everyone is eager to get the season started. So there were lots of little incidents going on out there.
"We were trying to get the ride quality even better to absorb some bumps out here, because that's a pretty big part of it. I'm very pleased with the progress. Hopefully we can stick it in the top six tomorrow and challenge for that pole position"
Scotland's Franchitti, returning to the IRL after an abortive venture into NASCAR, was six tenths of a second faster than anyone else in the first session after only venturing out when the track was at its driest. In the faster second session he managed third.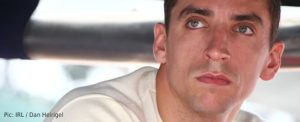 Further down the field, Dreyer & Reinbold's Mike Conway was the fastest of the rookies, 16th in the first session and a much-improved 12th in the second. He said: "This is a great circuit. It's all coming back to me now. I ran here in 2003, so I'm just getting back into the swing of it again. We improved quite a lot from the last session to this one, so we are headed in the right direction for tomorrow."
Team-mate Darren Manning needs a good race to boost his chances of staying with the team. He had little running in the first session, finishing ahead only of the ex-stuntman and NASCAR driver Stanton Barrett. In the second he rallied to turn in the 11th-best performance.
He said: "It was a bit disappointing with the rain. That's the biggest thing I can say right now. I only got a few laps in that first session, and with the last hour in the second session I was still getting comfortable in the car.
"I like to drive really relaxed, and I'm still a little more tense than I would like to be, but to be as quick as we are is a testament to the car and the team. We didn't put new tires on in that session when everybody else did. We made some changes to the car, some that I liked and some that I didn't.
"I know working with the guys that they understand what I need from the car, and I look forward to going through it with them tonight to make the car solid for tomorrow."
Dan Wheldon was another driver making his full début for a new team, lining up for Panther after leaving Ganassi at the end of last season's points-paying races. Like Franchitti, he had raced for his new team in the post-season exhibition race at Surfers Paradise, Australia.
At St Pete today he managed an encouraging fifth place in the first session, but could barely improve his speed in the second and slipped to 19th of 22.