So, what were the highlights of McLaren's hour-long video feed of the launch and the following press conference?
Here are some soundbites from some of the key players, including team principal Martin Whitmarsh, engineering director Paddy Lowe – and of course the drivers, Jenson Button and Lewis Hamilton.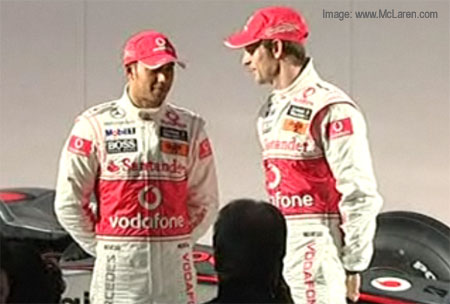 "It is an extreme diffuser and we won't be the only ones."

Martin Whitmarsh on the car's veiled diffuser.

"This is the standard of car we will start to test, not the standard of car we will start to race."

Whitmarsh comments on the newly-unveiled MP4-15. Well – mostly unveiled.

"There are very few parts in common with last year's car."

Paddy Lowe discusses how McLaren have started 2010 with more or less a design clean sheet.

"Silver is a McLaren brand colour. I am sure our colleagues in Stuttgart would like to see four silver cars at the front. We might differ on the order of those cars. But we remain close friends and work together."

Whitmarsh on the current state of the relationship between McLaren and Mercedes.

"We are going to go out and get the best drivers we can. We have two drivers who are very honest and very open. They both want to beat each other. It should be clean, open and positive. Fighting a one-man team could be difficult but it is good to go racing with a team that are good personalities."

Does Whitmarsh gets a bit pointed when asked about competing with Michael Schumacher's Mercedes team?

"Moving to a new team is always difficult. It is a big change but the team has welcomed me and it has been a good atmosphere. It is good to see the car in one piece. I am looking forward to the season but do not want to get carried away yet."

A cautious Jenson Button on his first month at McLaren and his expectations for the next month

"To be on the same grid as him is going to be pretty special. Jenson has raced against him before but for me it will be a new experience."

Lewis Hamilton on racing Schumacher for the first time

"F1 is a team effort and you need both drivers to be working together to develop a car."

Button responds to suggestions that McLaren will be disadvantaged by driver equality

"Money is something we do not talk about. It is so important for us to be working together as a team"

Button responding to questions about his and Hamilton's respective salaries

"I am going into this season so much more excited than in any other season in F1. I am going in as a much stronger driver than ever before, I want to be 100 per cent ready, no excuses."

Button is determined to build on his world-championship winning season with Brawn GP

"No-one knows who is going to come out on top in any team in 2010. That's why we are going racing."

A timely reminder from Button about making too many assumptions.

"That's not the way we look at it, not the way the team looks at it. In our team we have people from over 25 nationalities. It is an international team."

Hamilton responds to the notion that McLaren and Mercedes will be fighting out an Anglo-German football-style national rivalry.