Dan Wheldon has been cleared as fit to run in qualifying for the Bombardier Learjet 550k despite a high-speed crash that left him briefly pinned in his overturned car.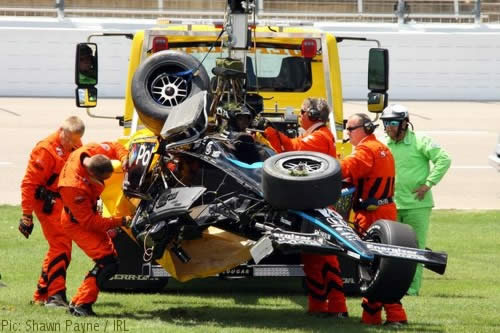 The wreck of Dan Wheldon's car. Pic: Shawn Payne / IRL
The Englishman was running second-fastest of the first group of 14 drivers practising at the Texas Motor Speedway when he suffered a possible rear suspension failure at turn four and hit the wall hard.
His car span across to the infield, where the damaged right side dug into the grass and sent the #10 car rolling across the turf with Wheldon inside.
It came to rest upside-down but was swiftly righted by fast-arriving safety staff. Wheldon climbed out of the wreck himself but was visibly limping as he was led to a vehicle to take him to the medical centre.
Despite fears, x-rays on a suspected broken foot proved negative.
Wheldon, who is running this weekend in a re-branded black Polaroid livery instead of his usual Target red, said afterwards he expects to take part in qualifying despite the crash. His team will put him in the backup car as his is beyond repair in the time available.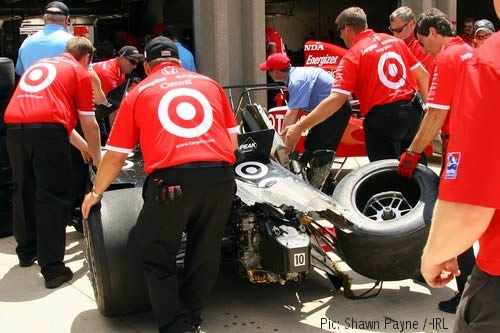 Wheldon's car is returned to the Chip Ganassi Racing garage. Pic: Shawn Payne / IRL
Speaking after his release from the medical centre, he said: "As the front of the car reached maximum load, something broke and it shot me straight on. When I hit the wall my right foot hit the side of the tub really hard.
"I think we just had a failure – it wasn't through preparation by the team. I think it was just one of those things, a shame because the car was incredibly strong."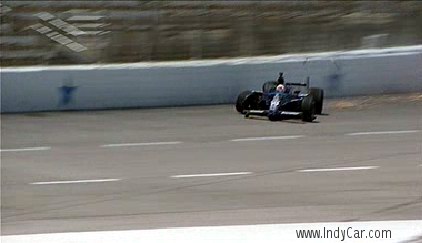 Wheldon's car bounces back from the wall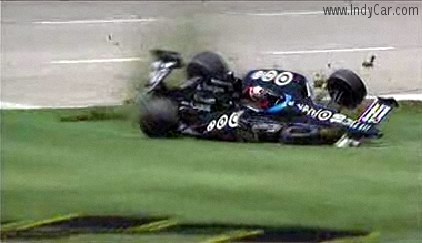 The damaged side digs into the infield grass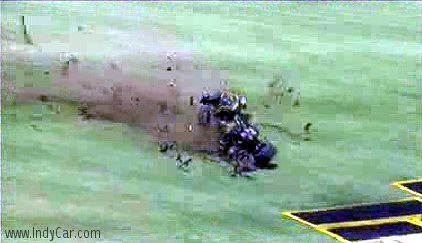 The car rolls across the grass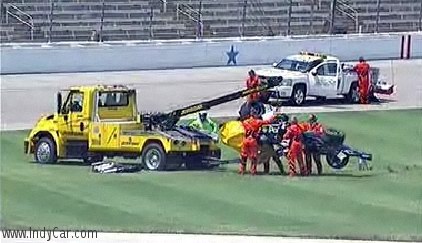 A recovery crew lifts the wreckage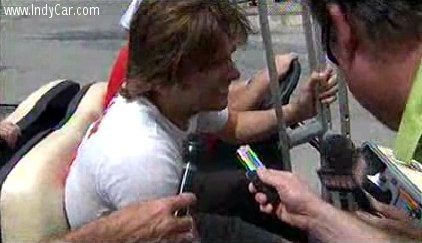 A cheerful Wheldon gives interviews later
The last five screengrabs are all from the IRL's streaming video coverage, available from indycar.com. We're checking with the IRL about whether it's OK to use them – if it's not, they're coming straight down again.
Edit – and here's the video, put up on YouTube by the IRL. Why can't the FIA be like this with Formula One footage?