In the third and final part of our interview with Indy Lights driver Pippa Mann, she talks about living and racing in America, keeping fit, staying in touch with fans – and some of the challenges faced by women who race. Links to the first two parts are at the foot of the story.
On the day of our interview, Pippa Mann is sitting in her new Indianapolis apartment waiting for her furniture to arrive.
Surrounded by packing boxes, she is taking time out from the tasks of sorting through them and of doing her washing to speak to us – before making a return the next day to the demanding fitness regime familiar to the hundreds of followers of her Twitter updates.
As we speak, she's facing an unpredictable winter, with her 2009 team Panther Racing a few days away from publicly announcing its exit from the Firestone Indy Lights series for 2010, and next year's seats subject to healthy competition. Indeed, in a few days' time, she will visit the team to say her farewells as it shuts up shop for good.
But in the meantime she's able to enjoy some welcome security as a result of her last season's racing and to work on her plans for next year – plans which see her firmly situated in the US.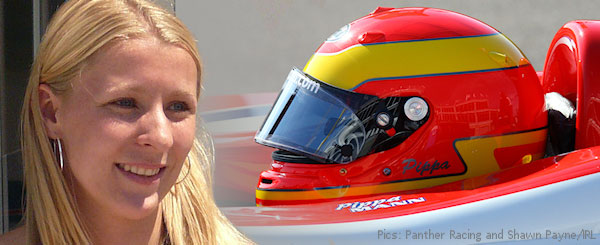 In making that choice she is the latest in a long line of British drivers to have crossed the Atlantic for a racing culture that many find friendlier, less punishingly dependent on personal or family wealth and demonstrably more mature in its attitude to women.
She told us: "At the moment American racing is my focus. I have made a fairly big commitment to being over here – I have rented out my own apartment now I am no longer in the Panther apartment. I intend to be back, I hope to be back and I am doing my best to be back.
"I have had a fairly tough old year, stuff has gone wrong all year long. But the boys [in the team] have never ceased to go home [from each race] and work hard. The atmosphere in the pitlane overall is much more friendly than it is back home. The atmosphere between the different teams is generally better.
"The different mechanics generally can stop and have a chat to each other while wearing their different shirts without it leading to trouble. The atmosphere's just a little bit friendlier.
"The other reason why British drivers like it is because you can start to earn a living. There is prize money so, if you do well in a race, you are actually going to earn something and that is a big thing for up-and-coming drivers.
Still living here
"I have had a really tough year, a horrible year at times. But I have still earned enough money that I have been able to rent an apartment for next year. So, worst case scenario and I end up on my uppers, I am still living here trying to look for a drive.
"That makes me feel much more secure because I then know I am not desperately waiting to get something signed before I can afford to live somewhere, and I can keep training while I try to get something signed."
And life in Indy is proving no chore for Pippa. Having previously spent a spell overseas while karting in Italy, she's no stranger to making a new life for herself abroad. She's even found herself a little bit of Europe in the shape of her Audi A3 road car – "it's my baby" – the model she enjoyed driving back home and quite a contrast to the monster-sized vehicles driven by many natives.
She says: "I still think of myself as British. I have always thought of myself as British, or even English. Since I have been living here in Indy I kind of view myself as an Indianapolis girl as well. I really like it out here, I think I have found my home.
"It has made a big, big difference to me this year. Indianapolis is so geared up towards motor racing. It was very easy to meet like-minded people, people who understand the pressures. You go out to a restaurant or just for a quiet drink somewhere with friends and you run into people you know.
"It is a big town but with a small-town feel and I think that is what I like about it. And it is so motor-racing orientated. It really makes you feel at home here as a racing driver."
She tells us that it's the small things that make a difference – like the Pitfit racers' training programme which is based in Indianapolis where its customers are concentrated, or meeting other drivers in a similar position on a daily basis.
"That is quite good especially when you first move somewhere and don't know many people. That's a really good thing to keep the motivation going – when I moved to Italy I found it could get pretty lonely but out here it has been a very different experience."
The professional training programme has also been a godsend. All Pippa's Twitter followers are used to the succession of anguished Tweets that mark out another tough session at the gym. With a keen interest in sport and fitness stretching back to her school days, she had always previously researched and designed her own programmes – but found Pitfit provided a massive boost.
Really narked off
"From quite a young age, even when I was doing go-karts, I realised the importance of training in a gym. Partly because, being a girl, and starting to do the European stuff on the really sticky tyres, I just wasn't strong enough. That really narked me off, I guess.
"And I made a resolution to myself. I was pretty strong for a girl anyway but I decided that nobody would be able to tell me I wasn't strong enough or that I wasn't fit enough again. And that has been my mentality since then.
"There have still been days when people have tried to tell me that but most of the time I either know that, actually, they are looking for an excuse. Or if I have just stepped up into a new category, as happened two years ago when I first stepped up into a World Series car, yes I did have to go away and work harder over the winter. And I was fully prepared and ready to do that.
"What's been nice this year, having moved to Indianapolis, for the first time in my life, in all of the training I have ever done, it's been so nice to hand the responsibility over."
As a result, she says she has got fitter, better co-ordinated and stronger, and can feel the results in the car.
"When I joined Pitfit I discovered that most of the stuff I had been doing was pretty much right – the difference is when you have someone else standing over you shouting at you, which increases the intensity.
"They also had much more imagination about how to do various things. For example, something that I struggle with, and it always pops up on Twitter that I struggle with, is sprinting. I contracted asthma at age 12 and most of the time I don't even know that I've got it. However, making me sprint as hard as I possibly can, then I start to notice that I'm in pain – it's pain more than wheezing.
"The effort of making myself breathe normally through the pain and not go into that asthmatic wheezing thing, it makes me very tired sometimes, doing short intervals, but I have noticed that over the course of the year I have got much, much better at that and it is fantastic that I can do it."
She says she "will never be a world-class sprinter" but, thanks to her current training regime, is now able to sustain her heart rate at a much more elevated level than before and finds it recovers much more quickly.
'Try to get in a gym'
"Anyone out there, if you do have asthma, even if you aren't doing any sport at all, try to get in a gym, get a trainer and start walking and jogging. As your lung capacity increases it really helps you get quite a bit better."
So Pippa starts the off-season in good physical and material shape to seek out a new drive. It is never an easy prospect, whether for an up-and-coming driver or the Formula One world champion, as Jenson Button is apparently finding in his current tangled negotiations with Brawn GP.
For a driver in Pippa's position it's all about finding a sponsor prepared to invest in you – but it's hard to get them to do that unless you can bring them the exposure of a guaranteed drive. A classic chicken and egg situation.
She told us: "Even in Formula One, there is the argument that the best-paid drivers on the grid bought their drive. They are well-paid because the sponsors want them in the team and will pay the team money to have the driver.
"It is the same thing here in America – a great example is Danica Patrick, who is a huge success, earns a lot of money, does a great job for her team. Her sponsors, rightly, think she has done a fantastic job, they are extremely proud to be associated with her and, because of the amount of money they are able to provide to the team and to her she is able to earn a very large salary from the team.
"So, as a driver trying to move into something bigger, it is all about finding a sponsor who wants to be associated with you and what you are doing.
"Unfortunately as soon as you are outside Formula One and into GP2 or World Series, outside IndyCars and into Indy Lights, or outside of NASCAR and into the Nationwide Series, as soon as you are outside that very top tier it is much harder finding a sponsor who is going to get the exposure they want to be associated with you. But you cannot move into that top tier until you have a sponsor.
"It's really, really tough and a chicken and egg scenario. Until you get with a good team and have a good year and get good results you are going to struggle to pick up a sponsor. And until you have a sponsor who wants to be associated with you, you will struggle to get with a good team."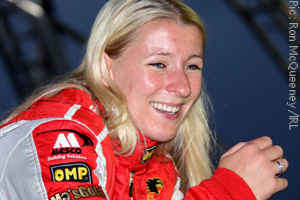 It's instructive to consider Patrick and some of the other women lining up on American grids. On the weekend of the recent IndyCar, Indy Lights and Atlantic Championship finales, Pippa was one of seven women slated to race.
Only five eventually started, but they included a championship contender – Simona de Silvestro in Atlantics – and an owner-driver in the shape of Sarah Fisher. And Patrick went on to finish the season as the most successful American IndyCar competitor and the highest-placed driver outside the dominant 'big two' teams of Penske and Ganassi.
This makes it look as if there is a bit of a difference between the opportunities available for female drivers in America and Europe. Has Pippa found this is the case?
'Is it because you're a girl?'
"I hate making blanket statements. But, as a general rule, in America as a female driver if you can prove that you can drive a racing car, if you can prove that you can speak and that you can be marketable there is a market for you and the sponsors are more interested in you.
"Back home in Europe, if you can prove that you can drive a racing car and you have sponsorship and recognition, there are a lot of teams out there that won't really want you. They'll take you on grudgingly, or they'll take you and all you'll hear every day, or every time you're not as quick as your team-mate, is 'is it because you're a girl?'
"So much of the time back home in Europe it can feel like you're fighting against your team rather than working with them. There is a lot of attitude back home."
And Pippa's heard a few excuses in her time: "They'll say 'We'd love you to do well but you're a girl, so it's not going to happen'. Or, 'you've done a really good job at this test, we'll take you, but we need to talk about your dress sense – we can't have you turning up wearing jeans like that while you drive for my team'.
"Or, 'we think you've done a really great job at the test but we're just not sure about the dynamic of having a girl in the team'. It goes on a lot, and it does make you tougher, and it does make you stronger, but it is not conducive to getting the best results."
Happily, it was something she avoided during her two years in World Series by Renault: "I was extremely lucky to work with Roly Vincini of P1 Motorsport. He was a great guy to work with. I don't think many other girls are that lucky, to get to work with someone like Roly. I mean, he was as tough as old boots but he really wanted me to do well. He really wanted it.
"We'd have blazing rows about it because his idea of what he thought I needed to do well, and my idea of what I thought I needed to do well weren't necessarily the same. And obviously we were both right, given the kind of people we both are. But the point is that we would have this row because we both wanted me to do well."
And British racing's loss is America's gain: "I think it's a real shame there aren't more girls in Europe but the reason is that we come over here. And the reason we come over here is that we get more opportunities."
But even with Pippa based firmly at Indy there are plenty of opportunities to keep up with her, since she's an enthusiastic user of both Twitter and Facebook who relishes the opportunities these offer to stay in touch with fans.
"When I was a kid I used to go to motor races with my dad. And even when the drivers didn't seem to be doing anything they never really wanted to sign autographs for me.
In touch with fans
"So, as I have grown up I have decided that I want to try and be the driver who, if I can, will make the time to sign something for you. And Twitter to me is an extension of doing that – it allows me to be in touch more with the fans."
The downside is that there can be people who take it all a bit too personally and disregard the boundaries between her public persona and private life: "It is difficult when people who have met you through Twitter or Facebook believe that they know you much better than they do. I've had that a few times this year.
"I want to be able to communicate with people but at the same time I have to ask them to remember that I am just a 'human bean' and I have my own life and I need a little privacy sometimes. I can't give people answers to everything on Twitter, it's not the place for people to come and ask me personal questions.
"I want to stay in touch with as many people as possible, the people who have supported me and been my fans. But, before you say stuff to me, think! If you wouldn't be happy sending it to a stranger, or if you wouldn't want your mum to see it, don't send it.
"I have to ask people to be a little bit understanding and try and help me out sometimes but putting an appropriateness level on things."
So what's a good way to keep in touch with Pippa, especially if the whole social media/Twitter/Facebook thing has passed you by? Well, she recommends visiting her website at pippamann.com and signing up to her fan club, which is currently free to join and which includes access to the latest news and pictures, plus behind-the-scenes insights, regular diary entries, a forum, and much more.
With her test last week at Indy Lights Sam Schmidt Motorsports sounding positive, there's good reason to hope there will be plenty more to read about in it next year.