In part two of Brits On Pole's exclusive interview with Indycar and Le Mans Series driver Darren Manning he talks about his plans for the future and how driving a prototype sports car around Silverstone is very different from the violence of the IRL. You can read part one here.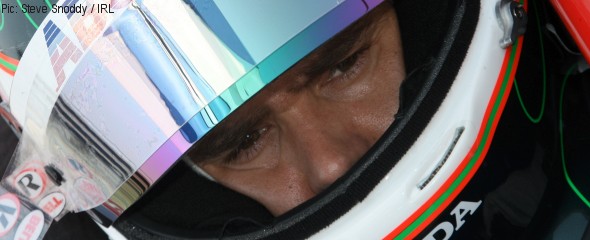 Darren Manning wrapped up the 2008 Indy Racing League season with a seventh place on the 1.5mile oval at Chicagoland – then immediately crossed the Atlantic to drive a high-tech prototype sports car on the sweeping curves and long straights of Silverstone.
Next month, he's likely to head out to Australia for more Indycar duties at a non-points exhibition race.
It's a frantic, varied schedule that calls for great versatility – and it also has the advantage of keeping his options open over his 2009 plans.
At the time BritsOnPole.com spoke to Manning his IRL team, AJ Foyt Enterprises, had not yet re-signed its main sponsor, ABC Supply. A team spokeswoman told this site that his 2009 drive had not been confirmed for this reason. At the same time, AJ Foyt himself has said he hopes to run two cars for the season.
Manning seems confident there will be some sort of offer from someone in the IRL – probably Foyt – but, with the possibility also existing of an offer from Embassy Racing to drive full-time in the Le Mans Series, the normally open and frank Yorkshireman is staying cagey about his plans.
Not confirmed
Asked where he was going to be driving next year, he said: "Nowhere. I'm not confirmed anywhere. They said on the TV last week that I've signed up but I haven't.
"I exp- well, no I don't, I really don't expect to be racing [anywhere specific]. I like this championship [LMS], there's a lot of decisions to be made if I get offers.
"They're trying to get ABC on the lead car and they're trying to get something for the second car. I think ABC are going sign up in the next couple of weeks, which probably will decide my offer from them. Whether I take it or not is another matter.
"It's still well in the balance where I'm going to be, whether it's in Europe or America. I live in America but whether I'm racing in the Le Mans Series or the IndyCar Series is still to be decided over the next few weeks."
The fact that Manning may find himself juggling offers to drive full seasons in such totally different cars as a Le Mans prototype and an open wheel Indy car is testament to his versatility as a driver. It's a quality he prides himself on, and one he attributes much of his success to.
"It's a fact of not having any money – you've got to drive what anybody gives you!" he laughed. "I'm quite privileged now that I can pick and choose a little bit but, still, you're kind of limited to what you can drive.
Style and talent
"Driving different cars is always something that I enjoy because I like to feel that I'm very good at adapting my driving style to conditions and different cars. I've driven all sorts and I kind of attribute a lot of my style and talent to that fact.
"Let's say track conditions are changing – I feel that's when I'm at my best because I've had to change my driving style in a lot of the cars that I've driven."
It was a point he proved in the Honda Indy 200 at Mid-Ohio, when his eighth-placed finish after qualifying 21st was built on his insistence that he could immediately abandon the wet-weather tyres the field had been forced to start on after a pre-race rain storm.
He said: "We were the first onto slicks when it was it was wet – they all went another 10 laps before they changed, and that was my call."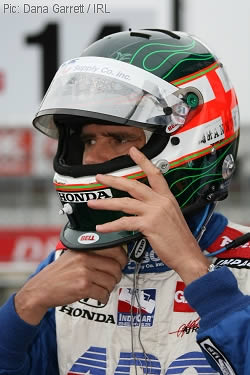 At the time, AJ Foyt laconically described Manning as "an Englishman who grew up racing in the rain". It's a skill that serves him well, and not just when racing Indy cars against American drivers unfamiliar with the wet.
Referring to the 1000km of Silverstone, he said: "It definitely gives you that extra versatility – look at this weekend already. We haven't had much track time or dry running and I've got to go out and do it in three laps because you don't want to wear the tyres out in qualifying.
"I had three dry laps before qualifying in this car this weekend, and you need to be pretty versatile to get the best out of the car in those next three laps. I haven't driven it for four weeks and I've driven on ovals and road courses in an Indy car in between, so there's a lot to it.
"Being able to drive in the wet here without having much testing time or being able to develop the car – you can attribute that to the way I've been brought up over here and my past career."
Manning is in his second year driving part-time for Embassy Racing after team principal Jonathan France brought him in during 2007 and then offered him a full-time drive for 2008 – an offer declined because of clashes with IRL dates.
'Stop doing IRL'
He said: "Jonathan likes having British drivers and he came on the phone kinda cheekily seeing if I would like to stop doing IRL and come do this, and I said 'yeah, if there's an opportunity I'd like to do it'.
"They're a British team, they like that a lot – they run the Union Jack on the front. It's also an all-Yorkshire team, I don't know if that helped or hindered!"
"I did a good job – we did a good job at Spa and then at Brazil as well and we probably should have won all three races if we didn't have failures in the car. They tried to get me on for the full season this year because we all gelled together very well as a team and as drivers, and they saw that I was quick enough and good enough and experienced enough to be in this paddock."
At the time France said: "I was a little disappointed at the start of the year when it became obvious that Darren would not be in our line-up for the whole of 2008.
"I have a great deal of respect for Darren, he is a prodigious talent and this is shining through in the States."
The two-race deal failed to produce the hoped-for podium, with a near-miss in Germany followed by a disappointing result in Silverstone caused by an early bearing failure and other niggling problems.
Nevertheless, the team has grown in confidence with its newly-designed car throughout the season, and only missed third place with its other entry at Silverstone after Jonny Kane was given a debatable post-race penalty that dropped him and co-driver Warren Hughes to sixth.
Manning said building a car that could race over 1000km was a tough challenge: "You try to make it last, which is probably not making it fast – but then you're trying to go fast, which doesn't generally make it last, so it's a nice discipline.
"I think that's why Jonathan loves it so much and the drivers love it so much, because it's a different discipline to what we've all had before. Even though IndyCar races are two hours long, they're a two-hour sprint with two or three pit stops in there."
The contrast between the driving styles needed for the two types of cars is marked: "This is long distance racing, that's short distance racing, it couldn't be more different.
Very, very violent
"The cars are very different to drive. The Indy car's very, very violent on a road course – it's completely different on an oval – but road course to road course they're very different. These cars are made to do at least an hour on their tyres and maybe even double-stint them whereas the IRL is maybe 20 minutes on a set of tyres, even though the races are two hours long.
"The downforce level is probably very similar. This is a very big car but the grip, the tyre size, is hugely different. The way these cars have to be set up – the aerodynamics – is very stiff so these don't have as much mechanical grip. That makes the Indy cars a lot harder to drive in the slower speed corners – in the high speed, with the amount of downforce the cars have, they're pretty similar. It's comparable but quite different."
He believes Embassy are on track to make a big step forward next year: "This car is very much in its infancy in development. It's had quite a lot of manufacturing problems which curtailed any pre-season testing and development on it. They had a lot of teething problems because of that in the first few races.
"The car's got a lot of potential, we're still not there on pace yet but we can make it a lot better. I know [LMP2 champion Jos] Verstappen's Porsche is quite a way off but I can definitely see us achieving that sort of pace – and beating it – with the car that these guys produce and with the drivers and the engineers and the development programme they have. It's just going to take a good winter programme."
That's for the winter, and depending on what offers he gets and how he responds to them it may or may not involve Manning.
In the short term, his main focus was on the chance to grab some relaxation with friends and family following several hectic weeks helping ambitious teams through the climax of seasons on opposite sides of the Atlantic.
"I'll play golf, see the family, a lot of people are coming down here tomorrow [for the race] so that's nice," he said.
"I'll see some friends down here Monday, Tuesday, have a day with the manager face to face instead of just on the phone and at race tracks, see some mates on Tuesday, go up and play some golf and relax.
"It's been a frantic season, I haven't stopped. One of the weekends off I had to fly to Germany, that was my weekend off, and now I'm here, it's never-ending."