Dan Wheldon celebrated his 30th birthday with a winning fuel strategy gamble in the Iowa Corn Indy 250, then donated his winnings to disaster relief in the flood-hit state.
The Englishman inherited the lead on lap 190 when most of his rivals pitted for fuel after the caution flag came out for a spin by Enrique Bernoldi. Wheldon, Hideki Mutoh and Danica Patrick stayed out – and two more yellow flag periods afterwards that lowered everyone's fuel consumption meant the risky strategy paid off.
Patrick was caught and passed, but Wheldon made 75 laps of fuel last for 90 to score his second win of the season, with rookie Mutoh taking a career-best second behind him.
The Target Chip Ganassi Racing driver, overshadowed in recent weeks by the run of success achieved by team-mate Scott Dixon, said: "What a great day for Target Chip Ganassi Racing and a great birthday present for myself."
Talking about the decision to gamble on not coming in to refuel, he added: "It was a good call not to do it, but Chip's not here, so if they had called me in, I don't think I would have come in anyway."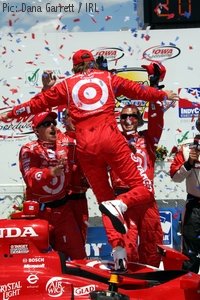 A party for the birthday boy: Dan Wheldon celebrates in Victory Circle
He said another reason for not coming in had been that the car worked a lot better on worn tyres: "The team knew I was having trouble on restarts, so they really worked hard at giving me time to heat my tyres up. That certainly worked – the more laps I did on a set, the better it was for me.
"When they told me to stay out, I looked up and said, 'Thank you, God.' I was just incredibly loose. I don't know why it was so bad, but you could see from the next few restarts on tyres that were not slightly worn, it was great. The car was very comfortable."
Wheldon then announced that both he and Dixon would donate their winnings from the race – some $60,000 – to organisations involved in relief work after Iowa was hit by serious flooding.
He said: "My wife and I drove from Chicago to here and we saw the flooding and it was just heartbreaking. I thought it was something that Scott and I should do – and fortunately we were able to. It's very small in the grand scheme of things, but we're very proud to be able to do something – hopefully it will put a smile on people's faces."
Dixon finished fourth, battling a loose car that forced him to stay on the high line in order to remain competitive. He said: "The high line was definitely the choice of the day. When you had three or four guys in front on you trying to do the same thing, it was difficult to pass.
"I think strategy played out in the end and that's the way it goes. It's hard work to pass here. It's good to see Dan get a break; he's had a tough year so far."
Mutoh impressed on his way to second, hassling Wheldon for the lead until forced to defend against his team-mate Marco Andretti who claimed afterwards: "If I had the speed to get around Hideki, I think I would have had the speed to get around Dan."
He added: "It was good clean racing – it was good fun out there. We were towards the front all day and Hideki is on it this year for sure."
Behind Dixon came AJ Foyt IV, who scored his best result of the season, then Danica Patrick and Ryan Briscoe who both felt they had underperformed.
Earlier Helio Castroneves had led for a race-high 92 laps but neither he, nor Tony Kanaan who challenged him early on, featured at the end. Castroneves was forced to pit on lap 233 with a cut tyre, while Kanaan ran wide on lap 212 while in a very competitive third place and smacked into the wall.
"I lost it," was TK's simple explaination of what happened. "It looked to be a pretty big accident just from the debris," said Wheldon, accurately.
Further down the field, Darren Manning was forced out of the race on lap 103 with a steering problem, while Justin Wilson ran as high as seventh before slipping back down the field to 12th.
He said: "It was an interesting race. We managed to get through the first lap quite well. Some people had some problems and all got stacked up down on the bottom of the track. I had a clear route on the top and just took everything I could from the situation.
"On the next lap, I got another couple of spots and had moved from 20th to 14th and at one point was in the top 10. The McDonald's car was really good early on in the race, and I was able to pass on restarts and pass people on the track; I was enjoying it. We keep learning. It was a good result."