Anyone watching qualifying for the Bahrain Grand Prix was advised to do so on an empty stomach – or risk extreme nausea from all the hype about the facilities and the hero-worship of the region's money.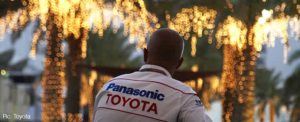 Whatever the quality of the racing, the finance behind the grands prix of the Gulf states ensures their enduring popularity with the whole travelling F1 circus, which is largely made up of overworked, overstressed professionals who appreciate air conditioning and soft toilet paper wherever they find them.
Interestingly David Coulthard was one of two racing drivers – the other was Sebastian Vettel – who pointed out that, while the Bahrain facilities might be astounding, the track is not. They said it fails to flow, has no rhythm and provides a 'stop-start' drive.
But let's just play along for a bit and spell out exactly what it is about European and American racing that compensates for the lack of hotels with marble bathrooms, spectacular hospitality and architect-designed grandstands.
To do this we need to step outside the F1 bubble and think about the 51 weeks a year that the circus is not in town.
At Silverstone, Donington Park or Brands Hatch, at circuits across North America and Brazil, at the classic circuits in Europe, you will find a whole ecosystem of amateur and semi-professional racers – men and women who turn out weekend after weekend, rain or shine, to enjoy their hobby.
In this country teenagers learn their stuff karting or run Minis and baby Ginettas in junior series while their parents thrash old wrecks through banger races.
Classic club members bring their beautiful vehicles to track days and events. People scrape together a few thousand quid to take part in whatever series their finances and ability will allow.
And Jason Plato gets a last-minute one-off entry in the BTCC for the love of driving – then provides us with the unbeatable racing moment of the year after Jonathan Adams gives him a swipe and sends him off on an epic slide, through which he somehow sticks to the black stuff.
In America, it's stock cars and dirt tracks. In Brazil, it's karts.
This whole system provides passionate, knowledgeable and engaged audiences who turn out for races, volunteer as marshalls and who really understand what they are seeing and who bring the events they attend alive.
And not a gold tap in sight.
This is absolutely not to say there is no place for flyaway venues on the F1 calendar. David Coulthard got it about right this morning when he said F1 can only claim to have a world championship if it travels the world.
But we shouldn't allow the spectacle of Shanghai, Bahrain or Abu Dhabi to blind us to what's special and valuable at home. It's a lot less spectacular – but far more important, given that it provides F1 with so many of its engineers, aerodynamicists and mechanics.
This is one reason why the current goings-on regarding licences and leases at Donington Park are so terribly sad.
The future of a great circuit is being put at risk for the sake of three days of F1 – and the people paying the price are the club racers, those taking part in the national series, the motorsport promoters who help keep the racing ecosystem alive and flourishing.
The people, in other words, who are some of the circuit's loyal defenders and who will back it to the hilt for its flowing curves and the quality of its racing.
Is it really worth wrecking all this for the sake of one week a year? It's only the arrogance of F1 that says it is.