We missed doing our usual live blog this week (much to our disgust) so here instead is a lap-by-lap breakdown of how the French Grand Prix developed – dodgy overtaking, flapping exhaust pipes, super-wide Toyotas and all.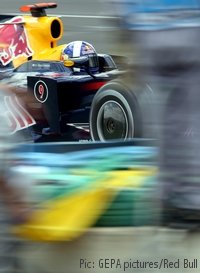 Pre-race: weather reports indicating possibility of rain. Barrichello sent to back following gearbox change. Hamilton is not thought to be running light.
Lap 1: Ferraris off free and clear. Alonso in third has a bad start and loses two places to Trulli and Kubica – but promptly takes Kubica back. A nervy Hamilton, starting in 13th, is running on the softer option tyres in the hunt for a performance boost. He touches Kovalainen in 12th – but both stay on the track, just about. Overtaking Vettel at the Nurburgring chicane he runs wide – opening himself to the possibility of yet another penalty for McLaren.
Lap 2: Hamilton continues to make up places and is soon running in tenth. Bad start from both Red Bulls has seen them lose places.
Lap 3: Raikkonen's lead from Massa is up to 1.3 secs. Far from Kovalainen letting Hamilton past, as some speculated might happen, he's on his way up the road and Hamilton is dropping back to be harried by Coulthard.
Lap 4: A queue is starting to form behind Nelson Piquet in eighth. Since it includes both McLaren drivers, might the unconfident rookie be pressured into a mistake?
Lap 5: It's no surprise to anyone when Hamilton powers past Piquet, leaving Kovalainen sniffing at the Brazilian's tail despite initially being in front of his co-driver.
Lap 6: Button finds himself at the back with a damaged front wing following an earlier collision with Toro Rosso's Sebastien Bourdais. In a replay, white material visibly flies off Button's car. He fails to pit as he passes the pit lane entrance and has to do a full lap regardless of the damage and the effect on his race. Raikkonen's lead over Massa has doubled to 2.6 secs.
Lap 7: Button pits and it takes a stop of nearly 30 seconds to sort out all his problems. We can assume this is his race over and done with…
Lap 8: Trulli is collecting a fine set of drivers behind him from third place. Since this includes Alonso, Kubica and Webber, we can expect the wily old fox to come under some considerable pressure – but also to develop a very wide car.
Lap 9: Announcement that the stewards are investigating Hamilton for his first-lap altercation with Vettel. Hamilton has a good look at Piquet – but fails to make anything stick. Should have plenty more chances – or maybe not, depending on what the stewards say. On ITV1 Brundle, having initially said Hamilton shouldn't be too courteous in giving the place back to Vettel, is now predicting a drive-thru on the basis that the stewards are investigating. He describes the incident as "a really tough call."
Lap 10: Field is beginning to space out a little, with the two Ferraris now nearly eight seconds ahead of the third-placed Toyota of Jarno Trulli and Alonso is down the road a bit from him. Can he possibly hold on to this third place? We fear not, but hope so, as he is one of our McLaren Grand Prix League drivers and a podium for him would come in very handy ;- ))
Lap 11: Kimi Raikkonen sets a fastest lap. Lewis Hamilton, after pulling back a bit from Piquet, has started to hassle him again.
Lap 12: Hamilton has a go at Piquet and still can't get past. Hopefully the McLaren driver will keep his head and not try anything rash… Raikkonen's lead over Massa is increasing and, although it might be incredibly unwise to say this before the first pitstops have yet to come, the result of this is starting to look like a double-red foregone conclusion. Visible graining on Hamilton's soft tyres.
Lap 13: Whoa! Hamilton's got a drive-thru for his wide-running first lap overtake of Vettel. It really is "I fought the law and the law won" for McLaren this weekend. Meanwhile, while all eyes have been on Hamilton and the stewards, DC's got himself up into 10th. And Honda are so out of sorts (as demonstrated in qualifying, apparently to the mystification of all concerned) that Adrian Sutil is able to easily keep pace with Rubens Barrichello.
Lap 14: Hamilton shoots straight into the pits to get it over and done with. Out he comes, 14.5 seconds later, in 13th place behind Nick Heidfeld's BMW – which is at least helpful for those of us trying to keep track of lots of different numbers.
Lap 15: Alonso's the first man to blink in the pit stops, fuelling the theory (sorry) that he was running light in order to get the car as far up the grid as possible – and also raising the possibility of a three-stop strategy. Ferrari is continuing to dominate with the two leading cars putting around a second a lap on Jarno Trulli in third, now they are light on fuel.
Lap 16: Raikkonen sets the fastest lap of the race with a storming 1:16.630 which gives him a four-second lead over team-mate Massa.
Lap 17: Alonso rejoins in 12th place after his pitstop. Expect fireworks as he tries to make his way back up the field. He went for the harder tyre option, no surprise, and he now has Nick Heidfeld in front of him. And Hamilton behind him, setting fastest sector times. What fun!
Lap 18: Raikkonen makes it a clear five seconds ahead of team-mate Massa. However the news is not so good for Jenson Button – he's having to retire and is heading back to the pits. He is pictured on ITV1 walking rather forlornly.
Lap 19: Drama as Hamilton forces his way past Alonso. Is there contact between the two cars? Something sends the McLaren driver straight into the pits, but it's most likely a scheduled stop. And Raikkonen nearly drops it on the Adelaide hairpin, locking up his brakes and knocking nearly a second off his lead. However, with the way his car's running today, you could say he's got a decent margin for error.
Lap 20: Toyota's Jarno Trulli and BMW's Robert Kubica pit from third and fourth places respectively. Hamilton's pitstop is nine seconds long and includes hard tyres. Will be interesting to see how switching off the options affects his race.
Lap 21: Hamilton emerges from the pits and is lapped by Kimi Raikkonen who pits from the lead on this lap. Appears to be fuelled very long for his middle stint on a pitstop that takes nearly 10 seconds. Massa also laps him and it appears that some kind of gesticulation occurs. Perhaps Massa will be penalised? Actually, perhaps Hamilton will get his knuckles rapped, for the deadly offence of Provoking a Ferrari Driver. Probably banned for the rest of the season for that one. Mind you, it's hard to take very seriously the fulminations of a man who seizes his neck by sneezing in a lift.
Lap 22: Raikkonen back out and in the lead. Trulli and Kubica come out on hard tyres into the third- and fourth-place slots they vacated. Back-marker Adrian Sutil, for Force India, also pits from 17th – up one place following Lewis Hamilton's pitstop.
Lap 23: Massa pits from the lead having just lapped Hamilton, stays on hard tyres, and rejoins in second.
Lap 24: Webber pits from third and emerges in front of Alonso in tenth. Current running order at the front is as you were – Raikkonen, Massa, Trulli with a not-yet-pitted Sebastian Vettel of Toro Rosso in fourth. Kovalainen for McLaren and Piquet for Renault both come in. Kovalainen's stop is the quicker and he's out first so let's hope he doesn't get given some sort of penalty for the offence of Driving A McLaren Faster Than A Renault While In France. Looks like Piquet may have made an error as he left the pits as he nearly halted in the exit lane. Kovalainen does not run into the back of him. We hope Lewis is taking notes.
Lap 25: Webber runs wide, losing a place to Alonso, but recovers his equilibrium and keeps his RB4 on the track. Weather? Some kind of issue with his fresh tyres? Whatever, it was almost a full spin until the Aussie caught it.
Lap 27: Coulthard is, as usual, among the last batch of stoppers. He pits from third place. Hamilton is having a look at Nico Rosberg even though the Williams driver still has to make his pitstop. A tightly-fought lower midfield battle in progress between Bourdais and Nakajima for 13th. Thrilling wheel to wheel stuff between Piquet and Glock, which Piquet wins – his confidence is visibly returning.
Lap 28: Bourdais cracks and is forced into the pits first. Meanwhile, Coulthard is bothering Timo Glock and the BMW team radio warns Robert Kubica of impending rain.
Lap 29: Raikkonen is now more than six seconds clear at the front. Hamilton gets past Rosberg and into 16th place. Sarah Holt on the BBC live text says: "The monotone Finn is trundling to another victory." Couldn't have put it better ourselves.
Lap 30: The race is now in a quiet post-pitstop phase. Jarno Trulli is manfully holding his own (yeah, right, grass us up to BBC Sport Quotes of the Week) behind the two Ferraris but is some 30 seconds back. The first time we've been able to recommend popping out to put the kettle on – always a recipe for a heavy crash.
Lap 31: And finally Sebastian Vettel pits from fourth place. He emerges 12th. Heidfeld also dives in but, in tune with his current form, misses his pit box and makes a bit of a mess of things.
Lap 32: Bourdais has come out behind Nakajima and is lapping faster than him – despite pleas from the Williams garage over the radio for their man to put his foot down. Bourdais might get some joy when the Japanese driver stops, however. Fisichella and Barrichello have likewise yet to stop – obviously everyone is keenly hanging on the results of these vital strategic events. Not.
Lap 33: Ferraris are going noticeably slower – lapping in the 1:17s – but no-one believes it'll make the slightest difference, so commanding is their lead. Running order is something like Raikkonen, Massa, Trulli, Kubica, Alonso, Webber, Kovalainen, Piquet, Glock, Coulthard, Nakajima, Vettel, Heidfeld, Fisichella, Barrichello, Hamilton, Rosberg, Bourdais and Sutil. Our only retirement so far is Button who (you will recall) gave Bourdais a tap back at the beginning, broke his front wing and had to quit.
Lap 34: Can Alonso trouble Kubica? He seems to be working up to it, with faster lap times than the Pole, but there's still a fair gap between them. Meanwhile, Kubica is taking a look at Trulli which could mean paying insufficient attention to his rear-view mirrors. Meanwhile Fisi pits.
Lap 35: Vettel has rejoined in 12th, leapfrogging Heidfeld and due to pick up more speed when Nakajima gets out of his way.
Lap 36: Raikkonen gets caught in traffic, allowing Massa to narrow the gap between them to around four seconds. Suddenly the condition of the Finn's engine, and in particular its rough-sounding note as it whizzes past the commentary box, is the focus of everyone's attention.
Lap 37: Raikkonen's in trouble. His lap times are falling through the floor and there's undoubtedly something wrong with his car. If he loses it altogether and scores no points at all then suddenly things look brighter for Hamilton and Kubica. And for Massa, of course. In other news, Barrichello and Nakajima pit.
Lap 38: And still Raikkonen slows – Massa's not much more than two seconds down the road from him now. What's going on? Brundle reports that Hamilton's ten-second drive-thru is the most lenient penalty available. But, but… what happened to giving drivers the opportunity to hand the place back? We guess too much has happened in the time it has taken the stewards to make up their minds.
Lap 39: All becomes clear. There's some nasty problem with Raikkonen's car that makes it appear that the exhaust's about to drop off. An amazing length of it is showing. Will he have to pit? Will he be black-flagged if he doesn't? Are there implications for Felipe Massa too? None, apparently, as the Brazilian's lap times are just fine. So fine, in fact, that he goes sailing past his team-mate – with a little friendly help from the Finn, if we're honest..
Lap 40: Rosberg finally brings his soft tyres in for a change, bringing to an end the strung-out first round of pitstops. Raikkonen's still going and no-one else has got past him – yet. Trulli's back down the road but looking at the best opportunity he's seen for many a long race.
Lap 41: Hamilton's suddenly putting in blazing lap times, among the fastest on the track but he'll be hard-pressed to capitalise on them while he remains in 16th place. Alonso tells his team he intends to push the struggling Raikkonen.
Lap 42: Alonso is Mr Early Doors again as he kicks off the second round of pitstops – though whether this'll help or hinder his bid to make the most of Raikkonen's misfortune is anyone's guess. Kovalainen is fifth after Alonso gets out of his way and Webber lets him past.
Lap 43: Nico Rosberg is the next in, pitting from 14th and emerging 19th. Not Williams' weekend, it seems, any more than it is McLaren's.
Lap 44: Trulli lapping half a second faster than Raikkonen but more than 20 seconds behind – so he's got a lot of work to do if he's going to force his way past the Finn's ailing Ferrari. Down the field a bit is a thrilling battle between those old adversaries Hamilton and Alonso.
Lap 46: Kubica pits from fourth and rejoins in tenth with the expectation of making up quite a few of those places and scoring the points that'll keep him and BMW in the championship hunt.
Lap 47: Several pit crews are out, including Ferrari's, who we may speculate are on hand in case of a Raikkonen emergency. But Raikkonen seems to be hanging on.
Lap 49: Hamilton finally gets Alonso at the Adelaide hairpin – but it's a rather futile gesture, as Alonso's had his second stop and Hamilton hasn't.
Lap 50: Kubica and Trulli are having a right old battle for third place, conscious no doubt that third could very well work out as second. Webber and Glock pit, with Webber finally forced onto his option tyres.
Lap 51: Amazingly the Teflon Ferrari of Kimi Raikkonen is picking up pace. Reports of its death were clearly exaggerated. Kudos to driver and team for holding their nerve. Vettel and Heidfeld both pit and Vettel comes out ahead. Raikkonen comes in for what is in almost every respect a model pitstop – apart from a big puff of black smoke from the car. A mechanic hovers with a fire extinguisher but it's not needed and the pit crew don't touch the exhaust. Trulli pits and goes onto soft tyres.
Lap 52: Order is currently Massa, Trulli, Kubica, but Raikkonen should have no trouble slotting back into second place.
Lap 53: Hamilton, Coulthard and Massa all pit.
Lap 54: An alarming report of rain throws things into confusion once more. In the midst of second stops, will anyone opt for wet tyres? It would be a hell of a gamble unless the rain is tipping down. All eyes on Lewis Hamilton and McLaren.
Lap 55: Umbrellas are sighted going up in the stands. Someone seems to have mistaken rural France for SW19… let's just hope Cliff Richards isn't in the crowd.
Lap 56: Hamilton now 11th and 10 seconds away from a points-paying position. Can he take Glock – and can Kovalainen hang on to his fourth place? Elsewhere, Sebastien Bourdais runs wide at Estoril and loses three seconds.
Lap 57: Massa's lead over Raikkonen is currently around 13 seconds – unlikely that Raikkonen or indeed anyone else will be able to catch him and that probably (although we haven't done the precise arithmetic) means a drivers' championship lead for the lucky Brazilian. Hamilton 12th after his second stop – the question is, can he take any points and salvage something from McLaren's diabolical weekend?
Lap 59: Lap times are slowing as the track gets damp – but no reckless tyre gambles and it doesn't look like anything regular tyres can't cope with.
Lap 60: Ten laps to go and here's what we want to know: will Raikkonen's car hang on? Can Trulli get a podium? Can Kovalainen get a podium? Can Hamilton score any points? Will the stewards take their last opportunities to stick McLaren a few more penalties?
Lap 61: Kimi Raikkonen's exhaust finally lets go and flies off. Rain seems to be getting better rather than worse. Gosh – Coulthard's in ninth. Can the veteran Scot follow up his brilliant Canada podium with a point or two here?
Lap 62: Various people watching this may be hoping for various things depending on their temperaments or affiliations – but chances are that, with eight laps to go, we're pretty much home and dry now.
Lap 63: Raikkonen manages a fastest lap but is unlikely to shut down Massa now. Kovalainen is harrying the life out of Trulli but the Italian's a wily old veteran with a commensurately wide car when the prospect of his first podium in three years is before him. A good job really, because he's picked up his usual Trulli traffic jam full of impatient midfielders.
Lap 64: Huge battle between Coulthard, Hamilton and Glock, all with their eyes on the tail end of the points places.
Lap 65: Kovalainen fights on but Trulli holds firm. We're torn – we'd love to see either of them on the podium.
Lap 66: Massa leads Raikkonen by nearly 18 seconds so his win seems assured. His turnaround from errant boy racer to serious world championship contender is complete – despite any sternutatory episodes he might have recently endured.
Lap 67: Kovalainen's having such a go at Trulli – drawing level with him more than once, but Trulli's not giving the place up lightly. Coulthard in Canada, Trulli in France – which veteran will it be in third at Silverstone? We'd love to back Rubinho but that seems a sadly dim prospect.
Lap 68: Kovalainen pushes Trulli a bit too far, bangs the side of the Toyota, and almost bins his car as a result. Trulli holds the place and Kovalainen thanks his lucky stars for wide run-off areas. Brundle says wearily: "He was only ever going to get that result."
Lap 69: Piquet's overtaken Alonso, to absolute hilarity here, after the senior driver runs wide while lapping a Force India. Where on earth did that come from? Rumours must start on Monday about the double world champion being superseded by either Lucas di Grassi or Romain Grosjean before the end of the season… Either that, or Piquet will become the subject of a sudden broadside about how he lacks respect and is undermining his team-mate.
Lap 70: Massa holds on for a win, Raikkonen holds on for second place, Trulli holds on for third. The Brazilian pulls up by the pit wall to receive the congratulations of his mechanics. Kovalainen takes a hard-earned and well-deserved five points. Hamilton is tenth – and pointless. According to Autosport, Massa is now the first of his countrymen to top the standings since Senna in 1993. However, comparisons with Senna always make us uncomfortable…