A win's a win and they all count at the end of the season – but Felipe Massa knows very well that his victory in France and his lead in the championship came not through driving dominance but through his team-mate's mechanical misfortunes.
Kimi Raikkonen was in masterful form, controlling the race, until the midpoint when one of his exhaust pipes broke and he was slowed by enough for the Brazilian to catch him.
Despite this handicap, the Finn was still more than capable of an unchallenged second place, a long way ahead of a thrilling battle between Jarno Trulli and Heikki Kovalainen, with Robert Kubica poised behind to take advantage if they came to grief.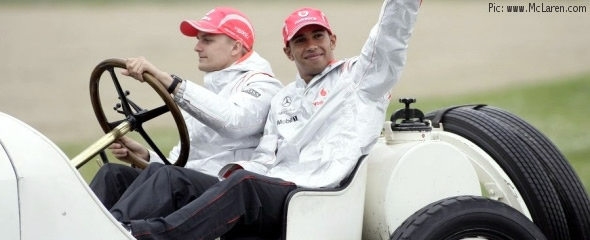 In the end, Trulli was a match for anything and everything the McLaren driver threw at him – including a 180mph wheel-to-wheel clash – and he held on for the team's first podium since 2006 and his first since 2005.
The good result was particularly important to Toyota as they had dedicated the result to Ove Andersson, their former team boss who was killed in a racing crash last week.
Further back, Red Bull's Mark Webber survived a near spin to take sixth, ahead of the two Renaults. Nelson Piquet Jr broke his duck in style, overtaking Fernando Alonso late in the race when the Spaniard ran wide lapping a Force India.
If the major point of drama in the race was Raikkonen's exhaust, the biggest controversy was a drive-through penalty given to Lewis Hamilton for cutting a chicane while overtaking Sebastian Vettel on the first lap. He said afterwards that he believed he was safely past the Toro Rosso driver before he ran off track and across the chicane.
"My drive-through penalty was an extremely close call: I felt I'd got past Vettel fairly and was ahead going into the corner. But I was on the outside and couldn't turn-in in case we both crashed, then I lost the back-end and drove over the kerb," he said.
He said he never considered giving Vettel the place back: "I continued because I don't believe I overtook him by going over the kerb, I actually took him before that."
Vettel said it had been obvious to him as he defended his line that Hamilton would overshoot, and the McLaren driver should have followed the usual routine in those circumstances: "I had a similar situation at the Monaco chicane, when I was too late on the brakes. I overtook two cars but I let them go again and so the issue was settled.
"If someone stays out in front, there is a penalty. I think he should have let me past again because he had a better car and could have passed me again."
Once Hamilton had served his penalty he concentrated on trying to make up as much ground as possible: "I got my head down and pushed hard until the end of the race."
He doesn't think the title is slipping away: "I've been out of the points for three races now – but there are still 10 to go. Kimi came from behind to win last year's championship, so there's no reason to be disheartened. I'm 10 points behind, but I'm determined to bounce back at Silverstone in front of my home crowd."
His 10th-place finish put him one place behind Red Bull's David Coulthard, who was frustrated to have come so close to the points.
The Scot said: "I'm disappointed that from a good grid position I lost three places at the start, two off the line and one when Kovalainen passed me round the outside into turn five.
"I found the balance on the prime tyres wasn't as good as expected in the cooler conditions and the option was performing better than we thought. That was different from what we found the other day in practice, but some races go for you and some don't."
But at least he completed the full race distance – unlike Jenson Button, who was forced into eventual retirement by damage from a first-corner collision.
He said: "Going out of the race so early is a disappointing end to what has been a tough weekend for us. I got a good start and was alongside Bourdais. I thought he was going to turn in at turn one and close the door so I pulled in behind him and then unfortunately hit him in the rear as everything slowed down for the corner.
"I could feel that there was something broken at the front of the car as there was an air coming in from the front, but the car was driveable and I was staying with the back of the pack so I continued. However the front wing must have been loose as a result of the impact, as it dislodged itself when I went over the kerbs in the last chicane and got stuck under the front of the car.
"We replaced the nose but the bargeboards had been pulled off and the car had become undriveable so I had to retire. It's my home Grand Prix next and we have a busy programme at the Silverstone test next week to prepare, so we will stay positive and keep looking forward."