With the news that Donington Park's bid to stage the 2010 British Grand Prix has finally hit the rocks, and that Bernie Ecclestone doesn't care if we get a race or not, we wouldn't blame you for feeling frustrated, angry and frankly apathetic.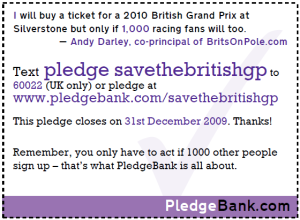 But this might be exactly the time when fans can bring a bit of pressure to bear and increase the chances of the race taking place.
We've put together a list of actions that you can take to show your support of the British Grand Prix in ways that might just make a difference. And they shouldn't take you more than 15 minutes, and we guarantee you'll feel much more positive once you've had your say. Leave a comment if you want, saying what you've done.
Social networking – and beyond
Nowadays, whenever anyone gets hot under the collar the first thing they reach for is Twitter, Facebook, a button for their blog or some similar social networking idea.
Now, we're certainly not knocking the idea of adopting a Twibbon or friending a FaceBook page – and please forward the link to this page as widely as you can – but we also advise caution when it comes to relying on these methods.
We need to take a leaf out of the book of seasoned campaigners who are finding that, while mass online campaigns can help to express the public mood, they can just as easily be ignored by decision-makers. They don't take much effort, but they don't usually get many results either.
Over to you
The people who do this regularly have learned that social networking needs to be combined with good old-fashioned lobbying and 'pavement politics'. We need to send an extremely carefully-targeted message to those people who can actually influence events.
We've chosen five methods of attempting this. Please consider which are most appropriate for you and take action. We need to make a noise and we hope we've done our bit with these suggestions – now it's over to you to yell and stamp your feet a bit.
Five things you can do that might just make a difference
Demonstrate to Bernie that this race can still be successful

Let Silverstone know that you want to buy a ticket

Lobby the Formula One Teams' Association

Lobby your favourite team

Contact your MP
Tell your friends! Please pass the link to this page on to as many people as you can. Here's a custom shortlink: http://bit.ly/8tuzJ