On June 20th this year Pippa Mann lined up with the rest of the Indy Lights field for the Miller Lite 100 at the Iowa Speedway in Newton, Iowa. She little knew that she would end the race with her car upside-down on the track as rivals shot past at near full speed just feet away.
Asked by BritsOnPole to talk us through what happened, she replied in such detail that we thought it worth publishing her answer in full. Here it is: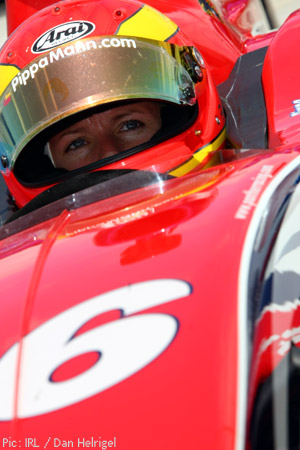 "Something that's been very interesting to me this year is that on an oval you can have a great car in qualifying and behind one or two cars, however as soon as you put your car behind three or four other cars you have a completely different animal.
"And something I've been learning this year – we actually hit on it in Indy but that was a bit of judgement and a bit of luck rather than total judgement, but by the end of the year we'd worked it out – is what you need from your race car in a race when you're going to be surrounded by other cars.
"At Iowa, Iowa's one of the shortest tracks we go to, it's a really, really tight oval, it's really difficult to run it flat out, even in qualifying on brand new tyres, and in fact in qualifying on brand new tyres was the first and the only time I managed to run the track flat out. As a result I qualified quite a bit higher up than I possibly should have done.
"When we got into the race we discovered that I didn't quite have the car that I needed for the race – not only could I not run the track flat out, I was also having to have quite big lifts off the throttle and that meant I started getting shuffled slowly backwards through the order.
"About 30 laps into the race a guy got down the inside of me and we just touched wheels in one of the corners – he just drifted up a little bit, not his fault at all, it's one of the things you learn in oval racing. I was trying to hold my line, I didn't want to drift any higher and risk getting into the marbles, he was trying to stay down there but he also wanted to pass me. And that resulted in me having a spin, so I came into the pits, put on a different set of tyres, and the guys made some adjustments to the car.
"I came out several laps down and unfortunately when we went green again – I was just going to run round and round and gain experience – and unfortunately it just took us the wrong way and I was left pretty much with my hands full from that point onwards. That resulted in me becoming what you call lapped traffic, I went actually a lap down on track to the leaders rather than from having had to come into the pits. Coming from England, the thing to do from where I come from is when you get lapped you get the hell out of the way.
"Now, at Iowa, there's a very very big bump at turns one and two, right in the middle between turn one and two corner, and I looked in my mirrors and I could see there was a train of lead lap cars coming up at me so I made what I now know, from my experience in oval racing, was the wrong decision. What I should have done, having seen them coming, was get down to the inside of the track and hug the white line and let all the lead lap cars go the longer more difficult way round the big nasty part of the bump. I now know that's what I should have done.
"What I actually did, coming from Europe, is I went up to the second lane where the bump was nastier and left the bottom lane open for all the lead lap cars so they could come through without me affecting their race at all. Had I been down there I would have affected their race by making them go round me, they wouldn't have liked me, however I now know that would have been the smart move.
"Unfortunately when the train was underneath me one of the guys got a bit too close to the car in front of him and that meant that his car lost grip. As soon as he came up into the second lane because his car lost grip, obviously, my car was just there. We got sideways, touched wheels, and up I went. That was kind of that really.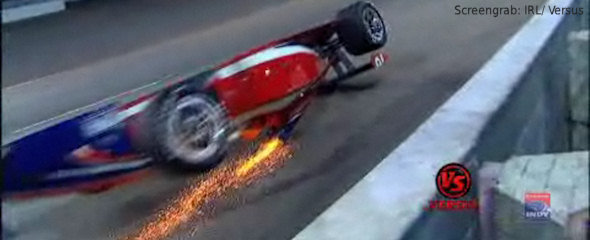 "No, I wasn't [aware how close she came to being hit] until I saw it afterwards. I now know as well that I shouldn't have got out of the car that quickly. Unfortunately when you put a race car upside-down – I've never been in one of these cars upside-down before, I now know this – it grinds the roll-hoop down when you're upside-down and as the roll-hoop grinds down you can smell it burning off. So I'm upside-down, I'm in the race car, and I can smell burning. What happens afterwards – OK, I should have stayed in the car longer – but that's not really controlled by me.
"You just have to shrug your shoulders and move on. The lesson I learned from Iowa is that if you're off the pace stick to the bottom line and make them go round you. They'll hate you, they'll all hate you – but make them do that. And I'd hate somebody else who did that to me too, quite frankly, but that's what I learned you have to do.
"It's something you don't learn driving on normal circuits back home. It just means that if ever you end up in that situation at any point in your career, the safe place to be is on the bottom. Everyone's going to moan about you after the race but that is the safe and correct place to be as a lapped traffic car. And it took that happening to me for me to really understand it because as far as I was concerned the correct thing to do was keep out of the way, however I now put my own safety before the needs of a train of lapped traffic.
"They tell you in the drivers' meeting to pick a line and stick to it – it's very, very important in oval racing to hold your line, whether you're the high line or low line, and if I was ever in that unfortunate situation again you can bet your bottom dollar I'm going to be sitting on the low line and infuriating everybody who has to go around me, but that's where I'm gonna be."