Justin Wilson came agonisingly close to scoring one of the all-time great underdog victories in the IndyCar season opener at St Petersburg, dominating much of the race but losing the lead at a late restart.
Instead the victory went to Team Penske's Ryan Briscoe, who looked dangerous all day and was perfectly placed to jump the Sheffield racer when the contest resumed on lap 86 following a caution period caused by defending series champion Scott Dixon crashing out.
Wilson, who lost his drive with top team Newman/Haas/Lanigan Racing because of lack of funding, was making his debut for Dale Coyne Racing – a popular team of modest means that had never tasted victory in more than 20 years of competition.
A change in fortunes looked possible from the moment Wilson hit the track for practice and set a series of times that challenged the traditional leaders – and for much of the race victory looked readily achievable.
He took the lead when polesitter Graham Rahal – driving Wilson's former No. 02 McDonald's car – was sent spinning as the field raced four-wide at the start, and he held it until a poorly-timed pitstop left him seventh under a safety car.
When racing resumed he quickly climbed to third, and seized back the lead from Briscoe at the next round of pitstops with a bravura move as he left the pits on cold tyres.
But heartbreak came during a long stretch of caution and safety car periods towards the end, when he could no longer hold off Briscoe and Vision Racing's Ryan Hunter-Reay at one of the many restarts.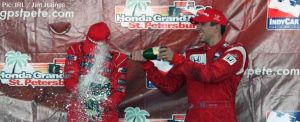 "On that restart, I got out-dragged on the front straight," said Wilson , who earned two bonus points for leading the most laps. "There's not much you can do. You can't block. It's just one of those things. I was just disappointed because you can't do any more.
"Having led the most laps all race and been so strong and been so fast, I'm disappointed not to get the win. But, under the circumstances, I'm very pleased for Dale Coyne Racing.
"We've been working hard all weekend and it's all about people. We've got some good people and pulled a team together, and that's what allows you to compete. That's the great thing about this series."
Team owner Coyne was philosophical as he looked forward to the next race, at Long Beach: "Who'd have thought a year ago we'd be disappointed with a podium?"
Briscoe credited his victory to the strength of his car, and smart team strategy: "At the end there, we had some restarts and I was able to get Justin Wilson down on the inside. Team Penske gave me a great car today. Roger Penske calls my strategy, and it was just absolutely perfect today."
Hunter-Reay was another driver who had looked to be facing a season on the sidelines after losing his 2008 drive to lack of sponsorship – but a major promotional campaign by clothing retailer IZOD, using him as the face of the whole sport, made finding him a race seat a priorty.
He eventually landed at series owner Tony George's Vision Racing with just days to go before the season began – but his strong drive in an unfancied car came entirely on merit. He said: "It was a good, clean race for us. Late in the race, I was thinking long term with points. You couldn't step a foot off line without jeopardising your car, so I kept it line for the team. It's been a long week for everyone on the team and everyone who worked on getting the car here deserves the credit."
Fourth place went to Scotland's Dario Franchitti, the 2007 champion, making his return to the series for Target Chip Ganassi after a year in NASCAR. He said: "We were pretty quick, especially at the end, but we lost track position. Some of the other guys maybe caught a lucky break there and jumped us in the pits. But all through the day we made it a little better.
"The one thing it wasn't doing well was using tyres. You could see that at the start when Justin and I were fighting and Justin was able to pull away further and further. That last stint was good for us because we had a chance to cool them down again. We've got a little bit of work to do, but it was definitely a good start."
Rahal eventually worked his way back up to finish seventh. He was not impressed with events: "The race started bad right from the beginning for the McDonald's team. I was conservative on the start, and I'm guessing it was [Tony] Kanaan that punted me.
"It's absolutely ridiculous, and you would expect a guy like that with experience to know it's the first corner of the first lap of the first race of the season. Why make moves like that? From there it was just battling back all day trying to find a way to get the car back up to the front."
There were mixed fortunes for the British pairing of Darren Manning and Mike Conway at Dreyer & Reinbold.
Manning, a last-minute signing who needed to perform in order to attract the sponsorship that might extend his one-race deal to a full season, climbed rapidly through the field from his 10th-place qualifying position. A puncture knocked him back again, but he still took the flag eighth.
He said: "We had a very good race. We were fast. I was racing with everybody and was up to P3 at one point. As all the pit strategies were playing out everybody stayed out and did a different strategy to us and we might have lost out a little bit with those guys getting lucky with the yellows towards the end – we were a little unlucky with the puncture as well and lost a spot.
"All in all, we were strong all the way through the race and the car was good on both sets of tyres. I was overtaking people all through the race and that was hard to do. I'm very happy with the way the weekend has gone with the limited time."
By contrast Conway was knocked out of the race on the first lap, saying: "I'm disappointed, but I learned a lot this weekend. We just need to focus on the next race and do well in Long Beach."
Team co-owner Dennis Reinbold said: "With Mike we just had an unfortunate incident on the first lap and it's too bad, because we really wanted him to get out and run all day and get some experience and learn what the stints feel like as we go through them.
"We will just have to pick it up in Long Beach and just go from there. We anticipate that he will be very good. Darren did a great job all day."
Dan Wheldon, returning to Panther Racing where he started his career, spent much of his home-town race tracking Briscoe and looked set for a podium until a late collision with Robert Doornbos knocked him out of the running.
He said: "On the last restart I got a real good run on TK [Tony Kanaan] out of the last corner and went down to the inside. But anytime you pass TK it's a challenge and I braked just a little bit late and missed the apex and he got me back and it just kind of bottled me up.
"Then I got a poor run out of turns two and three and going into four. Doornbos had a go at me and I thought I left him enough room, but unfortunately we touched."