We'd expected it for a long time – but when it finally happened, it came out of the blue.
Ron Dennis has announced that, following his successful 2008 World Championship campaign with Lewis Hamilton, he will be handing over McLaren F1 to Martin Whitmarsh to run.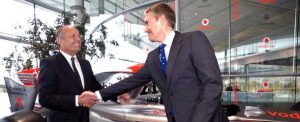 Not unlike Prince Charles, his deputy has been waiting some 20 years to ascend to the throne, having joined the team as head of operations in 1989.
"Let me make one thing clear," Ron said in his official announcement, "this is very definitely not retirement. In fact, I intend to work even harder from now on."
That's something we have no trouble believing – and, in his role as Executive Chairman of the McLaren Group, he says he will be concentrating on growing the business of a whole list of associated companies, including McLaren Automotive, McLaren Electronic Systems, McLaren Applied Technologies and the hospitality business Absolute Taste.
He continued: "In any case, this announcement won't change a great deal because, in his capacity as Chief Operating Officer of McLaren Group, Martin and I already jointly take all the major decisions that affect this company.
"What today's decision means is that Martin will now become solely responsible for the performance of Vodafone McLaren Mercedes and will be entrusted to ensure the team remains a competitive force in Formula 1 motor racing.
"As for myself, I will continue to expand and develop my role as McLaren Group Chairman and still intend to go to some, but not all, Grands Prix because I remain a diehard enthusiast.
"Motor racing is in my blood – and nothing will dilute my passion for either the sport or the success of this company."
Martin Whitmarsh added: "Ron and I have had many discussions about this over the past few weeks and months, but eventually it became clear that Ron's decision was final.
"Everyone knows what an incredible career Ron has had to date; his legacy is huge. As such, I remain hugely mindful of the responsibilities I assume as team principal – it's a daunting yet exciting prospect. Despite today's announcement, I hope we will still continue to work as closely together as before."
And, of course, these occasions are never complete without a word from the engine supplier, in this case Norbert Haug: "Ron has contributed enormously to our partnership… on behalf of Mercedes-Benz I really want to say thank you to Ron for all his work and for all the success we've had, and hopefully will have, in the future.
"At the same time, this announcement is great news for Martin – and certainly a very well-deserved promotion. Ron, Martin and I have been working together for 15 years in a very trustful and co-operative manner. This will not change in the future."
Here at Brits on Pole, we say: Thank you, Ron Dennis, for your immense (and continuing) contribution to British motorsport – and for giving us such a fantastic team to cheer on. Good luck, and our very best wishes for the future.
More coverage:
He had a positive and negative effect on his team… But that passion which make Dennis such a prickly and wearing character, was also a crucial part of the reason why McLaren has been so successful. His relentless attention to detail and obsession about constant self-improvement made the team what it is. There is no more professional outfit in the pit lane, but it verges on the excessive and I think they can afford to ease off a notch or two on that and perhaps even do a little better, but they will miss his passion.
But if the pair focus too much management time on Hamilton and following formula one around the world there could be problems for the McLaren business plan at a time when the company is branching out beyond the sport. It has invested heavily in the planned launch of a luxury road car late next year, just in time to coincide with the biggest recession since the second world war. That challenge will require close attention from at least one of McLaren's two senior executives.
"I still have huge passion for F1 and I want to be supportive of Martin's responsibilities, but that will come purely in the form of voicing an opinion. Maybe they'll get my opinion when they don't want it! But I hope Martin will listen to my opinions, even if ultimately – as it will – the ultimate decision rests solely with him. "