A question British F1 fans are asking this week: what on earth is going on at Brackley?
Strange stories have started appearing in the public prints indicating that all is not proceeding smoothly with the sale of the team formerly known as Honda.
The problem seems to concern whether interested parties – and there are supposed to be a plentiful supply of them – feel they are getting a fair crack of the whip in the face of a possible management buyout headed by Nick Fry.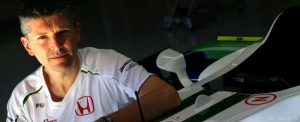 There are clear signs of frustration and opposition building inside the company itself to the idea of a future Fry regime which is now spilling over into the public domain. And someone is employing unusual tactics to make their concerns public.
The F1 news site Pitpass has been at the forefront of covering all this – and has some interesting insights into what might be going on, including the names of some potentially discouraged bidders, which you can read here, here, here and here.
Of course, none of this is particularly helpful with the team on such a tight deadline to convince Honda to proceed with a sale rather than just closing the whole operation down.
Tim Boswell, MP for South Northamptonshire where the team is based, says he has passed on concerns expressed to him about the situation to the Department for Business, Enterprise and Regulatory Reform (BERR) which used to be the better-known Department for Trade and Industry (DTI) and which is in charge of company regulation.
He told the BBC: "All I know is that someone raised concerns with me on Tuesday night, rather late, in connection with the transparency of the bidding. I'm not aware of who their principals are, and I'm not sure I want to know.
"I passed on their concerns and contacts to BERR. It's only because there were allegations of what seemed a conflict of interest it seemed it should be looked at. I'm not making allegations myself because I don't know.
"Ministers have to take a view on whether they have any concerns. My predominant interest is to try to make sure we get Honda to a successful sale, and avoid a lot of redundancies."
However BERR has stated that it is not investigating and that it has no role to play in the private sale of a team.
And Nick Fry has come out fighting against these allegations, saying that there is no conflict of interest in him handling a potential buyout since Honda will take the final decision. He also claimed the move could even be part of a plot to destabilise the team's future.
He told Autosport: "At all times during the process of securing the future of the team, senior managers from Honda Motor Company have been present at our HQ in Brackley to assist in making decisions and we have taken legal advice at all times, to ensure no conflict of interest.
"It is evident that attempts are being made by external parties to frustrate this process. However, we will not be deterred from our focus of securing a positive future for the team and its 700 employees and achieving our target of lining up on the grid in Melbourne for the start of the 2009 season."
Some brighter news for those of us that would like to see the team, and in particular driver Jenson Button, turning up on the grid in March: Norbert Haug is keen to expand the Mercedes engine empire by supplying a third team.
He said this week that his offer of Mercedes engines to Honda had no deadline attached – and that the manufacturer was keen to assist in the interests of the sport.