Nico Rosberg topped the timesheets for Mercedes GP at Barcelona today, just a day after his team-mate Michael Schumacher said he didn't feel the team was in a position to win races – and then declared he had been wrong.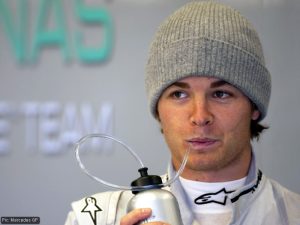 Rosberg set the fastest unofficial time of the penultimate day with a lap of 1:20.686 early in a session which was affected by rain. Behind him, on 1:21.413, was Toro Rosso's Sebastian Buemi.
Third, a few hundredths of a second off Buemi's time, was McLaren's Jenson Button on 1:21.450. He told journalists after the session that he felt the MP4-25 was not yet performing at its full potential and would be improved by further set-up work.
Button, who is set to hand over to team-mate Lewis Hamilton for the final day of testing tomorrow, said: "There are areas we know we were a little bit weak in but they are areas we can change with set-up."
Meanwhile, off-track but still firmly in the headlines, Michael Schumacher said of his prediction that hs team would not be competitive at the season start: "This was an initial feeling and it looks like that maybe we were running more fuel than others on Friday and that is why track times didn't look so good.
"Now I've looked at the data it looks not so bad, it looks very reasonable. So let's see where we are in reality."
He also backed his longstanding former team Ferrari as the squad to beat and pointed out that it was the teams' performance by the end of the season that really counted, not who was fastest off the startline in the first race.
Returning to the Barcelona track, Williams' Rubens Barrichello followed up a timesheet-topping run by the team's rookie Nico Hulkenberg yesterday with a fourth-placed time of 1:21.975 today.
Fifth was Ferrari's Felipe Massa on 1:22.34, sixth was Renault's Vitaly Petrov on 1:22.523, putting in 68 laps on a day characterised by long runs, and seventh was Force India's Adrian Sutil on 1:22.606, saying that he believed the 2010 rules would fit well with his driving style.
Sebastian Vettel for Red Bull was in eighth place on 1:23.123 and just 51 laps – but no-one watching the performance of him or team-mate Mark Webber is under any illusions that the pair should be among the top contenders of 2010.
Jarno Trulli, acknowledging that Lotus has much to do before he will be competing with the drivers of established teams, was ninth on 1:25.059 – some four seconds off the leaders' pace.
But even slower were BMW Sauber's Kamui Kobayashi on 1:26.216, five seconds off the pace despite putting in the fastest time overall in a previous session, and Virgin's Timo Glock, rounding off the timesheet on 1:26.216 and continuing Virgin's low-key introduction to Formula One.
The Circuit de Catalunya reported that, despite the bad weather and the absence of any of the three Spanish drivers on track, 15,800 spectators gathered to watch the session.
Barcelona day three test times
Nico Rosberg, Mercedes GP: 1:20.686 (128 laps)
Sebastien Buemi, Toro Rosso: 1:21.413 (106 laps)
Jenson Button, McLaren: 1:21.450 (105 laps)
Rubens Barrichello, Williams: 1:21.975 (101 laps)
Felipe Massa, Ferrari: 1:22.344 (115 laps)
Vitaly Petrov, Renault: 1:22.523 (68 laps)
Adrian Sutil, Force India: 1:22.606 (61 laps)
Sebastian Vettel, Red Bull: 1:23.123 (51 laps)
Jarno Trulli, Lotus: 1:25.059 (102 laps)
Kamui Kobayashi, BMW Sauber: 1:26.216 (105 laps)
Timo Glock, Virgin: 1:26.216 (31 laps)