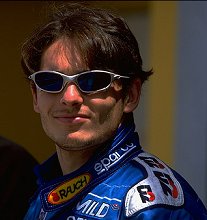 A gratuitous picture of a good-looking Italian. Credit: Uppure (CC licensed)
We came across a very earnest and worthy press release on environmental matters from rapidly up-and-coming F1 team Force India today.
Kudos to them for trying – but unfortunately it made us die with laughter for all the wrong reasons.
We really think this might have benefited from an additional pair of eyes over it before it got sent out, to point out the inherent absurdity (we do a very reasonable proofreading rate ;- )).
Here it is, see what you think:
Force India to use Vextrix electric scooters

As part of its environmental policy and endeavours to reduce its carbon footprint, the Force India Formula One Team is delighted to announce a partnership with Vectrix UK Ltd, the producers of the world's first high-performance, zero emission, electric motorcycle.

Vectrix will supply the team with two Force India-branded electric maxi-scooters to use at races, tests and at its Silverstone factory. The pioneering bikes run exclusively on battery power, which is recharged by plugging the onboard charger into any standard electrical outlet.

Fully-charged, each bike has a range of up to 68 miles, making the Vectrix the 'greenest' way to get around. With each bike having an acceleration of 0-50 in 6.8 seconds and top speed of 62mph, the team won't be compromising on performance either.
Now we know that Fisi's done an awful lot with an under-performing machine this season, but this really is asking too much. No-one's going to be challenging Ferrari on one of those.
Or perhaps this team has some inside info about the latest environmental regulations on their way from the FIA…
*snorfle*