Mark Webber took advantage of a long-overdue day of dry running to match Red Bull team-mate Sebastian Vettel's feat of topping the timesheets on the third day of the second session of pre-season testing at Jerez.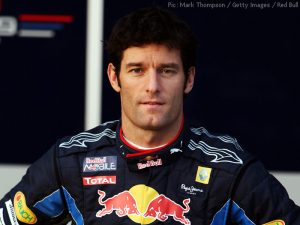 But the Australian was quick to play down any thoughts of the latest Adrian Newey design dominating the opposition, as its predecessor did in the final races of the previous season.
He said: "Today was pretty good, next week might be different – I promise you that in Malaysia we won't be talking about the second test in Jerez."
And McLaren's Jenson Button, who set the third-best time of the day, had his eye on the car that split the difference between them – the Ferrari of Fernando Alonso.
The reigning world champion said: "I think the Ferrari is a very strong car – if you look at their runs today, they're very consistent. I think they have better consistency than anyone at the moment."
As for his own car, he was grateful for a day of uninterrupted running that allowed a lot of information to be gathered: "I think our pace is good, but there are still areas we need to work on for me to be happy with the car," he said.
Nico Hulkenberg followed up team-mate Rubens Barrichello's strong performance of the previous day by setting the fourth-best time, ahead of the Mercedes of countryman Michael Schumacher.
Robert Kubica, Adrian Sutil and Kamui Kobayashi put in solid midfield performances for Renault, Force India and Sauber, with Jaime Alguersuari the last of the 2009 drivers behind them.
The new teams, Virgin and Lotus, were unsurprisingly slowest but both closed the gap on the rest of the field despite mechanical problems.
Day three times
Mark Webber, Red Bull: 1:19.299 (115 laps)
Fernando Alonso, Ferrari: 1:20.115 (132 laps)
Jenson Button, McLaren: 1:20.394 (101 laps)
Nico Hulkenberg, Williams: 1:21.432 (138 laps)
Michael Schumacher, Mercedes GP: 1:21.437 (79 laps)
Robert Kubica, Renault: 1:21.916 (100 laps)
Adrian Sutil, Force India: 1:21.939 (69 laps)
Kamui Kobayashi, BMW-Sauber: 1:22.228 (28 laps)
Jaime Alguersuari, Toro Rosso: 1:22.564 (120 laps)
Lucas di Grassi, Virgin: 1:23.504 (34 laps)
Heikki Kovalainen, Lotus: 1:23.521 (68 laps)