The two biggest open-wheel motor races in the world – and they're on the same day. But how likely is it that Union Flags will be flying over the top steps of the podiums at Monaco and the Indianapolis Motor Speedway come Sunday?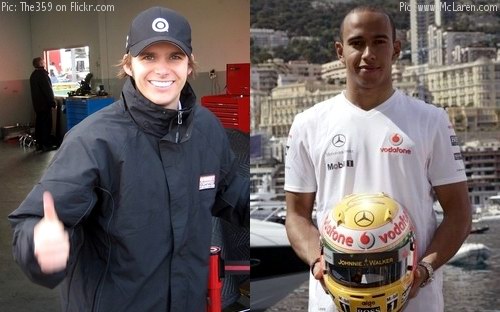 Dan Wheldon and Lewis Hamilton
Both in the hunt for glory in Sunday's big races
With Lewis Hamilton looking competitive in Thusday practice for F1's Monaco Grand Prix and Dan Wheldon starting from the middle of the front row in the Indianapolis 500, it's certainly far from impossible.
Monaco will depend almost entirely on whether it rains during qualifying or the race or both.
Rain during the former will produce a grid that's as likely to be arranged by alphabetical order as by raw speed. And rain during the race itself will likely punish hard-charging drivers trying to make up for having qualified out of position on this most unforgiving of circuits.
If it stays dry, however, then Hamilton's chances are as good as anyone's and better than most.
McLaren are hauling back the performance gap that seemed to be opening up between them and Ferrari and BMW earlier in the season. Practice times so far suggest that, if Hamilton can withstand the pressure and expectation for a win, then he has everything to play for.
If he falters, the odds don't look good for either of the other Brits to step up. Both Jenson Button and David Coulthard live in the Principality, but it's fanciful to suggest this might translate into extra speed when it counts.
DC, of course, has a past history of success in this race, even scoring a rare podium for Red Bull. But with all four of the energy drink company's cars looking weak in practice, he may well be too far back to take advantage of any trouble at the front. Honda have performed better, but not well enough to be considered contenders.
(You can read a more detailed preview of the race here.)
Over in the US, they've already had more than enough rain during the testing and qualifying weeks.
But the teams that have been hit hardest by the lack of track time have not been the ones at the front. Rather, it's been those least familiar with the circuit or the machinery – namely, many of the transition teams from Champ Car and the squads that enter the Indy500 as their one race of the season.
By contrast, Wheldon's Target Chip Ganassi Racing team and rivals Team Penske and Andretti Green smartly filled eight of the top nine places in the starting line-up at the first opportunity and have had plenty of time to work on their race set-ups.
Wheldon seems relaxed and confident in the pre-event build-up, and is of course a past winner of the race. But it's difficult to see him as the favourite to take the win this year.
Team-mate Scott Dixon has generally out-performed him over the last year, Penske's Helio Castroneves leads the championship and is overdue a win this season, and the wily Tony Kanaan cannot be under estimated in his hunt for a first victory in the race.
In fact, with Castroneves and Kanaan in the Indy500 and Felipe Massa at Monaco, a dual Brazilian triumph looks at least as likely as a British double.
Elsewhere at the Indianapolis Motor Speedway, both Darren Manning and Justin Wilson are solid performers who can be relied upon to seize a chance if one presents itself – but it's difficult to imagine a chance of that magnitude arriving for either of them.
Alex Lloyd is running in the race as a development driver, hoping to impress after winning last year's Indy Lights feeder championship. A strong Indy500 performance would mark him as a driver to watch – but it would be a major shock to see him dragging his borrowed Rahal Letterman machine far enough up to challenge his Ganassi team-mates, Dixon and Wheldon.