McLaren's Jenson Button has swapped the rough-and-tumble of the Turkey racetrack for a chance to reflect on his achievements of the last year after visiting Buckingham Palace today to receive his MBE.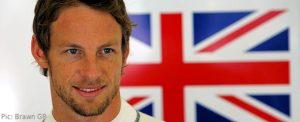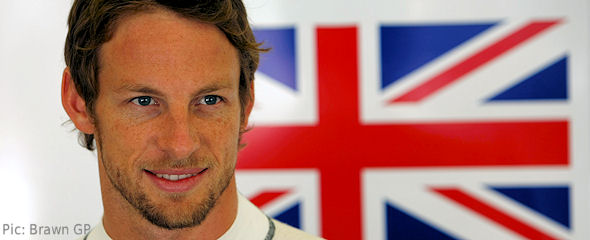 The 2009 Formula World Champion who, according to his team, was fresh off the plane from Turkey had the honour conferred on him by the Queen on the 40th anniversary of the death of Bruce McLaren. His parents John Button and Simone Lyons were present for the occasion.
Also receiving honours were actor Patrick Stewart, famous for leading roles both in Shakespeare and Star Trek, sculptor Maggi Hambling and former police chief Hugh Orde.
Button was honoured after a fairytale campaign with the now-renamed Brawn GP in which he took an unfancied car to the top of the timesheets, winning six out of the first seven races in the process, and maintaining an unassailable lead throughout the rest of the season.
He said of the occasion: "The last 18 months have been an incredible period in my life. Starting last year facing almost impossible odds, I achieved my childhood dream of winning the Formula 1 world championship and I'm now driving for one of the greatest teams in the sport.
"To also be recognised by Her Majesty the Queen and the British people is the greatest honour I could possibly imagine."
He said he felt that his life in motorsport had been an incredible journey.
"When I started karting as an eight-year-old boy, I could only dream of racing in Formula 1, or becoming world champion. Even now, those dreams still feel unbelievable and fantastic to me.
"To visit Buckingham Palace today is another huge step along that journey. To be awarded the MBE by Her Majesty the Queen is a very great honour for me, and a significant milestone in my life. Today makes me incredibly proud to be British, and to be able represent my country on the world's stage.
"Being Formula 1 world champion, and receiving the MBE today, carries with it great responsibility that I am proud to take on and uphold."
Button was appointed a Member of the Order of the British Empire in the New Year's Honours list for his services to motorsport. It was the same award given to his team-mate Lewis Hamilton after his 2009 World Championship win.
The pair have joined illustrious racing names such as Sir Stirling Moss, Sir Jackie Stewart, Nigel Mansell, Damon Hill, John Surtees and John Watson who have all had their racing achievements recognised with varying degrees of seniority in the Order.
Whether they win any further awards must depend on what the future has in store for them.