"I had a go on a Caterham, it scared the hell out of me," Team Lotus boss Tony Fernandes recalled ruefully, as he announced his purchase of the company.
He should have tried it the way BritsOnPole did later the same day – then he'd have known what fear is.
Clinging on for dear life with a professional racing driver at the wheel and two cans of the team's official energy drink sloshing around in an otherwise-empty stomach, as the car spins in frantic tyre-burning donuts, might have made him keep his chequebook in his pocket.
A Caterham Seven is small, insanely powerful for its size, possesses a shocking kick and does strange things to your stomach. In these respects it is very similar to the EQ8 energy drink cans scattered everywhere on the day Team Lotus announced its purchase of the iconic British sportscar company.
Car and drink do not make a happy mix.
With the main events of the day over, your reporter was loafing about and absorbing the sights and sounds of the Imperial War Museum, Duxford – a childhood haunt but somewhere not visited for almost 20 years – when he found himself by the Caterham Experience enclave.
Journalists and VIP guests were being given demonstration rides around a course made up of cones, and members of the public had gathered to await the point at which the ride would be thrown open to all comers.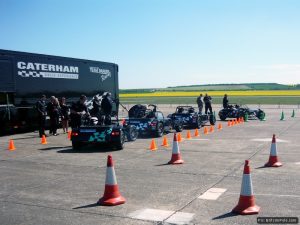 One brief and accidental flash of a Team Lotus wristband was enough for your correspondent to be ushered, protesting feebly, past the barriers and into line for a car.
When it arrived, it turned out to be driven by Scott Mansell, who last came onto this site's radar when he was competing in Superleague Formula at Donington Park in a one-off deal. Swift introductions established that, yes, he remembered this site and, yes, he remembered that we'd written about him.
Fortunately, he didn't seem to bear a grudge.
In fact, an easy conversation developed covering topics ranging from website management to the cost of a GP2 drive, completely disguising the fact that we were edging closer to the front of the queue – until suddenly we were hurtling forward into a labyrinth of traffic cones.
What followed happened very quickly and very noisily and would have been a lot more fun without the constant fear of a sudden spray of second-hand energy drink.
As Heikki Kovalainen had demonstrated earlier, and Mansell was busily showing again, in the hands of a skilful driver the Caterham Seven is capable of impressive feats of power and precision.
If you're sat inside it at the time, though, what you mainly notice is how low the sides are as the suspension reacts to the 360° spins and all that clever plumbing inside your ears throws out constant warnings that your body needs to brace itself for a roll.
Of course, it never comes – and the strong safety belts soon combine with a reassuring sense of being stuck firmly to the road, giving you a fighting chance of relaxing and enjoying the ride.
The Caterham Seven collects passionate enthusiasts and, apart from the ready sense of power under the right foot, the engine note seems to be a favourite feature. Under these conditions it fights to compete with the sound of tyres being tortured, but there's excitement and drama in the change of tone and the sudden leap forward whenever the little car emerges from one of its spins and surges between the cones towards the site of its next.
No sooner do you roll to a halt at the back of the queue than the next car is on its way onto the course, its iron-stomached driver ready to deliver the same jolt of adrenaline, fear and excitement that ensnared Tony Fernandes when the chance arose to buy the company.
For the rest of us, lacking the funds to strike a deal like that, a brand new Caterham Seven costs on the right side of 14 grand.
And, failing that, there's always a revolving office chair and a can of EQ8…
Photo gallery
Photos from the day, some taken under low light and therefore disappointingly blurry. Sorry and all. Click for larger versions and for captions.